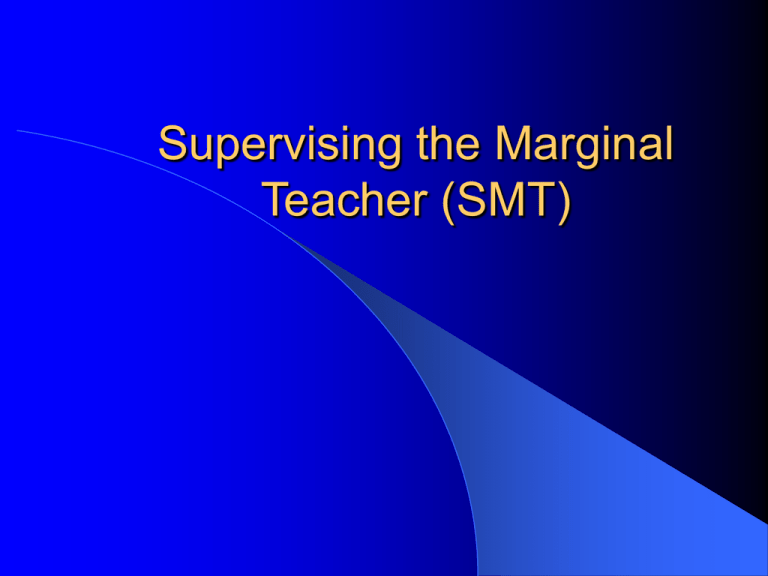 Supervising the Marginal
Teacher (SMT)
SMT is properly viewed as a
minor (but valuable)
subsystem of a school
organization's mutual benefit
evaluation system.
YOU DON'T BELIEVE IN
MUTUAL BENEFIT
EVALUATION?
OK—but plan on spending
many more dollars in
litigation than you would in
creating a good system for
due process supervision.
WE JUST WANT TO FIRE
TEACHERS (or better yet,
ignore them), NOT
CHANGE ANYTHING!
You won't. The no hassle
conspiracy will continue in
your school organization.
Let's review the benefits of a
teacher evaluation system.
MAJOR EFFECTS OF TEACHER
EVALUATION:
1. A powerful improvement strategy.
2. Improved teacher/administrator communication.
3. Increased teacher awareness of instructional
goals and their classroom practices.
4. Teachers report an increased sense of
professionalism and motivation to improve
classroom practices.
5. Overcomes traditional classroom isolation.
6. Pride in teacher support for evaluation and the
professionalism that implies.
7. Personnel actions do result (people do get
dropped, counseled out).
What are the goals for teacher
evaluation?
BROAD GOALS FOR TEACHER EVALUATION
1. Personnel decisions—informed
decisions about placement and
tenure.
2. Staff development—practices to
identify areas for inservice.
3. School improvement—practices to
upgrade quality of instruction.
4. Accountability—provides evidence
the teaching standards are being set
and met.
When it comes to supervising the
marginal teacher, what are some
major concerns or problems?
MAJOR PROBLEMS WITH SMT:
1. Principals' attitude, competence,
and ability to assume the role. Role
conflict—collegial, yet judge?
2. Added chore—nothing taken away.
3. Teacher resistance or apathy.
4. Lack of uniformity and consistency
among school buildings.
THE COST OF IGNORING
INCOMPETENT TEACHERS:
1. Undermines political support of
parents and taxpayers.
2. Lowers morale of competent
teachers.
3. Diminishes the educational
opportunity of some students.
DUE PROCESS SUPERVISION:
1. Valid
2. Reliable
3. Legally discriminating
* Provides due process long before
any individual is in trouble.
SMT:
-10% of teachers
-Remove (2-3%)
-Improve (8-10%)
-Dedicated to improving rather
than removing.
-The deciding factor—is the
teacher coachable?
WITH MORE SMT EXPERIENCE,
APPRAISERS WILL DEAL WITH:
1. Teachers who do not provide
curriculum alignment.
2. Teachers whose instruction lacks
curriculum density.
3. Teachers who need a wellness
program.
SUPERVISING THE MARGINAL
TEACHER OPTIONS:
1. Intensive assistance
2. Progressive discipline.
3. Dismissal
Intensive Assistance:
1. Intensive assistance for teachers
who are subpar.
2. Administrative assistance for
administrators who are subpar.
3. For those who are not performing
according to standards
(can't do the job).
NEED TO TERMINATE AN EXPERIENCED,
CERTIFIED, TENURED TEACHER WHO
DOES NOT MEET YOUR STANDARDS OF
PERFORMANCE?
HOW?
-Tenure: not a shield for incompetency.
-Due process supervision is good faith
supervision.
DUE PROCESS RIGHTS (Judicial):
1.
Notice
2.
A fair hearing
3.
Personal presence at the hearing
4.
Legal counsel
5.
Confront the accuser(s)
6.
Cross examine witnesses
7.
Introduce evidence
8.
Freedom from arbitrary rulings
9.
Fairness and impartiality
10. Proof of damage
11. Appeal to a higher tribunal
HARASSMENT!
No one ever told me my teaching wasn't
satisfactory -- Hot Notice!
-If you could reduce my class size.
-If you could transfer those bad kids.
-If you could excuse me from that study hall.
-If you could just get rid of that principal . . .
Focusing all of your
attention on just one
or two subpar
teachers is grounds
for harassment!
WE MUST BE NEAT!
Notice: What are the rules, standards, policies
for all teachers for orderly, proper district
operation?
Explanation: Feedback; what am I doing
wrong?
Assistance: Caring, deliberate help to get better.
Time: I've had tenure for years; my teaching is
subpar; it will take time to improve.
MUST WORK WITH UNIONS AND
BARGAINING UNITS IN SETTING UP A
MUTUAL BENEFIT
EVALUATION SYSTEM TO ENSURE
PROCESSES AND PROCEDURES
ALIGN WITH THE MASTER CONTRACT
AND MEET STATE LAW
REQUIREMENTS.
ONCE YOU HAVE GOOD STANDARDS OF
PERFORMANCE YOU CAN:
Orient to standards.
Coach to standards.
Use standards to guide staff development.
Hold people accountable to those standards.
I GOT MAD; I CHEWED THE TEACHER OUT!
(I'm in trouble?) NO!
-Notice is notice
-Feedback is feedback
-Admit to teacher, "I got so upset about
what you're doing to kids, I yelled at you!"
TRY A TRANSFER—
TRY A NEW SEPTEMBER—
NO CHANGE? DISMISSAL
ONE MORE TIME—BE NEAT
INTENSIVE ASSISTANCE—PHASE I
Steps:
1. Level with the teacher.
* 2. Increase frequency of formal observation.
3. Provide help to improve.
4. Allow time to improve.
5. Provide written and oral progress reports.
*Optional: Confirm with other evaluators.
IMPLEMENTING THE PLAN
First Year:
1.
2.
3.
4.
5.
6.
7.
8.
9.
Evaluate less than "meets"
Develop improvement plan
Offer one transfer
Request assistance team
Appoint assistance team
Team meets with teacher
Assistance begins
Monitor performance monthly
Evaluate performance in May
ASSISTANCE TEAM
The assistance team is designed to provide
optimum support for a teacher when a principal
has determined a teacher's performance is less
than satisfactory.
 curriculum specialist
 principal (outside)
 supervisor (central office)
THE TEACHER IS PROVIDED THE
OPPORTUNITY TO VOLUNTEER FOR
ASSISTANCE
Performance evaluation continues during
intensive assistance.
 The team—intensive assistance
 The principal—teacher performance
evaluation.
Assistance Team Procedures:

Steps:
– Principals must evaluate performance less than
satisfactory
– Principal formally requests appointment of
assistant team
– Assistance team is appointed
– Teacher meets with team for assistance
Components of improvement plan:

Diagnosis of problem
 Objectives for improvement
 Procedures and/or resources for achieving
objectives
 Appraisal method and target date for
achievement
 Signatures of principal and teacher
Implementing the plan:

Second year:
– Review improvement plan
– Monitor performance monthly
– Evaluate performance
– Prepare recommendations
Profile of the marginal teacher:

Inadequate planning
 Poor classroom control
 Differentiation of instruction (all get the
same)
 Poor interpersonal relations (the screamers
and shouters)
Profile of the marginal teacher:

Elementary marginal teachers are older,
single women
 Secondary marginal teachers are older,
married men with unhappy marriages and
life
When a teacher can't or
won't improve (that is,
he or she is not
coachable), the next
step is dismissal.
Members of the dismissal team:

Board
 Superintendent
 Attorney
 Personnel officer
 Range of those who have supervisory
contact
 The supervisor "at arm's length"
The team is always overly concerned
with documentation:

Don't confuse documents with documentation
– Description of evaluations for all teachers and
administrators
– A record of checked performance of individual
involved
– Need dates of observations and eventual confrontation
– Need dates and prose of the warning you gave
Court will ask:
1. Are your reasons supported by credible
evidence?
2. When weighed by an unbiased mind?
3. Guided by common sense?
– Due process supervision will take care
of this!
Superintendent's Role:

More than just sic' em!
– Decides when subpar performance can no longer be
–
–
–
–
tolerated
Must have in place a systematic way of diagnosing
teacher weakness
Direct access to school's legal counsel
Must be the one to recommend dismissal
In fact, should be observing principals in much the
same way
The Board's Role (if they mean it
when they say, "We're behind you!"):

Make the shift to quasijudicial body in the hearing
 Must hear and decide upon the weight of evidence
 Has to agree to a future date for a hearing (often
set at 30 working days – six actual weeks.) Gives
teacher time – again careful due process.
The judicial role is a tough new
experience:

Tough because:
– Boards may not have judicial experience
– May incur the wrath of the community

Worries:
– What if the principal is wrong?
– What if we lose?
– What will become of the teacher?
– What if he/she counter sues?
– Could our CEO have avoided this?
Alternatives to Board Ruling:

Peer review
 External panel
 Do nothing!
 Board hearings may need to improve, but they're
here to stay!
The Hearing:

Start with a statement of charge (issues on which
dismissal will hinge)
 Charges must fit state law (must key into one or
more state recognized reasons)
– Inefficiency
– Incapacity
– Conduct unbecoming
– Insubordination
– Other good cause
Language must focus on issues
raised:

"Failure to resolve conflict with students resulted
in low morale and lack of achievement in class
and bitterness on the part of students and their
parents."
– Move to evidence showing support for each of these
–
–
–
–
charges
Board president or chair presides
Board must ask hard questions to get the truth
Deliberation stage
The vote (often need 2/3 agreement. Can't vote unless
attended hearing.)

Ground rules for hearing
– Have these in place prior and communicated to all

Manage the Hearing:
–
–
–
–
–
–
–
–
Appoint someone to serve in this role
Plan the presentation
Present one charge at a time
Testimony should bring out time, date, and location
Anticipate teacher's defense
Calm your witness
Cross examination training
Prepare back-up documentation
Remember:
– Tell the truth, tell the truth, tell
the truth!