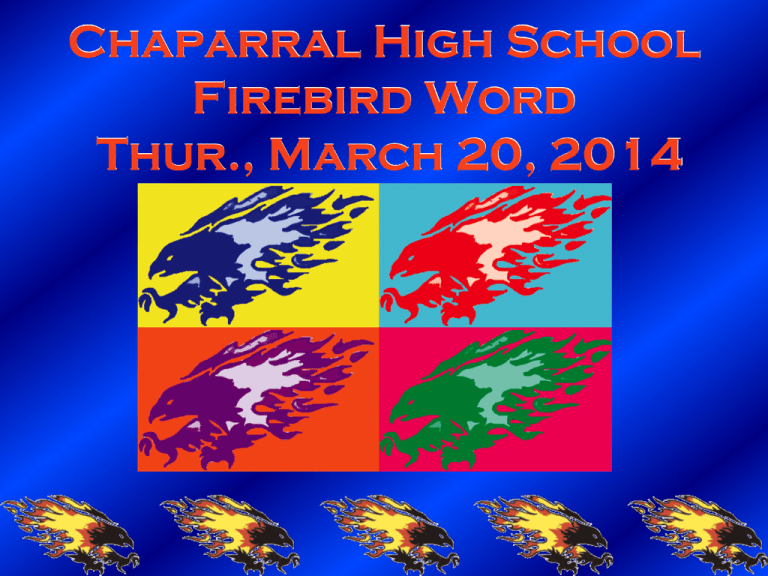 Chaparral High School
Firebird Word
Thur., March 20, 2014
Welcome Spring!
Today is the
Vernal Equinox. There
are just about as many
hours of light as there
is darkness.
Congrat's goes to Molly
Gildersleeve who has been chosen
as a finalist in The Gallery
Collection by Prudent PublishingCreate-A-Greeting card. If chosen
she will win a $10,000 scholarship
and Chaparral will also receive a
$1,000.00 reward.
Good Luck Molly!
Columbine library
book…if you have a copy
of Columbine, please see
Mrs. Harris, in the
library, for just a quick
question!!! Thanks. :-)
JSU club takes place each
Wednesday!
4th hour lunch in Mr
Leinwohl's room F120
5th hour lunch in Ms
Hecht's room E212
.
Remember the attendance
policy…
Miss 10, do it again! Don't be
the one who has to take a class
over because of too many
absences. Hang in there.
Attention Guitar
Club! There will be
NO meeting this
Today,
Thur., Mar.20.
Public Library cards will
get you a little treat!
Bring yours & show it to
Mrs. Harris between
today & next Fri., Mar. 28.
See you @ Your Library!
Come to the Chaparral
Fashion Show on
Sat., Mar. 22 in the
auditorium @ 7 pm!
See Mrs. McCreary
for details.
SUSD National Merit Scholarship
hopefuls... Congrat's goes to
Matthew Adler, Conner Jennison,
Leah Kaplan, Evelyn Karis,
Natalie Mionis, Aaman Mouti, Eric
Peshkin, Olivia Struckman, Kyle
Sun, Scott Viteri, Justin Wang and
Rianna Williams. Good Luck to
All.
Have any eye glasses you can
donate to those who cannot see
well? The International Club
is collecting eye glasses again
this year. Please bring them to
the library. Make a difference
in your world.
Seniors! As a reminder, the
CHAPTS Safe Driving Scholarship
($1,000)and Cocopah Scholarship
($1,000 )are due on this Friday,
March 21st by 3:00 pm in the
College & Career Center. Both
are exclusively for Chaparral
students, so don't miss out on this
generous opportunity!
CHAPTS is awarding a $1,000
Safe Driving Scholarship to a
Chap senior who creates a
project that urges teens to
drive safely. The project can
be a song, a poster, a public
service announcement,
a video...
…anything that will encourage
students to improve their
driving habits. Application due
date: Fri., Mar. 21. Please use
Naviance to download the
application or stop by the
College & Career Center for
hard copy.
Seniors, did you attend Cherokee,
Cochise, Sequoya or Copper Ridge? If
so, each school is offering a $1,000
scholarship. The applications with
specifics are on Naviance and hard
copies are available in the College &
Career Center. Don't miss out on
these generous awards from your
alma maters!
Fri., March 28
Graduation supplies will
be distributed; all senior
debts must be paid. This
also includes any overdue
library books.
Prom, "A Night in
Black and White,"
will be on Sat., Apr. 12
from 8 to 11 p.m. @ the
Sandra Day O'Connor
Courthouse…
…Tickets are $65 & on sale
in the bookstore starting
Mon., Mar. 17. You must be
a jr. or sr. to buy prom
tickets! Be sure to return
your overdue library books!
Attention Seniors!!!
Pick up information about
auditioning for 2014
Graduation!
Seniors need only to attend
one meeting! …
Interested in the U.S. Military
Academies! Representatives from
ALL the military academies and
AZ Congressional staff will be at
the SERVICE ACADEMIES
CONFERENCE 2014 on Saturday,
March 29th from 10-noon @...
…Coronado High School to
explain the unique
application process required
from each school. Please go
to Naviance or come by the
College & Career Center for
more information.
Experience the SAT AND ACT
without taking the REAL Exam.
SAT/ACT COMBO TEST.
A practice test is the best way to
find out which is best for you.
SAT. MARCH 29, 2014
8AM TO 12:15PM
here @ Chap. In rm. J600…
…Cost is $5 & Register in
the Bookstore. Don't forget
2- #2 pencils & a calculator
for the test. Pick up results
Wed. April 9, @ 6-7:30 pm
in rm J600. Both Parents &
Students are Welcome
.
Take a PSAT Practice Test
here at Chaparral on April 12
@ 8am in J600. Register in the
bookstore for $5. Reserve your
seat today! Please bring 2
sharpened #2 pencils and a
calculator!...
…Pick up results on Wed.
April 23, 2014 @ 6-7:30 pm
in Rm J600. All parents &
students are invited to pick
up results & attend a test
strategies seminar.
Life Skills is recycling
empty chip bags all
year. The bin is emptied
weekly in the café &
library. For chip bags…
see the trash can, just walk
past. Find the bin & put it
in.
And finally…
Students please remember you
MUST have a signed pass to
come to the library during class
time. Get one signed from your
teacher BEFORE you leave or
go back for it. Thank you.