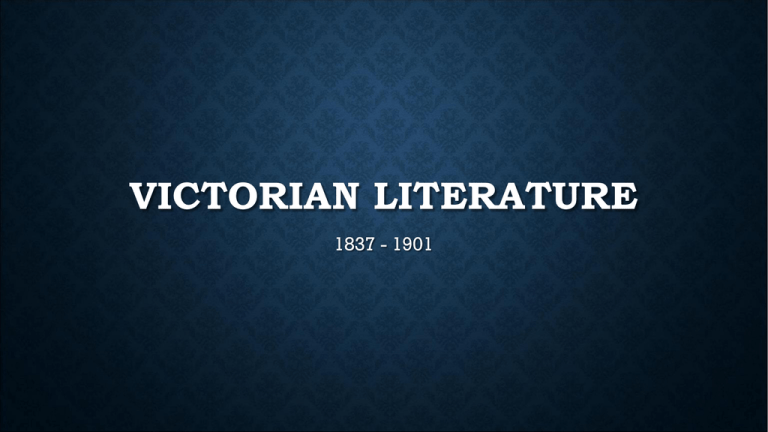 VICTORIAN LITERATURE
1837 - 1901
VICTORIAN
LITERATURE REFERS
TO LITERATURE
WRITTEN DURING
THE 63-YEAR REIGN
OF QUEEN VICTORIA
Queen Victoria reigned from 1837-1901.
Currently her reign is the longest of any
British monarch - 63 years and 7 months.
However, Queen Elizabeth II is
well-poised to steal that record.
Some major events that took place during the Victoria era include:
•A huge growth in population. During Victoria's reign, the population of England more than doubled, from
14 million to 32 million.
•There were also some significant improvements in technology. The Victorian era slightly overlaps with
Britain's Industrial Revolution, which saw big changes to the way that people lived, worked, and traveled.
These improvements in technology offered a lot of opportunities for the people in England but also
represented a major upheaval in regards to how people lived their lives and interacted with the world. Those
of us who were alive before the Internet should be able to relate. The Internet has made a lot of things easier,
but it's also brought a lot of issues about personal privacy, how we communicate, and the potential for
terrible things, like identity theft and cyber bullying.
•Another characteristic of the Victorian era are changing world views. In addition to the major
developments in technology, there were emerging scientific beliefs, like Charles Darwin's theory of
evolution, and those things were changing how people in England thought about themselves and how they
interacted with the world around them. Most notably, a lot of people were distancing themselves from the
church and the belief in the Bible's inerrancy.
•Finally, there were poor conditions for the working class. The Industrial Revolution led to the distance
between the haves and have-nots growing rapidly, and many people (especially artists, like writers) felt
obligated to speak out against what they believed to be societal injustices.
Victorian Prose
Arguably the most well-known Victorian writer was Charles Dickens. He wrote a lot of novels about
the struggles of the poor and the battle between right and wrong. His characters were really vivid but
not terribly nuanced, so it's pretty obvious from the get-go who's good, who's bad, who can be
reformed, and who can't.
Dickens himself had to leave school early to work in a factory to support his family after his father was
sent to jail, so it's not really surprising that many of his works, including Oliver Twist or David
Copperfield, have protagonists who are good people that fall into bad circumstances that they don't
deserve - something he could really relate to personally.
Dickens' novels usually end with every character getting the kind of ending they deserve. So, the good
people get happy endings, and the bad people get sad endings, and there really aren't that many loose
ends left at the end of the novel.
Dickens' Early Life
Charles Dickens' life is like something out of a Charles Dickens' novel, which is probably not a coincidence.
•
He was born in 1812 in England, and he was the second of eight children.
•
Things were going super well for a while (which is not like a Charles Dickens novel). The family moved into a fancy home.
They had servants. He was even going to a private school. Things were great.
•
Then it all came to an abrupt halt when his father was thrown into debtor's prison in 1824. As was common then, also, his
mother and siblings were sent to debtor's prison at the same time.
•
Dickens had to go work at a factory at age 12 that was overrun with rats, and his posh existence was upended, and it
traumatized him. Suddenly, he was one of a ton of child laborers.
•
What's even worse is that even when his family did eventually get out of prison, his mother wanted him to keep working at
the factory. So, he gets his family back, but he's still stuck doing this awful job. Fortunately, at least, he did get to go back to
school. His father got him into a school in London, finally saving him from a life in the factory. More financial problems
forced him out of that school in 1827.
•
He starts work as a law firm clerk. He also works as a reporter, which hones his writing a bit.
•
In 1830, he falls in love with a woman named Maria Beadnell. Her parents didn't approve, so they sent her off to finishing
school in Paris to get her away from him.
•
In 1836, he married a woman named Catherine Hogarth. They'd go on to have 10 children.
Early Major Works
Prolific writer – amazing literary output - tons of books!
•
He published his first short story in 1833. It was quickly followed by a flood of novellas, novels, plays and many, many stories.
•
His first full-fledged novel was called The Posthumous Papers of the Pickwick Club (known as The Pickwick Papers). It was
published in 19 monthly installments from 1836 to 1837. It's a collection of stories loosely connected to each other.
•
Next, comes Oliver Twist, which is published, again, in installments in 1838. This is about a miserable orphan boy stuck in a
workhouse. Dickens drew on his own experiences to write this.
•
After that, there were several more novels, including Nicholas Nickleby and The Old Curiosity Shop.
•
In 1842, Dickens goes to America. He comments on a variety of societal ills and political issues - important things, like
condemning slavery, and losing battles, like fighting the rampant piracy of his novels.
A Christmas Carol
published 1843
David Copperfield published 1849
Dickens' Late Life and Works
•
•
•
•
Bleak House (1853)
Hard Times (1854)
In 1857, Dickens was starring in a play called The Frozen Deep. He had an affair with 18-year-old
Ellen Ternan, who was playing opposite him in the play. After his wife discovered the affair, Dickens
separated from his wife and spent the rest of his days with Ellen.
During this time of turmoil, he wrote two of his greatest works:
• A Tale of Two Cities
• published in 1859
• 'It was the best of times, it was the worst of times.' The novel is set in two cities, London and Paris,
during the French Revolution. The plot deals with the good and the evil that came from the
overthrowing of the French aristocracy. Best of times, worst of times – theme of duality and
opposites.
• Great Expectations
• Published in 1861
• is about an orphan named Pip who is helping out a convict.
• Dickens was pretty prolific for a while, it declined around 1865. On June 9th of that year, he was in an almost
fatal train accident. It was deadly for many people. Several train cars plunged off a bridge - his didn't - but he
was quite rattled by the accident. He wrote a ghost story about it called The Signal-Man.
• Five years later to the day, he died. It was 1870, and he was one of the most popular authors in Victorian
England at the time.
• It is important to remember most of his works were published serially, which means that they were published
in sections in magazines as he wrote them - like TV shows episodes. This kind of publication schedule can
really change how you conceive of a novel and how it evolves.
• It is also important to know that he loved a good satire. He liked to comment on social issues, particularly
class and poverty. His satire can be funny, but it can also be kind of alarming. He was really into railing
against social conditions, especially in factories and the things that he had experienced. For upper class
readers, this shocked them. He really opened the door on much of the injustice that was going on.
• He also combines awful, harrowing realism - like poor Oliver Twist and his early life - alongside very
idealized things as well - like the transformation of Scrooge in A Christmas Carol. Also, he's not shy to be
sentimental. Oliver Twist is ridiculously sentimental. This is not something that Dickens is trying to avoid.
• Dickens has many great characters. Whether they're realistic, complex or caricatures, he's got great names in
particular. He's got the Artful Dodger, Inspector Bucket, Martin Chuzzlewit, Mrs. Snagsby, Mr. Fezziwig, Uriah
Heep - these are great names!