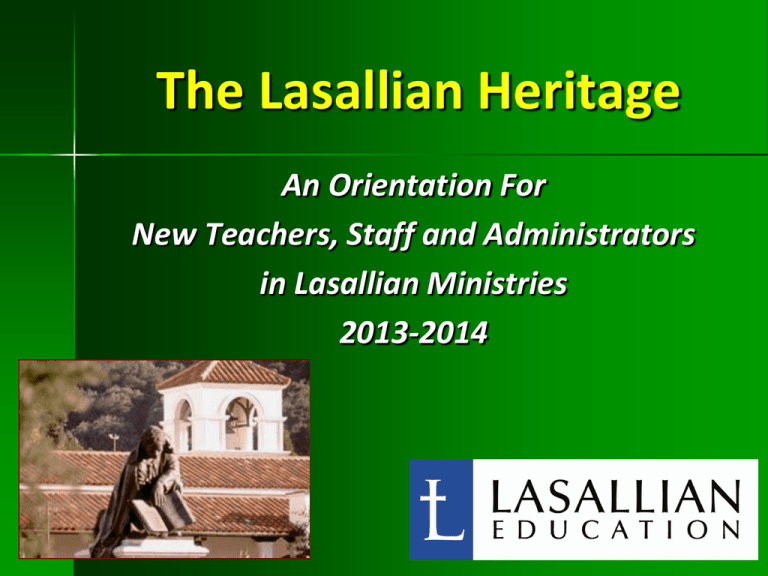 The Lasallian Heritage
An Orientation For
New Teachers, Staff and Administrators
in Lasallian Ministries
2013-2014
1
Goals
 Informational
 Reflective
2
Introductions
Four Things About Yourself….
1.
2.
3.
4.
Your Responsibilities
Your Previous Occupation
What Attracted You to This Ministry?
Any Previous Experience with the De
La Salle Christian Brothers or
Lasallian Ministries?
3
Opening & Closing Our Prayer
 Opening:
 "Let us remember….
 that we are in the holy
presence of God."
Closing:




Saint John Baptist de La Salle…
Pray for us!
Live, Jesus, in our hearts…
Forever!
4
Agenda
 Common Terms
 Our Mission
 Our Founder
 Meet the Family
 Goals, or Essential Characteristics, of
Lasallian Ministries
5
Common Terms
 St. John Baptist de La Salle
 De La Salle, or La Salle
 Lasallian
 Lasallian Schools
6
Common Terms
 Fratres Scholarum Christianarum (FSC)
 Brothers of the Christian Schools
 De La Salle Christian Brothers
 Lasallian Partners or Colleagues
7
Common Terms
Institute
 Superior General:
Brother Álvaro
 Generalate, Rome
 General Chapter
 International Mission
Assembly
District
 Visitor
 District Chapter
 District Mission
Council
 District Mission
Assembly
8
Saint John Baptist de La Salle
and the Gospels
One
Commitment
Leads
To
Another
9
Rheims, France - 1679
The Situation –
 Rampant Poverty
 Multi-Generational
The Need –
 What can be done to break the cycle of
economic and spiritual poverty?
10
Meanwhile, on the other
side of town…
11
John Baptist de La Salle 1679
 Newly Ordained
 Privileged Background
 A Person of Deep Faith
 Committed to Doing God's Will
 A Path for the Future?
 Whatever God Desires…
 Education Does Not Appear to Be
in the Cards…
12
However…
13
One Commitment Leads to
Another
 Assists Adrien Nyel
 Works With Teachers
 A Challenge: Trust in
Providence
 Establishes a Teaching
Community
14
The Gentle Persistence of God
I had not thought of doing
this before, but not
because others had not
suggested that I do such
work…
15
The Gentle Persistence of God
And if I had ever thought…
16
The Gentle Persistence of God
God, who directs all things with
wisdom and gentleness…
…one commitment led me into the
next one without my having foreseen
this in the beginning.
17
One Commitment Leads to
Another
 To help open a school
 To assist teachers
 To establish a community of
educators – "Brothers"
 To dedicate his life "in
association" with these
Brothers
 To provide an education to
those who did not have access
to a quality, Christian education
18
Who are the Brothers?
 serve others through education
 live in community, praying together daily
 consecrate themselves to God
 live in the spirit and charism of a long, living
tradition
 share their
mission in
a global
"Institute"
19
Our Worldwide Mission
The purpose of this Institute
is to provide a human and Christian education to the
young, especially the poor, according to the ministry
which the Church has entrusted to it.
20
-- The Rule of the Brothers of the Christian Schools
Video Overview
De La Salle – A Reflection
 Brother Gerard Rummery, FSC
 Australia
 General Councillor for 14 years
 Significant Contributor to Lasallian Studies
 Focus Question:
 If you were sitting around a campfire with
people who had never heard of John Baptist
de La Salle, what would you tell them?
21
Stop and Reflect
 I learned…
 I was surprised…
 I rediscovered…
 I'm beginning to wonder…
 I'm getting clearer about…
 I have a question about…
22
The International Institute
and the
Lasallian Region of North
America (RELAN) Today
A Quick Tour
23
The International Institute 2013
www.lasalle.org
7
8
C
o
u
n
t
r
i
e
s
4
6
0
5
88,054 Partners
B
r
o
t
h
e
r
s
24
RELAN 2013
■
■
■
■
■
■
■
■
■
■
■
■
102 ministries
43 High Schools, of which
three are "Cristo Rey"
schools
9 Middle/High Schools
12 Middle Schools, of
which 11 are "Miguel"
schools
7 Colleges / Universities
2 Elementary Schools
20 Educational Centers
serving more than 30,000
people in 2012-2013
3 Support Ministries
6 District or Regional
Offices
70,000 students, grades K
through higher education
755 Brothers
More than 10,000 Partners
District of San Francisco
District of Eastern North America
Midwest District
New Orleans/Santa Fe District
District of Francophone Canada
The District of Eastern North America
(DENA)
•
•
•
•
•
•
14 Secondary Schools
6 Middle Schools
5 Middle/High Schools
1 Elementary School
2 Colleges/Universities
4 Educational Centers /
Youth and Family Services
26
Francophone Canada District
• 4 Educational
Centers/Youth
and Family Services
27
The Midwest District
• 16 Secondary
Schools
• 4 Middle Schools
• 1 Elementary School
• 3 Universities
• 4 Educational Centers/Youth and
Family Services
28
The New Orleans-Santa Fe District
• 6 Secondary
Schools
• 1 Middle School
29
The District of San Francisco
•
•
•
•
11 Secondary Schools
1 Middle School
1 College
1 Shared Educational
Ministry with the
District of North
Mexico
30
And – Coming Soon to a Region
Near You . . .
31
Lasallian Colleges and Universities
2013
• RELAL – 35
• RELAF – 1
• PARC – 13
• RELAN – 7
• RELEM - 9
32
Goals
of
Lasallian
Ministries
33
Board Work
Parent
Programs
Curriculum
Co-Curricular
Programs
Development
Goals of Lasallian
Ministries
Campus
Ministry
School
Policies
Student
Service
Programs
Hiring
Admissions
34
Goals of Lasallian
Ministries
Essential Characteristics for
Lasallian Ministries
Goals of Lasallian Ministries

2005: Regional Education Board (REB)
commissions a group to revisit and bring
up to date the 1986 "Characteristics of
Lasallian Schools"

Result: "Goals of Lasallian Ministries"
document shared with the Region
Umbrella Mission Statement
"The Lasallian ministries of RELAN respond
to the needs of those entrusted to our
care."
"While the nature of these ministries may vary
across the Region and evolve in response to
the signs of the times, they possess the
following general goals". . .
1. We Instill Gospel Values
 Let us remember…
 Imago Dei
 Caring and Love for All Persons
 Witness to the Example of
Jesus and the Heritage of the
Church
 Promote Personal and
Communal Spiritual Growth
and Reflection
2. We are Animated by and
Foster a Spirit of Faith & Zeal
 Let us remember…
 Our "work" is a ministry and a vocation
 See all things with the "eyes of faith"
 Compassion and Care, with special
attention to those most in need
 The Power of Prayer
3. We Exercise a Preferential Option
for Those Who Are Poor
 Fullness of Life for All
 Special Consideration Given to Those in
Greatest Need
 Concern reaches beyond the local
community
 Both Social Action and Social Change are
values
4. We Develop and Maintain Diverse
Programs Meeting Recognized
Standards of Excellence
 Holistic Education:
 Mind, Body, Spirit, Heart
 A challenging environment
 For each one "entrusted to our care"
 Professional Development & Spiritual
Formation
 Accountability and Honest Evaluation
5. We Create and Sustain Respectful
Human Relationships in Community
 Goal: Everyone Finds a Place
 Inclusion Instead of Exclusion
 Parents, Students, Alumni, Friends
 Special Concern for Those Most in Need
 Focus on Quality Relationships
 Collegial, Collaborative Style of
Decision-Making and Governance
 The Transformative Power of Example
 Involved with the Local and Larger Church
 United by a Common Mission
Welcome
to the
Lasallian
Family!