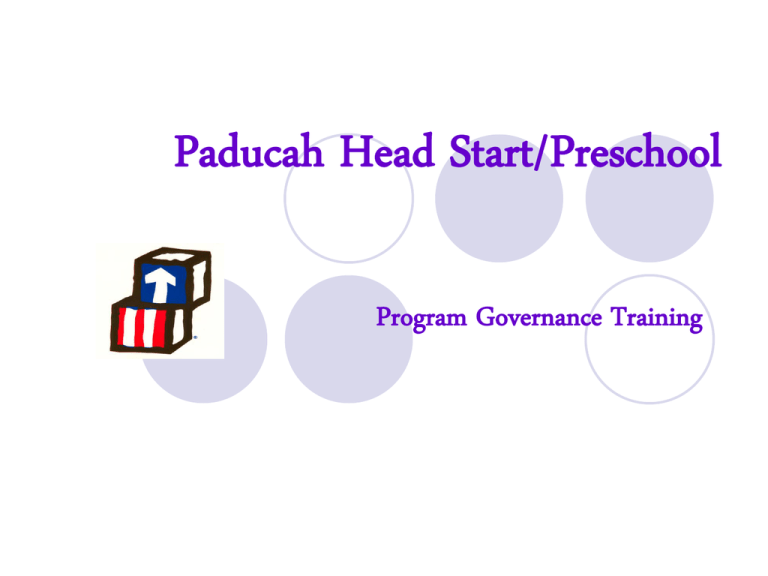 Paducah Head Start/Preschool
Program Governance Training
"Stitching
the Services
Together"
Head Start Program Overview
Federal Program that began in 1965
Program for low-Income preschool children and their families
Head Start promotes the school readiness of low-income children
by enhancing their cognitive, social and emotional development
Comprehensive child development program designed to include
the following service areas
Early Childhood Development & Health Services
Family & Community Partnerships
Program Design and Management
What makes a Head Start Program different from other
early childhood programs?
Parents are empowered to
actively participate in the
shared decision-making
process about all aspects of
their child's program through
a formal structure of shared
governance.
What is Program Governance?
Program governance is the formal structure that provides
parents and other community representatives with the
authority and opportunity to participate in shared
decision-making concerning program design and
implementation.
Policy Council Members are:
Parents of children currently enrolled
Community Representatives
Key Individuals & Groups Responsible for Head Start
Decision Making
Governing Body – Paducah Public School Board
Agency Director – Superintendent
Dr. Randy Greene
Program Director – Head Start Director
Frances Smith
Policy Council – Membership must be at least 51% of parents
of children currently enrolled in the program
Policy Council Responsibilities
Under the new Head Start Law, the Policy Council must
approve and submit to the Board, decisions about each of
the following activities:
Activities to support the active involvement of parents in
supporting program operations, including policies to ensure
that the Head Start agency is responsible to community and
parent needs.
Policy Council Responsibilities
Program recruitment, selection and enrollment
priorities.
Applications for Head Start funding and
amendments to such applications, prior to
submission of applications.
Budget planning for program expenditures,
including policies for reimbursement and
participation in Policy Council activities.
Policy Council Responsibilities
Bylaws for operation of the Policy Council.
Program personnel policies and decisions regarding the
employment of program staff consistent with the Board's
responsibilities in this area, including standards of
conduct for program staff, contractors and volunteers and
criteria for the employment and dismissal of program
staff.
Developing procedures for how members of the Policy
Council will be elected.
Roles & Responsibilities
Program Design and Operation
Strategic Planning (Needs Assessment and SelfAssessment)
Approve and submit program oriented policies to
the Board.
Long and short-term planning goals and objectives
Head Start Act
Governing Body Responsibilities
Assure active, independent, informed
governance; select independent auditors
Fully participate in development,
planning and evaluation of EHS/HS
program
Legal & fiscal responsibility
Board Responsibilities
Must assure compliance with Federal, state and local laws
and regulations;
And much more . . . . . . .
Review and approve all major policies;
Information Sharing
 Information Sharing must include:
 Grantees must ensure sharing of accurate and regular information for Board and
Policy Council re: planning, policies and Head Start operations.
 Monthly Financial Statements
 Monthly Program Information Summaries
 Program enrollment reports
 Financial Audits
 Annual Self-Assessment
 Community wide strategic planning and needs assessment
 Communication fro the HHS Secretary
 Program Information Reports
Head Start Performance Standards
The Head Start Performance Standards are designed to
ensure that the Head Start goals and objectives are
implemented successfully, that the Head Start philosophy
continues to thrive, and that all grantee and delegate
agencies maintain the highest possible quality in the
provision of Head Start services.
Head Start Performance Standards
Mandatory regulations
Must implement in order to
operate a Head Start
program.
Define objectives and
features of a quality Head
Start program
Performance Standards











1304.20
1304.21
1304.22
1304.23
1304.24
1304.40
1304.41
1304.51
1304.52
1305
1310
Child Health and Development Services
Education and Early Childhood Development
Child Health and Safety
Child Nutrition
Child Mental Health
Family Partnerships
Community Partnerships
Management Systems and Procedures
Human Resources Management
ERSEA
Transportation
Paducah Head Start/Preschool
Mission Statement
Paducah Head Start/Preschool provides an
exceptional child development program by
building compassionate partnerships with
families and positively influencing the future
of our society
Summary
The overall effect of the changes should be better informed
Boards and Policy Council and therefore, an even stronger
program serving our children and families.
The Ten Commitments of Leadership
Challenging the Process
1. Search out challenging opportunities to change, grow, innovate, and improve.
2. Experiment, take risks, and learn from the accompanying mistakes.
Inspiring a Shared Vision
3. Envision an uplifting and ennobling future.
4. Enlist others in a common vision by appealing to their values, interests, hopes, and dreams.
Enabling Others to Act
5. Foster collaboration by promoting cooperative goals and building trust.
6. Strengthen people by giving power away, providing choice, developing competence, assigning critical
tasks, and offering visible support.
Modeling the Way
7. Set the example by behaving in ways that are consistent with shared values.
8. Achieve small wins that promote consistent progress and build commitment.
Encouraging the Heart
9. Recognize individual contributions to the success of every project.
Leadership Challenge
10. Celebrate accomplishments regularly.
M-O-V-E-R Qualities
What are the qualities of effective leaders?
 One outstanding quality of leadership is their dedication to learning. Effective leaders
ask more questions than they answer and use this technique to instruct others. Rather
than showing a person how to do something, they ask the questions that lead the
person to discover the solution.
 Leader act as Mentors by guiding, coaching, supporting, and providing a safe
environment in which others may grow.
 Effective leaders engage in Outreach beyond the confines of the organization building
partnerships throughout the community. They have a clear idea of what is important,
how to achieve it, and how to communicate enthusiasm to everyone about their vision.
 Visionary leaders recognize the importance of inspiring others to be proactive. They
want to teach others to anticipate future opportunities and the challenges of change.
 Strong leaders Empower others to believe in the vision and play vital roles in making
it happen. They provide the tools and support for others to make decisions and
succeed.
 Finally, great leaders lead by example. They are Role Models, teaching others who look
to them for guidance.
LEADERSHIP MYTHS
Myth 1: Leadership is a rare skill.
 Everyone has leadership potential. Great leaders simply develop their potential. You
can be a leader in one area of your life while have a different role in another part of
your life.
Myth 2: Leaders are born, not made.
 Many leaders had very humble beginnings. They attained leadership positions through
hard work and experience. Becoming a leader may not be easy and there is no simple
do-it-yourself guide to leadership. However, if you prepare yourself and are willing to
put forth the effort, leadership can be learned.
Myth 3: Leaders must be charismatic.
 Leaders come in all shapes, sizes, colors, and cultural backgrounds. There are no
requirements for any certain type of physical appearance, health, personality, or style.
Myth 4: Leadership exists only at the top of an organization.
Have you noticed that the most successful organizations have
many people who are willing and able to assume leadership
positions—not just the top management person? Strong
leadership breeds leaders. All programs and organizations have
plenty of room for leaders.
Myth 5: Leaders control, prod, and manipulate.
Leadership should not be seen as an exercise of power, but
rather as the empowerment of others. Good leaders do not need
to control and manipulate others. People should accept
leadership, not be coerced into following it.
Good leaders lead by:
•Pulling, not pushing
•Inspiring, not ordering
•Enabling people to use their own initiative, not
control
•Setting attainable goals, not unreasonable
expectations
•Rewarding progress, not by ignoring achievement.