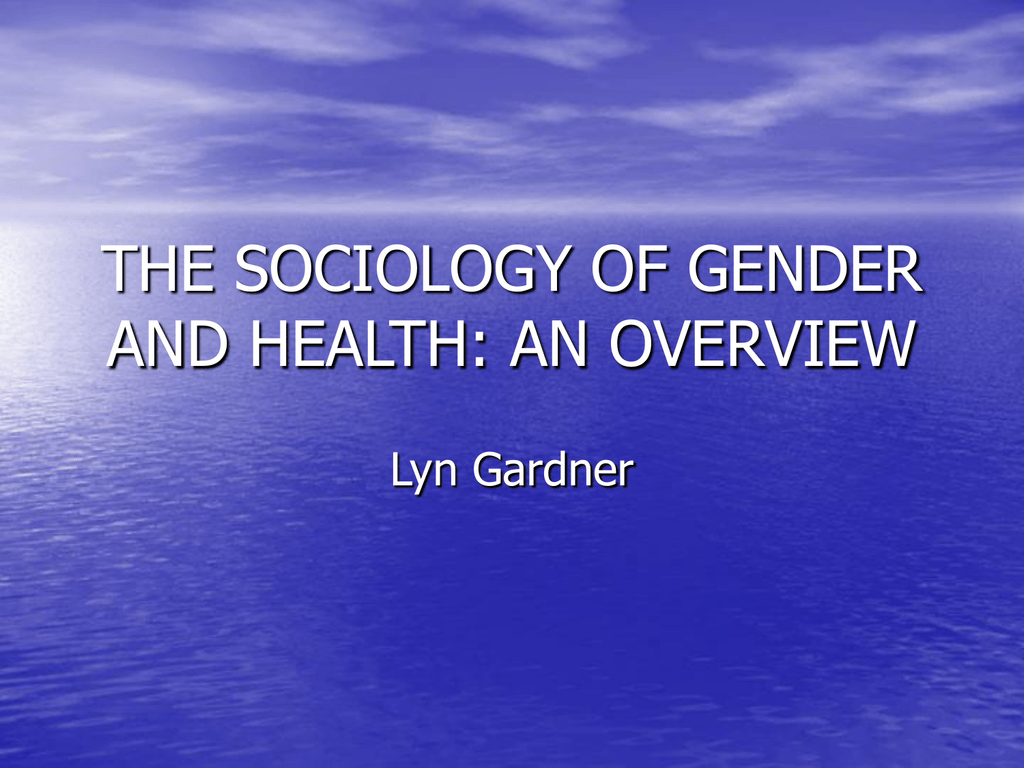 THE SOCIOLOGY OF GENDER
AND HEALTH: AN OVERVIEW
Lyn Gardner
DEFINITIONS
• Sex – biological or genetic differences between
•
•
•
men and women. Largely universal.
Gender – socially/culturally constructed
differences between men and women. Variable.
Sexism – the personal and institutional
differentiation of power and status between the
sexes which limit opportunities for girls and
women.
Gender/sex role – pattern of behaviour a
particular society expects from individuals of
either sex. Learned through socialisation.
Recognising the Social Construction
of Gender
'Gender refers to women's and men's roles
and responsibilities that are socially
determined. Gender is related to how we
are perceived and expected to think
and act as women and men because of
the way society is organised, not
because of our biological differences'.
Gender and Health, WHO (1998:5)
THE SECOND SEX
'In truth, to go for a walk with one's eye open is
enough to demonstrate that humanity is divided
into two classes of individuals whose clothes,
faces, bodies, smiles, gaits, interests and
occupations are manifestly different.
Perhaps these differences are superficial, perhaps
they are destined to disappear.
What is most certain is that they do most
obviously exist.'
Simone De Beauvoir – 1953
SOCIAL EXPLANATIONS OF
GENDER DIFFERENCES
• Feminine traits are de-valued and under-
valued by society.
• Women as relative beings – 'woman as
other'.
In a very important sense, it is normal to be
a man and abnormal to be a woman
Explanations Cont.
• The process of socialisation places men in a different
position to women: a masculine archetype
• Traditional notions of masculinity position men as
'breadwinners', risk takers (in terms of hazardous work
– industrial accidents, contact with harmful substances,
and other pursuits such as sport, sex, violence and
health damaging behaviours – smoking and excessive
alcohol intake)
See Doyal, L. (2002) in Bendelow, G. et al (eds) Gender,
Health and Healing. London:Routledge.
GENDER SOCIALISATION
TAKES PLACE IN:
the family
school/education
media
wider society
FAMILY
• Do parental/family expectations of boys and girls push
•
•
•
•
them into particular gender roles?
Gender stereotypes: girl babies are quiet, clean and
restrained. Boys are noisy and adventurous.
Research into reactions to a crying baby: told it was a
boy – interpret as anger. Told it was a girl – interpret as
fear.
Promotion of emotional inhibition ('big boys don't cry'),
positive sanctions ('what a brave boy') and prohibition of
feminine behaviour ('don't be a woos') See Stillion
(1995)
Or are parents/families responding to initial differences
in behaviour?
SCHOOL
• Teacher expectations may be different.
• 'Hidden curriculum' – guides pupils' expectations and
•
•
•
•
behaviour.
Evidence to suggest that boys get more attention from
teachers.
Peer pressure to conform to particular gender roles or
stereotypes.
Recent challenges to traditional male role = uncertainty
for boys/young men
Role models (or lack of) may influence subject/course
choice
MASS MEDIA INFLUENCES
• Portrayal of women as either 'sexual
objects' or caring/nurturing.
• Emphasis on women's appearance.
• 'You're only a feminist because you're
ugly!'….
• Treatment of women who commit violent
crimes – 'doubly deviant' – a crime against
your sex (gender?).
Health Surveillance: a Foucauldian
Perspective
• The medical gaze – societal gaze
• The process of observation, or surveillance, by both
•
•
the medical profession and wider society – whereby
individuals are measured against a given masculine or
feminine benchmark
Individuals assess their performance in a process of
self-surveillance
Yet men have an uneasy relationship with their bodies
and health (see White, A.K. and Johnson, M. (2000) Men
making sense of chest pain in J. of Clinical Nursing,
9:534-541.
• 'The maintenance of the male body becomes
problematic' (White and Johnson, p.535)
Social or Biological?
'Men's health is not a medical issue, it is
societal' argues White (2001:3)
Yet equally, argues Doyal (2002), this is the
case for women also – both nationally and
globally.
DIFFERENCE/SAMENESS DEBATE
• Why should any difference – if it exists, or
we believe it to – be constructed as
disadvantage, particularly for women?
• If we are the same – the problem of
women's relative disadvantage and lack of
power remains unresolved.
• What needs to be addressed is not are we
the same or different, but what structures
exist which convert this into disadvantage?
LEGISLATION TO ADDRESS
SEXUAL INEQUALITY
• 1882
• 1919
• 1923
• 1928
• 1970
• 1975
• 1992
Married Women's Property Act
Votes for Women over 30
Equality in grounds for divorce
Votes for women over 21
Equal Pay Act
Sex Discrimination Act
Church of England Synod votes to
allow women priests
Contemporary Social Changes in
the Lives of Men and Women
• Changes in work and employment: 'Women
are almost as likely as men to be employed; but
almost all of this increase is in part-time work.
There has been a significant narrowing of the
wages gap between women and men who work
full-time, but this does not extend to women
who work part-time. There has been a major
increase in the proportion of women in top jobs,
but significant sex segregation in employment
still remains'. Walby, 1997:36-7).
Cont.
• Changes in educational achievement:
there is evidence that women have made
(and continue to make) rapid gains in
educational terms since the mid-1980s, in
comparison to their male counterparts. A
larger increase in admissions to HE (115%
over a 10 year period, compared to only
35% increase for men), improvements for
girls in GCSE and A level achievements.
Cont.
• Changes in family and household: fertility
•
•
rates (falling birth rate), rise in single-parent
households (estimates suggest 90% of these are
women-headed), increase in divorce rate.
Yet women still maintain the majority share of
household tasks and childcare (and other care)
responsibilities
Increase in older, single/widowed households
(risk of poverty – feminisation of poverty)
GENDER & HEALTH INEQUALITIES
'Women get sicker but men die quicker'
(Miers, 2000)
Morbidity rates are higher for women
Mortality rates are higher for men
Statistically Speaking…
• Life expectancy is higher for women than
men: in 2001 life expectancy at birth for
women was 80.4 years compared with
75.7 for men.
• Life expectancy for men has been
increasing faster than for women: an
increase of 4.8 years for men, and 3.6
years for women between 1981 and 2001.
More stats…
• In 2001 obesity levels were similar for both
•
•
•
•
sexes: nearly half of men were considered
overweight, compared with a third of women
Underweight: men 4%, women 6%
Men twice as likely to exceed recommended
daily benchmarks for alcohol consumption (3-4
units daily for men, 2-3 for women)
Young men more likely to binge drink
Student drinking levels/behaviours revealed no
significant differences between the sexes!
CRITIQUE
• THE PICTURE IS MORE COMPLEX
• Gender differences are less significant in middle
•
•
•
years of life – age ranges are significant.
Men have higher rates of serious illness than
women
Women have higher consultancy rates than men
– particularly GP contact
When consultations for pregnancy/childbirth and
GU are removed, gender differences are less
significant
The New Woman – Emancipation
Thesis
• Women are increasingly consuming alcohol in
•
•
•
•
larger quantities – and drinking more frequently
Women are smoking in greater numbers than
before
Women are more at risk from injuries at work (in
addition to higher risk of injury in the home)
Increasingly more likely to indulge in 'risk-taking
behaviours' which may be damaging to health
Increasingly more likely to be injured or killed in
road and car accidents
WHY ARE WOMEN THE MAIN
CONSUMERS OF HEALTH CARE?
• WOMEN ASSUME MAIN RESPONSIBILITY FOR CONTRACEPTION
• WOMEN ENCOUNTER MEDICAL PROFESSION DURING PREGNANCY
•
•
•
•
AND CHILDBIRTH
WOMEN ASSUME PRIME RESPONSIBILITY FOR WELL AND SICK
CHILDREN
WOMEN'S ANATOMY IS SEEN TO BE MORE COMPLEX THAN MEN'S
AND APPEARS TO BE MORE LIKELY TO SUCCUMB TO HELATH
PROBLEMS AND ILLNESS
TRADITIONALLY WOMEN HAVE BEEN SEEN TO BE FRAIL –
MEDICINE HAS CAPITALISED ON WOMEN'S PERCIEVED
WEAKNESSES ( FROM THE VAPOURS TO PMS)
WOMEN SEE THEMSELVES AS ILL MORE OFTEN THAN MEN
WOMEN AND MENTAL ILLNESS
Historically women have been admitted to psychiatric
hospital at a higher rate than men – in 1999 468 per
100,000 – men 364 per 100,000
Women are twice as likely to be taking tranquillisers
Two-thirds of people taking anti-depressants are women
Women are the majority recipients of ECT (approx 70%)
But the picture is changing as the psychiatric services focus
resources on the people experiencing the so-called
serious and enduring mental illnesses e.g. Schizophrenia,
Bi-polar Disorder
Why should this impact on care provision for women?
Impact on Health
Women may still (just) have some
advantage over men in life expectancy,
may seem to get 'sicker' (higher rates of
morbidity), may be protected to some
extent from CHD due to oestrogen levels –
but their changing patterns of behaviour
are giving cause for interest and concern:
women are becoming more like men, and
thus experiencing similar health problems.
Suggested Reading
• Annandale, E. & Hunt, K. (2000) Gender Inequalities in Health. OUP:
•
•
•
•
•
•
•
•
Buckingham.
Busfield, J. (1996) Men, Women and Madness. Macmillan: Basingstoke.
Doyal, L. (1995) What Makes Women Sick? Macmillan: Basingstoke.
Miers, M. (2000) Gender Issues and Nursing Practice. Macmillan:
Basingstoke.
Wilkinson, S. & Kitzinger, C. (eds) (1994) Women and Health: Feminist
Perspectives. London: Taylor and Francis.
National statistics online
Davidson, N. and Lloyd, T. (eds) (2001) Promoting Men's Health. London:
Bailliere Tindall.
www.menshealthforum.org.uk
Social Science and Medicine (1999, 4, 1) special issue on gender and
health.