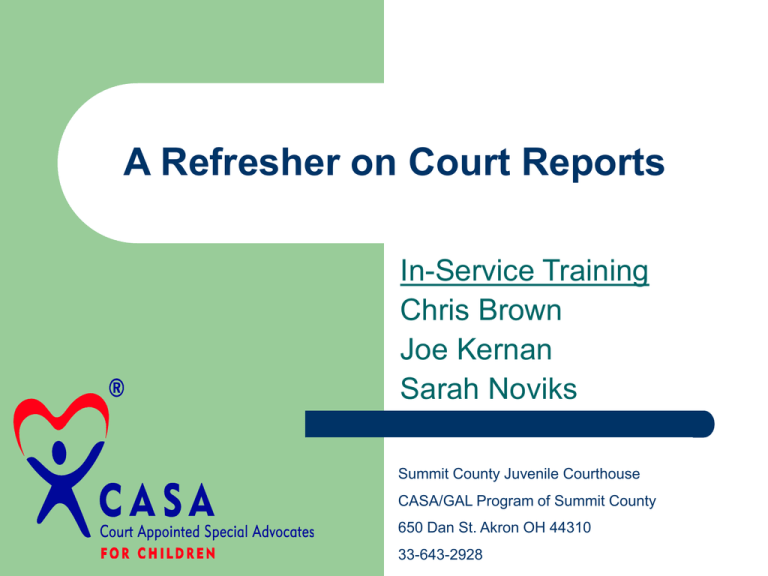 A Refresher on Court Reports
In-Service Training
Chris Brown
Joe Kernan
Sarah Noviks
Summit County Juvenile Courthouse
CASA/GAL Program of Summit County
650 Dan St. Akron OH 44310
33-643-2928
Tips to Remember

Please submit reports 7 days
prior to your court hearing to
your Volunteer Coordinator
–

We must file 7 days before a
hearing (originally 3)
With a Permanent Custody
report, it must be filed 7 days
prior as well
Tips to Remember

This is a court document
–
–
–
–
–
–
–
NO slang
NO foul language
Do not abbreviate
NO "I" (This CASA/GAL)
NO initials anywhere
NO opinions…just the
facts!
DO use Arial or Times
New Roman font
Tips to Remember

Start your report right after your last
hearing and add to it as you go.
–
–
Only include information from one
hearing to the next
Put a reminder on your calendar every
few weeks to update your report
Heading

To save yourself time:
–
–
Since the information is the
same, copy and paste from your
last report into the new
document
Be sure to change the date,
time, and hearing type
Case Contacts





Use Mr. Ms. Mrs., this is a court
document
Do NOT use foster parents'
names
Do NOT use the child(ren)'s
school names
Tab the contacts so they line up
Foster parents/kinship providers
can be listed here, visits remain
in the visit section
Attempted Contacts Unsuccessful




This section is for unsuccessful contacts
If you call someone and leave a message,
and they call you back within a day or two it
is not considered unsuccessful
If you call someone and they never call you
back…..
If you go to a scheduled visit and no one is
present…..
Reading of Records






Use SCCS instead of CSB
Counseling
Drug screen results
Online criminal checks
Medical
Education
Visits




In the child's placement, parent's home, or SCCS
If visit is at foster parent's home, include foster parent
under the visit
If visit is at kinship placement, include kinship
provider
If visit is at parent's home or SCCS, include
individuals present who are a party to the case
(parents, kinship provider)
Case History



Only use the ORIGINAL complaint
Do NOT use ongoing history of what has
happened on the case
Use past tense
Summary of Activities

Summarize in a few paragraphs
about each child
–
–

Only list parties to the case
–

Do not list what you saw/what
happened on each visit (on the
3/15/12 visit the CASA saw….)
Limit physical characteristics of
children
Children, parents, temporary or
legal custodians
Always list children first! This is
our focus
Summary of Activities: Children

In the children's section
make sure to cover:
–
–
–
–
–
–
Placement
Adjustment to placement
Services
School
Medical/development
Visits with
parents/siblings
Summary of Activities: Parents

In the parents' section be sure to include:
–
–
–
Case plan goals (also can copy and paste from
previous reports)
Case plan compliance
List the fathers EVEN if they are not participating
in case plan goals
*NEW* Wishes of Each Child


Similar to the summary of activities, there is a
heading, and each child is listed with DOB and age
Include 1-2 sentences per child in regards to their
wishes
–
–
For example: "Chris consistently expresses that he does not
want to be in the custody of SCCS because he feels as if he
is unable to lead a normal life. He wants to be at home with
his father"
If the child is too young to express a wish: "Chris is an infant;
therefore, he is too young to express his wishes."
Assessments


Try to write recommendations first, then
come back to assessments to explain WHY
you want to make those recommendations
There should be a short summary about all
the children and all parents
Recommendations



ON A SEPARATE PAGE!
Use bullet points
Only use a sentence or two per bullet






Custody
Placement
Any motions
Visitation
Services for children
Services for parents
QUESTIONS???