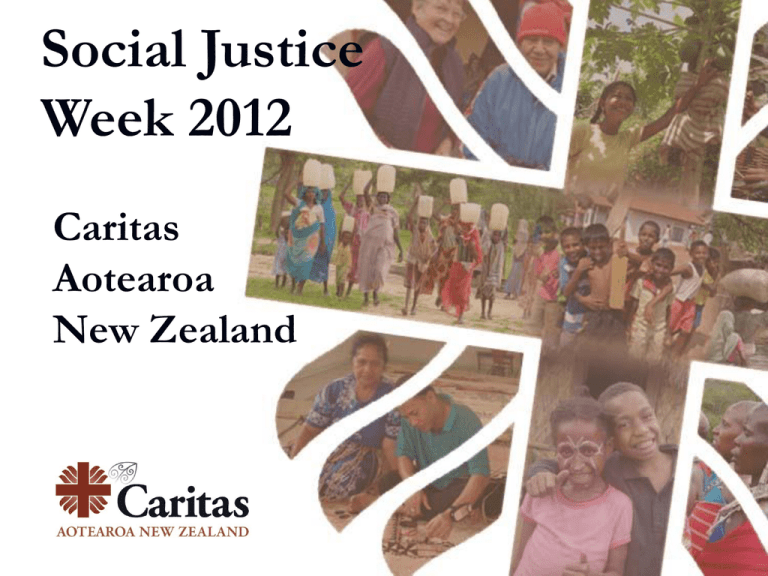 Social Justice
Week 2012
Caritas
Aotearoa
New Zealand
Social Justice Week 2012
Because we are a Eucharistic people we must be
involved in ensuring people have enough to eat.
Our Mission
CST: The Universal Destination of Goods
The earth and all it produces is intended for every
person. Private ownership is acceptable but there is
also a responsibility to ensure all have enough to live in
dignity. If we have more than we need, there is a social
obligation to ensure that others do not go without.
Fruit of the earth and work of human
hands.
He hua nō te oneone, ā, nā te ringa
tangata i mahi
- Liturgy of the Eucharist
Manaakitanga
Meals refresh and nourish. Meals are gathering points.
Meals provide a setting for conversation, friendships,
remembering, and sharing with one another.
Earth, sky and sea and all of life unite in the giving and
receiving of food, making every meal a sacred event.
Jesus took bread, gave thanks, broke it, and shared it.
Sharing of food is the central action of Eucharist.
What does Eucharist mean in a needy world?
Hunger today
Every 12 seconds a
child dies of hunger.
925 million people are
starving in our world.
Hunger is a global tragedy because it is avoidable.
Years 1 to 8 ideas
Spiritual food
•Saying grace-karakia
•Jesus and Zacchaeus (Luke 19)
•The Last Supper
•Jesus feeds to crowd
•Class Mass
•The teachings of Jesus provides the
'food we need'
•Recipes for life
•Helping the poor – service to justice.
Years 9 to 13 ideas
Spiritual food
•The teachings of Jesus – Sermon on the
Mount
•Jesus and Zacchaeus – a transforming
encounter
•Jesus feeds the crowd – significant
aspects of a miracle story
•The Last Supper: Jesus an example of
human wholeness and holiness
•The Last Supper: thanksgiving and
service
•The enduring Eucharist (John 21:1-14).
Years 1 to 8 ideas
Daily food
•
•
•
•
•
•
•
•
•
The story of a piece of bread.
Korero with a special guest for lunch.
Our leftover food.
How to compose your own grace.
Family meal time.
Story of a common NZ food.
Reflections on an important meal.
Design a food forest.
Find out about a staple food of the world.
Years 9 to 13 ideas
Daily food
•Food journeys - where does food come
from?
•Shared meal - thanksgiving meal
•Consumer responsibility - making just
food choices
•Shared meal - in images of the Last
Supper and reflecting on manaakitanga
•Fair trade - standing in solidarity with
those who lack food
•Shared meal - reflecting on church
teachings
Years 1 to 8 ideas
Food and Justice
Caritas helps hungry families.
Fruit of the earth.
Work of loving hands – shared lunch.
Enough food for everyone.
Helping out – social action.
Food waste.
Hunger – current crisis in the Sahel.
SJW poster as a source of motivation – justice
questions.
• If I could rule the world, one thing I would do.
•
•
•
•
•
•
•
•
Years 9 to 13 ideas
Food and Justice
•Food waste – researching individual and
community responses
•Caritas work in the Sahel – the 2012 food
crisis
•Global distribution of food – analysis of
this as a moral issue
•Caritas work in the Sahel – investigating
food insecurity and malnutrition
•Hunger – analysing the Church response
•Caritas in the Sahel – analysing the
Church response
Worksheets
At least three worksheets per level (junior, middle,
senior).
All worksheets to download from the Schools section
of the Caritas website.
Includes map templates,
statistics, problem solving
outlines, Caritas partnership in
the Sahel, West Africa.
Poster and bookmark
Some included in the teacher's pack.
Free to order.
Quote from the Eucharistic Liturgy.
From seeds to cultivation, harvest,
production, market, consumption…
many loving hands.
Key concept of sharing what we have.
Using Gospel values we ask
'What comes next?'
'Who misses out?'
Contacts
http://www.caritas.org.nz/schools/social-justice-schools
Website links to: Schools. Teachers. Students.
Who we are. What we do. And more …
catherine@caritas.org.nz
elizabeth@caritas.org.nz
Teacher's pack for additional support
•Teacher's booklet for background reading Our Daily
Bread.
•SJW posters.
•SJW bookmarks/prayer cards.
•Promotional material for worksheets on the website.
•Singout4Justice songwriting competition, poster and
entry form.
•Order form.
•Visits request form.
•Feedback form.
Reflection
The meal of the Eucharist is the
celebration of the hospitality of
God, shared by guests who commit
themselves to become fellow hosts
with God.
- Monika Hellwig: The Eucharist and the hunger of
the world.
The basic theology of Eucharist
as a proclamation of social
justice looks to transform both
persons and communities.
- John Coleman: How the Eucharist proclaims
social justice.
To those who have hunger
give bread.
And to those who have
bread give the hunger for
justice.