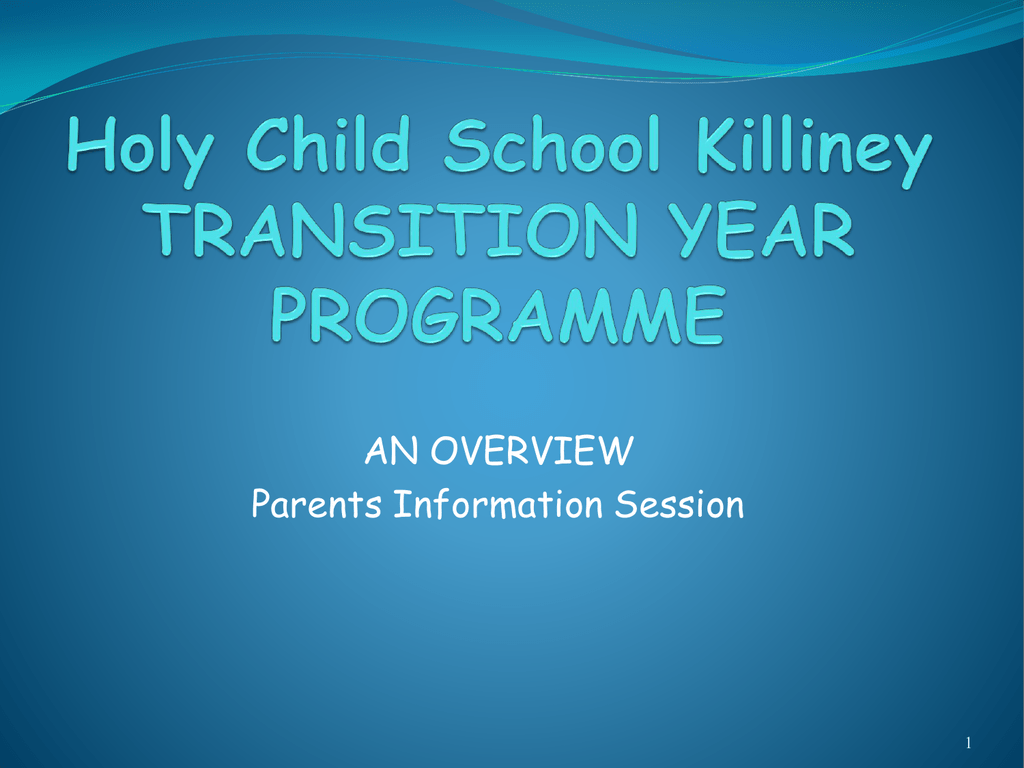 AN OVERVIEW
Parents Information Session
1
TRANSITION YEAR
Transition Year is a one year school
based programme between Junior and
Senior Cycle . It is designed to act as a
bridge between the two by facilitating
the smooth transition from the more
dependant learning of the Junior Cycle
to the more independent self-directed
learning required for the Senior Cycle
2
Aims
Education for
MATURITY
with emphasis on
social awareness
& increased social
competence
Education through
experience of ADULT
& WORKING LIFE
as a basis for
personal development
& maturity
Promotion of general,
technical and academic
SKILLS with an
emphasis on
interdisciplinary and
self-directed learning
Challenges Facing Young People
The Leaving Certificate & Points Race
Third Level Education
Adult and Working life .
5
Challenges facing young people
Leaving Certificate
•Informed subject choice
•Study Skills
•Independent self-directed study
skills
•Assessment/Self assessment
•CAO choices/course requirements
Challenges facing young people
Third Level
•High drop our rate/dependency culture
•Age profile/maturity
•Self management skills
•Time management skills
•Study skills – independent self-directed
•Group/Project work/Research skills
•ICT skills
Challenges Facing young people
Adult working life
•Self esteem
•Relationships
•Teamwork
•Maturity
•Careers/Work experience
•Interviews – C.V. Portfolio
•ICT skills
•Certification –
DES/School/Agencies
Irish Times 3/05/10
Sean Flynn quoted from a research paper called Parental
involvement in Post Primary Education by Dr. Delma Byrne
and Dr.Emer Smyth of the ERSI.
-There is strong parental approval for Transition Year but
highlights the need to forge stronger links between schools
and parents
-The survey indicates that parents want less emphasis on
academic disciplines and greater focus on life skills.
-There is strong support for computer and other practical
skills
-There is a belief that the narrow curriculum does not
prepare students for actually leaving school and going into
the real world.
Peeling the layers of a TY Programme
1. 'Core' Subject Layer
1. Subject Sampling Layer
3. Transition Specific Layer
4. Calendar Layer
Core Subject Layer
•English
•Irish
•Maths
•SPHE
•French
•RE
•PE
•IT SKILLS
•Spanish/German
Subject Sampling Layer
History
Physics
Biology
Music
Classical Studies
Business
Geography
Chemistry
Arts and Crafts
Chinese
Philosophy
Economics
Transition Specific Layer
Musical
First aid
Log on Learn
Cookery
Driving/Steer Clear
First Aid
Young Social Innovators
Social/Cultural
Debating/Public
Speaking
Pottery
Outdoor pursuits
Speakers
Community outreach
Young Scientist
Mini Company
Mini-Company and certificate
from the Marketing Institute
Calendar Layer
•Work Experience placement
•Field trips (Significant learning day)
•Community Care
•School Musical
•Gaisce
•Adventure trip
Hospital Work experience
Mater Misericordiae University Hospital
Contact : Ms Sandra Crawford
IHL Co-ordinator
Training, Education and Development
Telephone: 8032000
St.Columcille's Hospital, Loughlinstown.
( applications accepted only in September,
places assigned in the first week of October)
Contact: Ms.Deirdre Fitzgerald
Chairperson Allied Health Professionals
Department of Speech and Language Therapy
St.Columcille's Hospital
Loughlinstown
Co.Dublin
Applications should be made in writing by the student,
stating her particular area of interest and include a one
page CV
St. Michaels Hospital Dun Laoghaire
Ms Nicola Geoghegan,
PA to the General Manager and TY
Programme co-ordinator
General Managers Office,
Lower Georges St,
Dun Laoghaire
PH: 2806901
Significant learning day
Members of staff have TY students for an
entire day and provide opportunities for
significant learning experiences.
•W5 9Belfast ( Science Department)
•Work Experience ( Career Guidance Department)
•Retreat ( RE department)
•French Day
•Self defence (level one)
• Preparing for Christmas ( HE and Arts and Crafts)
•Geography field trip
•Pal
4 challenge areas are:
1. Community Involvement – 13 weeks
2. Personal Skill – 13 weeks
3. Physical Recreation – 13 weeks
4. Adventure Journey- Plan, prepare and undertake a 2 day, 1 night
adventure journey in a group covering a minimum total distance of:
Walking 25 – 35 km or Cycling 100 – 130 km over 2 consecutive days
Term out of school
Language Courses
 Application form is in your pack
 One term in advance / one months notice at
the latest
 Marked in as a school activity therefore it will
not be recorded as absent on the file.
 Keeping up with assignments while away
 Report sent to the school – will be retained on
the students file
Methodologies
•Active and learner-focused
•Teacher as facilitator
•Collaborative and independent environment
•Group work/Pair work
•Role-play/simulations
•Project work/Fieldwork
•Out of school activities
•Visiting speakers
•Negotiated learning
•Practical work
Assessment
'Assessment should be an integral part of the learning process
in Transition Year not separate from it'. DES Guidelines
•Folder of Excellence (Assessed throughout the year)
•Oral/Aural assessment
•Project work/assignments ( dates)
•Self-assessment
•Written/Practical Class test
•Assessments at the end of each module
•Written report on Work Experience/Community Care
•Skills assessment
•Examinations in core subjects at Christmas and end of year
Parent/Teacher meeting
Reports home
Opportunities for certification
School Certified IT skills programme
First Aid
Driving Steer clear
Level one Self defence
Public Access to law
Homework
The following activities may be described as
homework:
•Assignments set by teachers on a regular basis –
Maths, Irish, English etc
•Research Tasks – Internet (researching for
projects, debates, homework assignments)
•Participating in a sport, taking up a new skill(Gaisce)
•Completing all sections of the Gaisce programme
•Maintaining and completing the folder of excellence.
Evaluation
Encouraged as a regular feature
External - The Inspectorate
Internal – School
- Whole School
- Individual Subject
Teacher
- Students
- Parents
-Work providers
Does Transition Year make a difference ?
Research
NCCA study (1994-1997)
Those participating in TY are:
More likely to be educationally adventurous.
Scored 46 points higher on CAO.
The TY programme/Assessment ESRI 2004
Those participating in TY:
Scored two grade points higher in the Leaving
Certificate.
Students do better if Transition Year is an option.
Some reflections on TY
Stamina – Don't be a great starter and a poor
finisher
Free classes – No such thing !
Community Service – what is its purpose?
Work experience
Freedom !! Or
??
Irish Times 4/04/10 Kate Holmquist quotes Dr.Keith Holmes Child psychiatrist:
In Transition Year he says 'Young people are being set back and deprived of the chance
to adjust gradually to adulthood.....it should be a gradual process of growing freedom'.
He cautions us against giving too much freedom too quickly.