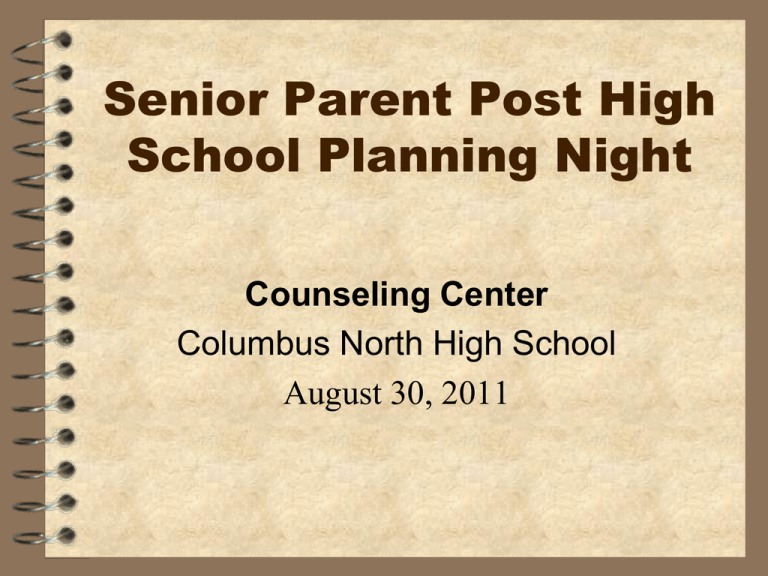 Senior Parent Post High
School Planning Night
Counseling Center
Columbus North High School
August 30, 2011
Counseling Center Staff
–
–
–
–
–
–
–
–
Mrs. Sandy Freshour, Counselor, Grades 10 & 12 (A-K)
Mrs. Julie Speer, Counselor, Grades 10 & 12( L-Z)
Mrs. LuAnn Davis, Counselor, Grades 9 & 11
Mrs. Karmen Riley Counselor, Grades 9 & 11
Mrs. Rhonda Murray, Registrar
Mrs. Robin Hilber, Secretarial Assistant
Mrs. Jenny Weir, Assistant
Mr. Rick Thomas, Counseling Director-Special Education
Mrs. Teresa Weichman, C4 counselor
STEP 1: Getting Ready to Graduate
SENIOR MEETINGS
– Will Check
• Transcripts/Credits
• Current Schedule
• Diploma Requirements
– Senior Data Sheet
– Answer Questions – How to proceed
– Give Information
– Pg #1 in hand-outs
STEP 1: Getting Ready to Graduate
GRADUATION REQUIREMENTS
 Diploma requirements-Check now to make sure all requirements
are being met in some way
 Pg #3 in handouts
 Success on ECAs –Algebra I & English 10 (Graduation
Qualifying Exams)
 Jan Matchette-Testing Coordinator
matchettej@bcsc.k12.in.us
 Senior Project Pride-Lisa Cooley Pg # 4 in handout
 Project-based/community component
 Paper written in 1st semester English class
information
 Consult CNHS website for in-depth info
Step 1: Getting Ready to Graduate
 Grades are posted on Parent Portal in
real time
 Report cards & progress reports are
posted & will not be mailed unless
requested by calling the Counseling
Center
 Help you senior stay aware of progress
Columbus North High School
BULL DOG BYTES
Published by the Counseling Center
August 2011
Pg # 5-6 in Handout
•Counselors meeting with seniors
•Graduation requirements
•SAT – ACT test dates
•Post Secondary Planning
•Applying to College
•Financial Aid Information
•Other
Senior Planning Calendar
IMPORTANT DATES FOR SENIOR YEAR
Pg # 7 in handouts
STEP 2: Finding the Right College
COLLEGE INFORMATION
– NAVIANCE-access from the North website under
Counseling Center (students given accounts at junior
meeting) Pg # 8
– Mail from Colleges
– Counseling Center Library
– Internet sites:
•
•
•
•
•
www.collegeboard.com
www.learnmoreindiana.org
www.triptocollege.org
www.collegelink.com
www.collegeview.com
Pg # 9 in handouts
STEP 2: Finding the Right College
COLLEGE REPRESENTATIVE VISTING
NORTH
• Listings on NAVIANCE, in Show Me the Money
(Pg #10-11 in handouts) and on the
Counseling Center bulletin board
• Obtain a pass from Mrs. Hilber
• List of questions for the representative
• Parents are welcome to attend by calling the
counseling center in advance 376-4292
STEP 2: Finding the Right College
COLLEGE VISTS
– Visit Colleges on-line
– Visit as many campuses as possible
• Three days senior year
• Make Appointment with the College Admission Office
• Complete College Visit form from the Dean's Office at
least one week prior to the visit
– Attend Regional College Fair at East
• September 29, 2011, 11am-12:30pm
• East High School
• Parents Welcome!
– Pg # 12-13 in handout
STEP 2: Finding the Right College
FINDING THE RIGHT FIT
–
–
–
–
–
–
–
–
(What Colleges Look For)
Types of classes taken
Grade point average
Class rank
Test scores
Extra-curricular and personal activities
Geographical and racial balance
Music auditions, Art portfolio, Other
COLLEGES DIFFER!!!!- CONTACT THE
COLLEGE
STEP 3: Taking the Right Tests
SAT & ACT
– Registration- on line (or hard copy)
– Take in Sept, Oct, Nov, Dec
– Cost
– Scoring
– Testing Calendar: Pg # 14 handouts
– ACT/SAT comparison: Pg # 15 handouts
STEP 3: Taking the Right Test
ADDITIONAL EXAMS
– AP Tests (colleges vary on how they use the AP
test scores, contact specific college)
– Armed Services Vocational Aptitude Battery
(ASVAB)
– Other Required Exams-Check with your PostSecondary Institution (College Placement, SAT
Subject Tests, CLEP for college credit)
STEP 4: Applying to College
COLLEGE APPLICATION PROCESS
(pg # 16-19 in handout)
 Find Applications
– College's website
• Many colleges prefer online applications
• Create an account (write down user name & password)
• Print the application checklist
– Counseling Center
• Most in-state schools
• College Handbook (addresses for out of state colleges)
• NAVIANCE
STEP 4: Applying to Colleges
COLLEGE APPLICATION PROCESS
 Apply Early
– Rule of Thumb: Apply by November 1st
– Check each college deadline carefully!
– Print out required forms & submit
 Follow Directions
– Each college has own unique process, most have a checklist
– Do your homework! Requirements & application
components vary.
– Check to see if Student Essay or Recommendation Letters
are required. Tips on Pg # 17 of handout
STEP 4: Applying to College
COLLEGE APPLICATION PROCESS
 Be responsible
•
•
•
•
Know deadlines
Keep in contact with your counselor
Do legwork and necessary research
Update your resume
 Be organized
• College folder, application folder, & chart to keep track
• Add the college to your NAVIANCE account for "colleges I am
applying to"
• Mark deadlines on calendar
• Ask for required recommendations in September & write
essays well ahead the deadline
STEP 4: Applying to College
Working with your Counselor
– Most colleges require a counselor component
– We advise you to be early
• Counselor recommendations, teacher recommendations, transcripts,
etc. should be submitted at least 2 weeks prior to deadline along with
a Recommendation Information Sheet (Pg # 17 of handout), resume or
list of activities
• Counselors and support staff complete requests on first-come, firstserve basis
• If you are not submitting your application electronically or the counselor
component is being mailed, leave time for US Postal Service to deliver
your materials
• Allow extra time for the college's internal mail service to process your
application as well
• Use the CNHS College Application Checklist on Pg # 19 of your
handout when turning in materials to the counseling office
• Be sure to follow up
STEP 4: Applying to College
HIGH SCHOOL TRANSCRIPT
 Required by most every college
 Must be sent directly from school
 Hardcopy or electronically
 Transcript has:
 Grades
 Class Rank
 Grade Point Average - GPA
 Type of Classes
 Test Scores
--------------------------------------------------------------------------------------------------•
•
•
•
Request in Counseling Office or online
Allow three school days for transcript
Three transcripts are free, after $1.00 each
Your packet has an example: Pg # 20 handouts
STEP 4: Applying to College
E-TRANSCRIPT
 Sign up available on NAVIANCE
– Send a transcript to any college in the nation for
free!
– Indiana colleges prefer use of e-transcript
– Can access 24 hours a day
– Semester Grades, GPA (on 12 & 4 point scale), Class
Rank, Current Classes, Standardized Test Scores
– http://www.bcsc.k12.in.us/northhs/site/default.asp
click on "Counseling Center" tab
STEP 5: Finding Funding for College
TIPS
– Students & Parents work together
• Communicate deadlines
• Understanding student role in securing $$ for college
– Get the Numbers Right
• Research the actual cost of attending each college on
your list (see www.collegeboard.com)
• Tuition, fees, room & board, Books & supplies, estimated
personal expenses, transportation expenses
STEP 5: Finding Funding for College
TIPS
– Know your Resources
• SHOW ME THE MONEY (Pg # 10-11 of handout)
• Internet (be aware of websites for profit)
• Learn More Indiana (www.learnmoreindiana.org)
– Apply for Scholarships
• Start with the Financial Aid Office at the colleges you
want to attend
• Check college websites for scholarship apps
• Subscribe to Show Me the Money
STEP 5: Finding Funding for College
–COMPLETE THE FAFSA
• Free Application for Federal
Student Aid
• Received by Federal Processor:
March 10th 2012
STEP 5: Finding Funding for College
FINANCIAL AID MEETING
WEDNESDAY
JANUARY 12, 2012
7:00 p.m.
North Auditorium
STEP 5: Finding Funding For College
SOURCES OF FINANCIAL AID
– Aid Comes From:
•
•
•
•
Federal Government
State Aid
College
Private
– Types of Aid:
•
•
•
•
loans
scholarships
grants
work study
Special Guest:
Heritage Fund
Miranda Cross
376-7772
ADDITIONAL INFORMATION
EARLY COLLEGE OPTION
Earn college credit while still in high school
Ivy Tech Community College or IUPUC, general
education classes
Dual credit at a reduced cost
Experience post-secondary work on a college
campus while still in high school
Contact the Counseling Center for more
information.
ADDITIONAL INFORMATION
NCAA & NAIA ELIGIBILITY
 Division I and II college athletics
 www.eligibilitycenter.org.
 Fill out "Domestic Release Form"
 Transcript Release Form
 Sliding scale: Grade point average vs. SAT or ACT
scores
 16 core classes- must be NCAA approved!
 NAIA
 www.playnaia.org
Check the website!
ADDITIONAL INFORMATION
Additional Post Secondary Options
 Internships
 Co-ops
 Apprenticeships
 Military: contact recruiters for info
 Certificate Programs
 Adult Education
PROGRAM EVALUATION
 Tonight's Program
 Senior Bulldog Bytes
 Show-Me-The-Money: sign-up form
Counseling Center Contact
Information
OFFICE: 376-4292
Sandy Freshour, Counselor
freshours@bcsc.k12.in.us
Julie Speer, Counselor
speerj@bcsc.k12.in.us
Rick Thomas, Director of Counseling
thomasr@bcsc.k12.in.us
Robin Hilber (for "Show Me the Money")
hilberr@bcsc.k12.in.us
Good Luck
2012 Graduates
and Parents!