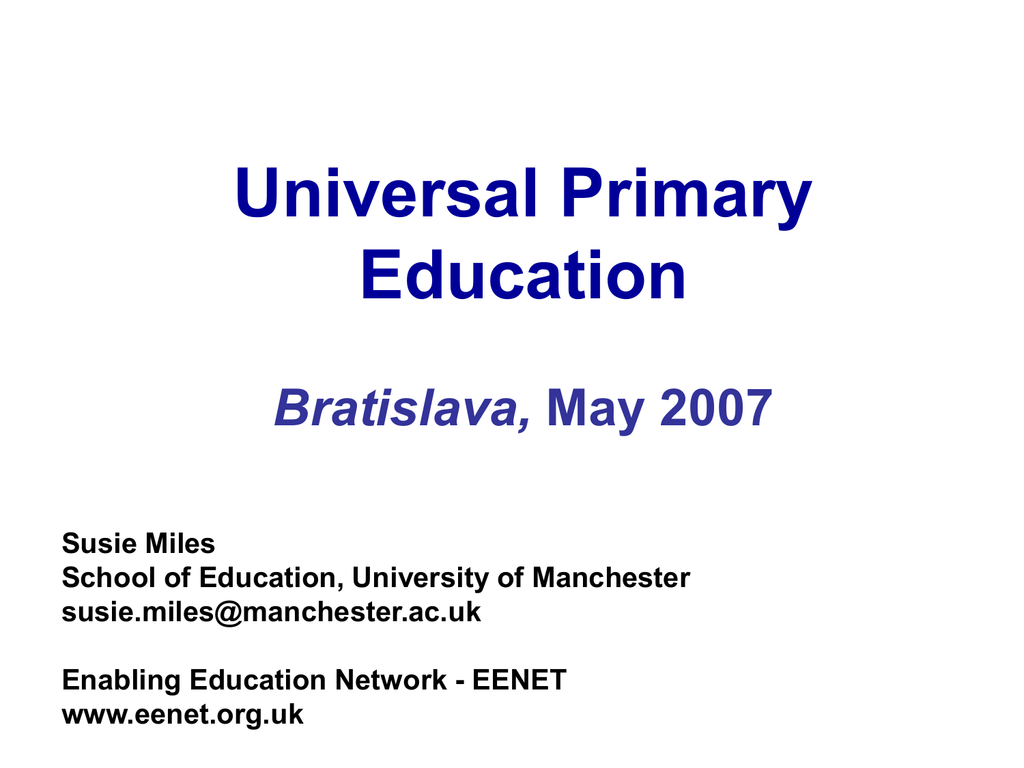 Universal Primary
Education
Bratislava, May 2007
Susie Miles
School of Education, University of Manchester
[email protected]
Enabling Education Network - EENET
www.eenet.org.uk
Overview
•
•
•
•
•
What is education?
International Frameworks
Millennium Development Goal: Education
Individual v social model of education
Promoting inclusive learning environments
for all, Oriang, Kenya
• Key issues in making education work
• Definitions of inclusive education
• UN Convention: the right to be included.
What is education?
International frameworks
1989 Convention on the Rights of the Child
1990 Jomtien, Thailand – EFA Education
for All
1993 UN Standard Rules (on Disability)
1994 Salamanca Statement
2000 Dakar, Senegal, EFA
Conference & Millennium Development Goals
2002 Fast Track Initiative (for EFA)
2007 UN Convention on Disability
Millennium Development
Goals
Goal 2: Achieve Universal Primary
Education
Target 3: Ensure that, by 2015,
children everywhere, boys and girls
alike, will be able to complete a full
course of primary schooling
Indicators for Goal 2
• Net enrolment ratio in primary
education
• Proportion of pupils starting
grade 1 who reach grade 5
• Literacy rate of 15-24 year olds.
Does not respond,
cannot learn
Needs special
teachers
Needs special environment
Has special
needs
Child as
problem
Needs special
equipment
Cannot get
Is different from
other children
to school
Teachers'
attitudes
Poor quality
training
Lack of teaching
aids and equipment
Rigid methods,
rigid curriculum
Education
system as
problem
Parents not
involved
Inaccessible environments
Many drop-outs,
many repeaters
Teachers and schools
not supported
Physical access – Oriang, Kenya
This log is the only bridge providing access to
the nearest school.
"Levelling" the school environment
Teachers and pupils working to prevent soil erosion.
The importance of good lighting
This window has been enlarged to improve light quality.
Inclusive learning environments
Improved seating arrangements, collaborative learning, well lit
classrooms, walls painted white.
Accessible toilets?
New toilets adapted for students and staff
Special
schools
Economic
empowerment
Situation
analysis
Key Issues
Early childhood
development
Policy
development
Inclusive
learning
environments
Teacher
education and
development
Child to Child
School
improvement
Parent and
community
involvement
EENET's view of IE
all children can learn
inclusive education is a dynamic process which is constantly
evolving
differences in children, such as age, gender, ethnicity, language,
disability, HIV and TB status, should be acknowledged and
respected
education structures, systems and methodologies should be
developed to meet the needs of all children
such developments should be seen as part of a wider strategy to
promote an inclusive society
progress need not be restricted by large class sizes or a shortage
of material resources.
Based on the Agra Conference, 1998
A UNESCO definition of inclusive education
"Inclusive education starts from the belief that the right to
education is a basic human right and the foundation for a
more just society.
Inclusive education takes the Education for All (EFA)
agenda forward by finding ways of enabling schools to
serve all children in their communities….
Inclusive education is concerned with all learners, with a
focus on those who have traditionally been excluded from
educational opportunities – such as learners with special
needs and disabilities, children from ethnic and linguistic
minorities".
UNESCO, 2001
Inclusive education - a right
• Article 24 requires all signatories to ensure that all
disabled children and young people can fully
participate in the state education system and this
should be an 'inclusive system at all levels'.
• This right is to be delivered within an inclusive primary
and secondary education system, from which disabled
people should not be excluded.
• Reasonable accommodations should be provided for
individual requirements and support provided in
individualised programmes to facilitate their effective
social and academic education.