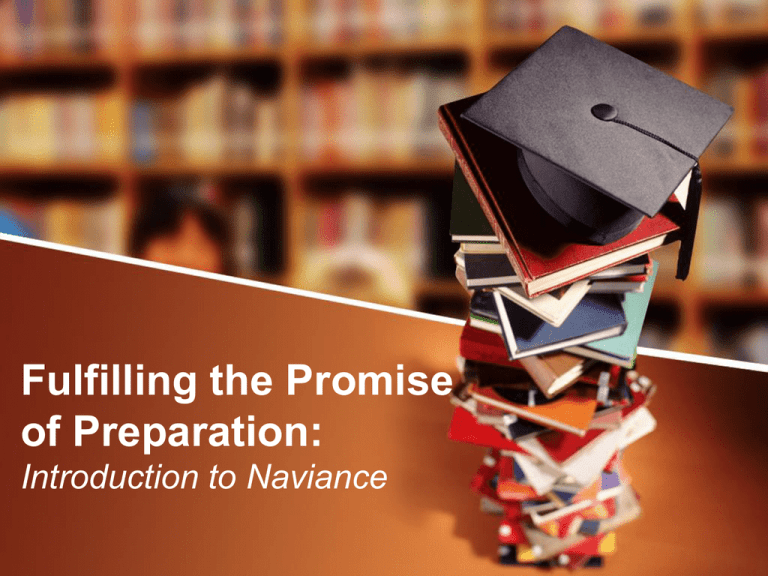 Fulfilling the Promise
of Preparation:
Introduction to Naviance
Bridging the Gap
Who am I?
What do I
want to
be?
Will I be
successful?
How will I
get there?
What is Naviance?
Naviance is a college and
career readiness platform
that helps connect
academic achievement to
post-secondary goals and
success.
Naviance Activities by
Grade Level
Goal Setting
Career Cluster
Roadtrip Nation
9th
Goal Setting
Career Interest Profiler
College Search
10thBegin Resume
12th
11th
Goal Setting
College Essay
Transcript Request Process
College Application
Career Search
Goal Setting
Personality Survey
Build Resume
College Search
Counselor Input Form
Do What You Are:
Personality Inventory
I'm more likely to…
strike up a
conversation
with a
stranger.
wait for others to
initiate
conversations
with me.
I'm more likely to prefer…
a more
a fast pace,
leisurely pace,
and often like
and want to
to do more
pay attention
than one thing
to one thing at
at a time.
a time.
It's fair to say that I'm the kind of
person who…
works best
when I can
start at the
beginning and
work my way
through to the
end.
likes to work in
bursts of
energy, often
jumping
around from
one task to the
next.
Personality Assessment
Results
Lisa's strengths may include:
 Being well organized and prepared
Presenting herself as a hardworking,
responsible person
Lisa's blindspots may include:
Not anticipating how decisions she makes now,
may impact her future
Focusing too much on details, and not
presenting herself as a well-rounded candidate
Personality Assessment
Results
For a career to be satisfying, it should:
Let her work in a fairly structured, organized
environment
Give her a fair amount of control and responsibility
Preferred Learning Style (what Lisa
needs in order to maximize her learning):
Plenty of opportunity for interaction with others
students
Emphasize the practical value of what she is learning
Personality Assessment
Results
To communicate with Lisa most
effectively:
Be organized, prepared, and on time for your meeting
Be succinct, direct, thorough and specific with your
information
Potential careers and majors for Lisa to
consider:
Career Interest Profiler
Maintain the grounds of a
park
Like
Unsure
Dislike
Operate a machine on a
production line
Like
Unsure
Dislike
Develop a way to better
predict the weather
Like
Unsure
Dislike
Work in a biology lab
Like
Unsure
Dislike
Write scripts for movies or
television shows
Like
Unsure
Dislike
Teach disabled people work
and living skills
Like
Unsure
Dislike
Career Profiler Results
Uses John Holland's Career Codes:
Career Choice based on Personality Types
Career Profiler Results
Roadtrip Nation
College Search Using Over 20
Criteria
Towson University
Accepted Average GPA: 3.72 Weighted
Accepted Average SAT: 1147
iPhone App Makes Naviance
Easy to Access!
Log in Information for
Parents
•Go to:
www.marriottsridge.net
•On the gray tool bar on the left click on
"Student Services"
•A drop-down menu will appear. Click on
"Naviance".
•Follow the path for new user or returning
user. A personal registration code is
required for new users. If you do not have a
registration code, please ask your student's
school counselor.