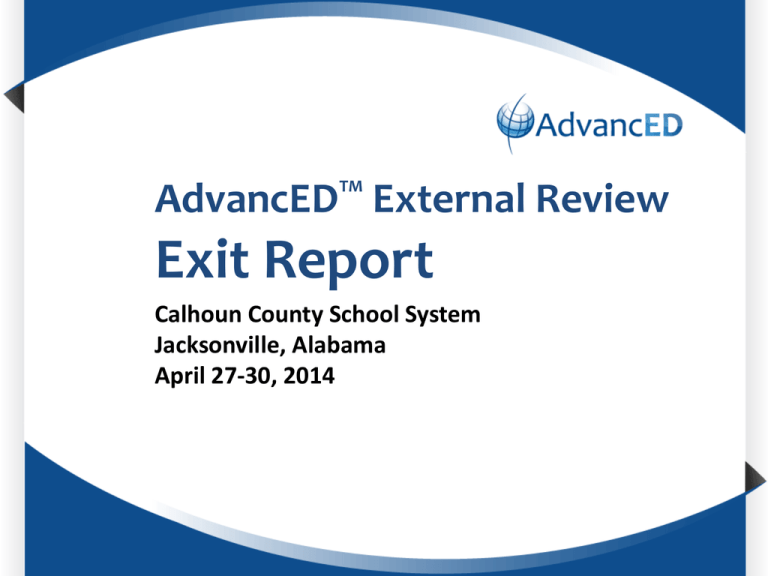 TM
AdvancED External Review
Report
EnterExit
System
Name
Calhoun County School System
Jacksonville, Alabama
April 27-30, 2014
Accreditation is…
An international protocol for
institutions committed to
systemic, systematic, and
sustainable improvement
– Builds capacity of the
institution to improve and
sustain student learning
– Stimulates and improves
effectiveness and efficiency
throughout the institution
© 2013 AdvancED
2
Balanced Accreditation
Analysis and Evaluation of
• Impact of Teaching and Learning
• Leadership Capacity
• Resource Utilization
© 2013 AdvancED
3
External Review
• The External Review Team
– Comprised of professional peers with diverse
experience and rich contextual perspective
– Determines the institution's effectiveness in
meeting the requirements of accreditation
• The External Review Process
– Provides analysis and evaluation
– Delivers valuable feedback and direction for
improvement
© 2013 AdvancED
4
Interviews & Observations
•
Stakeholder Interviews
•
58 Administrators
26 Teacher
82 Students
5 Parents
4 Board of Education
Total Stakeholders Interviewed 175
Effective Learning Environment Observations 32
© 2013 AdvancED
5
Learning Environment Ratings
1 Equitable Learning Environment
2.71
2 High Expectations Environment
2.77
3 Supportive Learning Environment
2.99
4 Active Learning Environment
2.88
5 Progress Monitoring and Feedback
Environment
6 Well-Managed Learning Environment
7 Digital Learning Environment
© 2013 AdvancED
2.81
3.20
1.61
Index of Educational Quality
324
100 Index of Educational Quality
400
Based on all Evaluative Criteria
319
100
Teaching and Learning Impact
400
Standards 3 and 5, Student Performance Evaluative Criteria
325
100
Leadership Capacity
400
Standards 1 and 2, Stakeholder Feedback Evaluative Criteria
338
100
Resource Utilization
400
Standard 4
© 2013 AdvancED
7
Powerful Practices
• The Calhoun County School System's administrative
team fosters a servant leadership quality, keeping
the needs of the students, parents and faculty in the
forefront of policy and practice decisions.
• The system's transitioning of policies from
prohibiting student possession of electronic devices
to encouraging their individual use in the classroom
gives faculty the freedom to maximize the student's
learning experience and positively affect academic
achievement.
© 2013 AdvancED
8
Powerful Practices
• Calhoun County School System establishes uniform policies
and procedures that adequately support each school while
maintaining the autonomy of the individual school leadership
teams to make decisions best for their individual schools.
• Calhoun County School System utilizes effective and efficient
fiscal management practices that have resulted in funding
sufficient to meet annual operating needs, a three month
contingency necessary for exigency conditions, and no capital
debt.
© 2013 AdvancED
9
Opportunities for Improvement
•
Create, implement and periodically evaluate a
communication plan to promote meaningful
engagement of families in their children's education and
to provide avenues which keep families informed of
their children's learning progress.
•
Clarify the purpose of Professional Learning
Communities within Calhoun County School System and
monitor for consistency the implementation of PLCs in
all schools within the system.
•
Develop and implement a formal process to review and
revise the system's purpose and direction.
© 2013 AdvancED
10
Required Action
• Develop, implement, and evaluate a
rolling system strategic plan that
identifies system long and short term
goals and objectives, individuals
responsible for oversight, funds needed
for implementation and evaluation,
assessment tools, and measureable
outcomes.
© 2013 AdvancED
11
Based on our findings from the review of
evidence, this External Review Team
recommends that
Calhoun County School System
be accredited, pending further review and final
action by the AdvancED Accreditation
Commission.
© 2013 AdvancED
12
Accreditation Decision
External Review
Completed!
AdvancED Office Reviews and Sends
Report Back to You
30 Days
AdvancED Accreditation Commission
Grants Accreditation and Status
January
June
© 2013 AdvancED
13
Final Thoughts
• On behalf of the External Review Team, we
extend:
– Our appreciation for your hospitality, support,
and professionalism;
– Our respect and acknowledgement of your efforts
to improve quality; and
– Our congratulations for your progress toward
achieving Accreditation as a quality institution.
© 2013 AdvancED
14
Our mission is to lead and
empower the education
community to ensure that all
learners realize their
maximum potential.