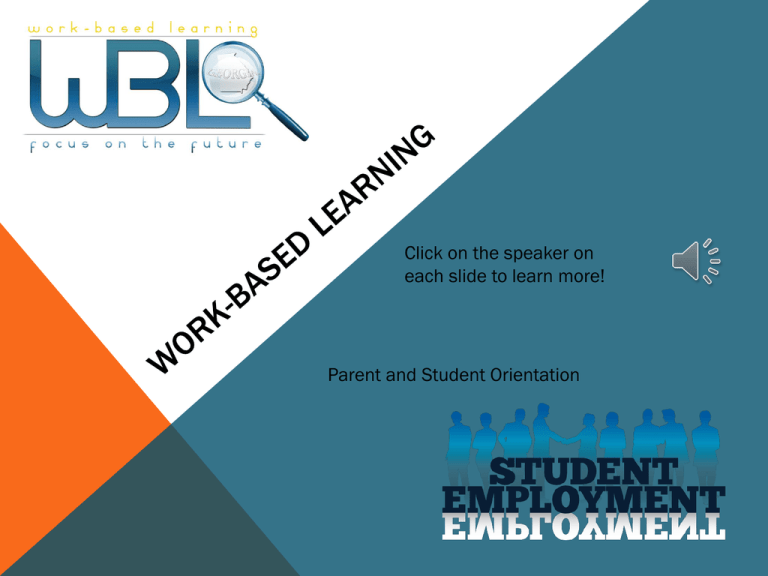 Click on the speaker on
each slide to learn more!
Parent and Student Orientation
WELCOME TO WORK-BASED LEARNING
Parents and Students,
Welcome to Work-Based Learning!
Congratulations on selecting a program that will help your student
develop both personally and professionally. This is a wonderful
opportunity for them to gain the competitive advantage for a successful
future in a career field of choice. Students enrolled in WBL leave school
early each day to pursue a position of interest in a local business.
Work-Based Learning extends the traditional classroom and traditional
styles of learning to the real world. It is the perfect pairing of academics
and application.
It is also an exciting opportunity to earn credit towards high school
graduation while working in an exciting career field.
PARENT/GUARDIAN ROLE
Your student's success will depend on your support and
understanding of the WBL Program. Please take time to review the
documents your student will bring home from the program.
You will be reviewing with your student the documents mentioned in
this presentation. Please sign each document so your student may
return promptly to their WBL Coordinator.
Your student's WBL Coordinator will be a local school teacher who will
evaluate and support your student in this program. They will make
regular contact with your student's employer to assist both the
employer and the student with the placement.
PARENT/GUARDIAN ROLE
Your student will need your support to fully enjoy the fantastic opportunities in WBL. At times they
may need your advice as they work through work-related situations.
Students in this program are encouraged to find a paid or non-paid position a career related field
for which they have interest.
They should also plan to stay in this position at least through the length of the WBL course. It's
important the student seek a position that matches their interest, abilities, values , and
scheduling constraints to minimize conflicts related to working
When a student accepts a paid or non-paid position at a business partner's place of business, the
student is expected to follow all guidelines and protocols .
Parents, transportation to and from work is both your and the students responsibility. Please
assist your student to ensure they are able to get both to and from their job.
Your student must be covered by your personal health insurance or school insurance as well as
accident insurance.
Parents will need to allow the release of student records regarding academic performance,
attendance, and discipline for the purpose of employment and program follow-up.
Career Related Education Manual 2012
Required Copies of
Following:
Driver's license (if driving
to/from work)
Auto insurance
Health insurance card
Work permit –
copy (if under 18)
Required Forms Signed by
Mentors, Parents and
Students
Training Agreement with all
signatures
Termination Form
Confidentiality Statement
Required Forms Signed by Parents and Students Only
Parent/Guardian Consent Form
(MUST initial all areas)
ATTENDANCE RULE
Parents and Students:
It is imperative you understand the no school/no work policy.
As expected, a student's first responsibility is to their education.
Students must go to school in order to go to work unless previously
approved by the WBL Coordinator. A student may not miss school and
report to work in the same day. Refer to the "Training Agreement" for
details related a violation of this policy.
It is possible to fail the program and to be terminated from the program for
violations related to no school/no work.
Career Related Education Manual 2012
EVALUATION OF WBL STUDENTS
Students will be evaluated by the WBL Employer and
Coordinator once during each grading period. Basic
employ ability will be evaluated each time.
Produces quality work
Reports to work promptly when scheduled
Uses time wisely
Demonstrates honesty and integrity
Demonstrates responsible behavior
Cooperates with others
Responds to feedback constructively
Uses/maintains materials and equipment appropriately
Follows company policies
Maintains appropriate personal appearance
Career Related Education Manual 2012
EVALUATION OF WBL STUDENTS
A training plan will be developed by the student's coordinator and will outline
skills and abilities the student should be able to perform on the job. This is
also an evaluation tool used to assess whether the student is learning the skills
required to perform the job successfully.
An example of a computer systems operator is below.
#2
Communicate project information through presentations, technical reports or white papers.
Task # 3 Communicate with staff or clients to understand specific system requirements.
Task # 4 Complete models and simulations, using manual or automated tools, to analyze or predict system
performance under different operating conditions.
Task # 5 Configure servers to meet functional specifications.
Task # 6 Define and analyze objectives, scope, issues, or organizational impact of information systems.
Task # 7 Design and conduct hardware or software tests.
Task # 8 Develop application-specific software.
Career Related Education Manual 2012
WAGE/HOUR TIME SHEET
Every day your student should record the hours they work on the job. They
will be required to have a supervisor to sign time sheet at the end of each
month.
The WBL Coordinator will provide a schedule for turning in this form.
Career Related Education Manual 2012
RECEIVING CREDIT FOR WBL
Each WBL student should take their work position seriously. Being on time to work,
reporting to work when scheduled, following all legal and ethical guidelines,
maintaining grades, learning required work-related skills are all important areas
for success in the program. The "Termination Form" details expectations of
students. It is important for students to follow these to receive a passing grade
and credit for WBL.
JOURNALS AND CAREER PORTFOLIO
Each WBL Student will be required to complete a series of journals as well as a career
portfolio that will be completed over the course of the program.
The portfolio will help students build a series of items that will be helpful as the
student applies for internships, future employment, and college.
It will include items such as a resume, cover letter, letters of reference, follow up
letter and more.
Students will also be required to meet with their coordinator on a regular basis during
the program.
The journals, portfolio and meeting will be another assessment tool for the
coordinator to evaluate the student's progress.
Career Related Education Manual 2012
CONFIDENTIALITY STATEMENT
Students must always demonstrate professionalism in dealing with
sensitive information exposed to on the job. Students should not
discuss or knowingly distribute information learned while working.
Students are asked to sign a confidentially statement and should
carefully review and understand the consequences related to this
statement.
MENTOR
The employer should assign a mentor for the student.
This individual should be an employee who can offer advice and devote time to assist
the student and encourage the success of the student.
The mentor should be someone the student can emulate.
The mentor should have a experience at the job and ability to assist the student in
training.
An employer mentor is an important part of the WBL Program.
Career Related Education Manual 2012
In summary, the Work-Based Learning program is an opportunity to gain the
competitive advantage while working in a career field of interest.
Since students are allowed to leave school for their position and receive graduation
credit for the successful completion of the program, students have a series of
documents including an Application, Training Agreement, Termination Form,
Confidentially Statement, and Consent Form the outlines the duties and
responsibilities of the students, employers and coordinator.
Thank you for supporting the WBL Program. Success of this program for all students
requires a partnership between the school, parents, student and employers.