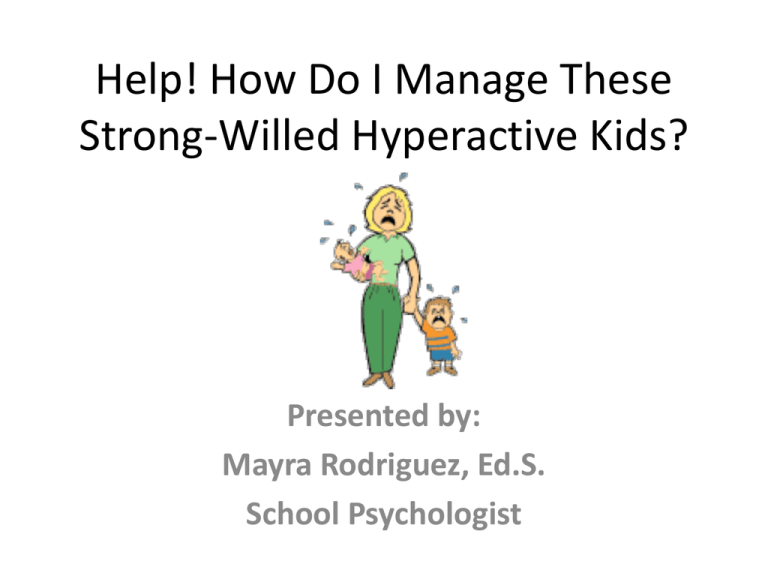 Help! How Do I Manage These
Strong-Willed Hyperactive Kids?
Presented by:
Mayra Rodriguez, Ed.S.
School Psychologist
ATTENTION DEFICIT DISORDERS
• Teachers, child care workers, and
school personnel are key to diagnosis
and successful outcomes
INTRODUCTION ACTIVITY
Identify a current student
you suspect might have
A.D.H.D.
Many Names for A.D.H.D.
Early 1900's....Minimal Brain Damage
Early 1900's....Minimal Brain Dysfunction
Mid 1900's....Hyperkinetic Reaction of Childhood
Early 1980's....Attention Deficit Disorder w/wo
Hyperactivity
Late 1980's.....Attention-Deficit Hyperactivity Disorder
Present............Attention-Deficit / Hyperactivity
Disorder (Type I, Type II, or Combined)
A.D.H.D. STATISTICS
• Occurs in 3-5% of school-age children
– All socioeconomic, cultural,
and racial backgrounds
– All intelligence levels
• More prevalent in males
– 4:1 male to female ratio in general
population
– 9:1 male to female ratio in clinical
population
A.D.H.D. STATISTICS
• Symptoms identified in up to 80% of
adolescents with A.D.H.D.
– Problems continue after childhood in
66% of cases
• Hereditary link suggested
Is ADHD Over-Diagnosed?
Is ADHD Over-Diagnosed?
• FACT – 3.5 million children meet criteria for
ADHD; only 50% are diagnosed and treated
• FACT – 57% of children with ADHD receive
accurate diagnosis
• FACT – Only 20% of black children with
ADHD are diagnosed
• FACT – Overall parental knowledge about
ADHD among African-American parents may
play an important role in delaying diagnosis
The Societal Burden of
Not Treating ADHD
• 30% of children in special education
• 30% repeat a grade
• 25% of adolescents expelled from
school
• 35% of students drop out of school
• 26% arrested
• 55% untreated grow up to be
substance abusers
• Engage in other high risk behaviors,
more partners
Children With A.D.H.D. Exhibit
Age-Inappropriate Behavior Patterns
• Inattention
• Impulsivity
• Hyperactivity
A.D.H.D. Interferes with School
Success
Inattention Symptoms: Child experiences
difficulty in….
• Starting, staying with, and completing tasks that
require sustained attention
• Making careless mistakes
• Making transitions
• Following directions / listening
• Performing consistently
• Organizing tasks
• Losing things / forgetfulness
Impulsivity Symptoms
•
•
•
•
Low frustration tolerance
Difficulty waiting turn
Interrupts others & ignores boundaries
Blurting out answers before question is
completed
• Difficulty anticipating outcomes
• Often irritable/ impatient; but otherwise
quite charming
Impulsivity Symptoms
• Cannot keep hands to themselves
• Often appear reckless, clumsy, or
accident-prone
• Often provoke conflict just for the
love of excitement!!!!
• Can easily produce chaos in class
or turn home into a battleground
Hyperactivity Symptoms
• Fidgeting
• Rarely seated, or
squirms in seat
• Moving excessively
• Difficulty playing or
working quietly
• Always "on the go"
• Excessive talking
• Varies with age &
developmental level
• Often makes noise
during quiet activities
• Up often during
meals
Symptoms often disappear
when the child is with another
person who is closely
scrutinizing him, when
confronted with an interesting
task, or a novel situation
DSM-V DIAGNOSTIC TERMS
Attention-Deficit / Hyperactivity
Disorder
• Inattentive Type
• Hyperactive-Impulsive Type
• Combined Type
Persistence, Pattern, and
Frequency of Symptoms
• A persistent pattern… more frequent &
severe than developmentally appropriate
• First appeared before age 7
• Persist for 6 months or more
• Present in at least 2 settings
• Interference with social or academic
functioning
Symptoms Change Over the Years
•
•
•
•
•
•
Elementary School
Fidgety
Excessive talking
Erratic performance
Bossy
Constant demand
for attention
Easily loses control
•
•
•
•
•
•
Adolescence
Restlessness
Talks out of turn
Problems at school
Problems with
peers
Poor judgment
Difficulty getting
independence
from parents
DIAGNOSTIC PROCESS
TIER 1: Presence of Symptoms
• Interview parents and teachers
• Obtain developmental history
• Review school and medical records
• Complete behavioral rating scales
• Observe during an auditory vigilance task.
• Interview student / self-report
DIAGNOSTIC PROCESS
TIER 2: Degree of Impact on Functioning
• Classroom observation
• Psychoeducational tests
Intervention Strategies Should
Target...
• Classroom behavior
• Academic performance
• Social interactions
Strategies That Enhance
Productivity and Behavior
Classroom Management Strategies
• Schedule academic skills
subjects in AM
• Provide regular and frequent breaks
• Agree on "secret signal" for student
• Develop "time-to-begin" cues
Classroom Management
Strategies
• Teach self-monitoring techniques
• Devise & practice attention-getting
strategies
• Divide assignments and present in
smaller segments
• Use behavioral reinforcement system
Organization Strategies
• Orderly, predictable, structured,
consistent environment
• Minimal distractions, quiet work area,
background noise (white noise)
• Prominent display of rules, schedules,
and assignments
• Advanced warning before transition
of activity
Curriculum Accommodations
• Reduced homework / classwork
• Increased time for completing
assignments and tests
• Mixture of high- and low-interest
activities (task novelty)
• Curriculum integration
• Seek meaning/ purpose
Curriculum Accommodations
• Use of computers for written
assignments
• Teach/ prompt organization and
study skills
• Interactive instruction vs. lecture
• Visual references for oral
instructions
• Avoid timed tests
Social Skills Strategies/ Impulse
Control
•
•
•
•
Social skills training
Conflict resolution training
Anger management therapy
Compliance training
Family Issues
• Parent training to learn how to
parent an ADHD child
• Parent training to reinforce social
skills training
• Family therapy to heal damaged
relationship issues
What About
Psychostimulant Medication?
What About
Psychostimulant Medication?
• 70-75% of children with A.D.H.D.
improve
• Degree of response may vary
• Effective dosage may vary
Medication is sometimes useful in
helping ADHD children….
• become less irritable & restless
• improve attention & motor
coordination
• become less impulsive, therefor,
better liked by others
• improve in pro-social & appropriate
school behavior
What About
Psychostimulant Medication?
• Effective with adolescents and
adults, although the extent of
improvement is smaller than with
younger children
• Medication is only one part of a
total management program
Successful Management of A.D.H.D.
Takes a Team Effort
AND…a great deal of prayer!
Let your ADHD student know
you love them & care about
them regardless of how they
behave!