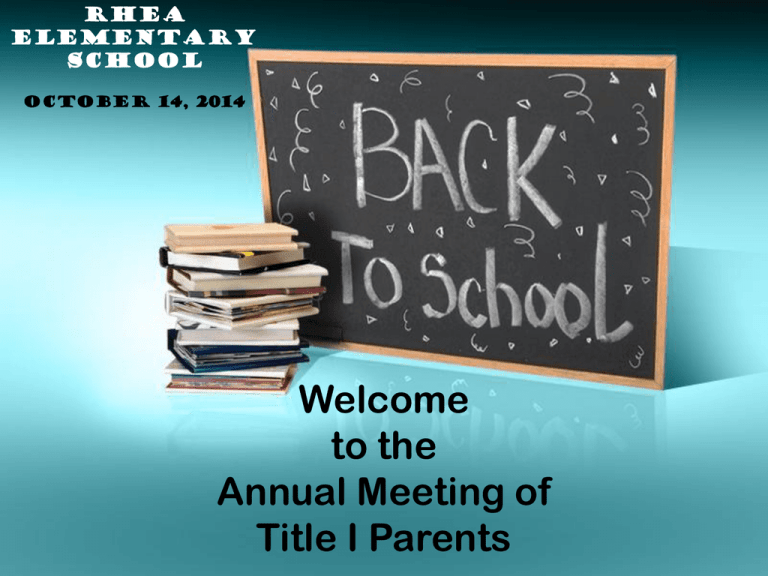 RHEA
ELEMENTARY
SCHOOL
OCTOBER 14, 2014
Welcome
to the
Annual Meeting of
Title I Parents
Why are we here?
The No Child Left Behind Act of 2001 requires
that each Title I School hold an Annual Meeting
of Title I parents for the purpose of…
– Informing you of your school's participation
in Title I
– Explaining the requirements of Title I
– Explaining your rights as parents to provide
input
What does it mean to be a
Title I School?
Being a Title I school means receiving federal
funding (Title I dollars) to supplement the
school's existing programs. These dollars are
used for…
– Identifying students experiencing academic
difficulties and providing timely assistance to help
these student's meet the State's challenging content
standards.
– Purchasing supplemental staff/programs/
materials/supplies
– Conducting parental Involvement
meetings/trainings/activities
– Recruiting/Hiring/Retaining Highly Qualified
Teachers
•
What is a CIP?
The CIP is your school's Campus Improvement
Plan and includes:
– A Needs Assessment and Summary of Data
– Goals and Strategies to Address Academic Needs of
Students
– Professional Development Needs
– Coordination of Resources/Comprehensive Budget
– The School's Parental Involvement Plan
You, as Title I parents, have the right to provide
input in the development of this plan.
What's included in the school's
Parental Involvement Plan?
This plan addresses how the school will
implement the parental involvement
requirements of the No Child Left Behind Act
of 2001. Components include…
– How parents can be involved in decision-making and activities
– How parental involvement funds are being used
– How information and training will be provided to parents
– How the school will build capacity in parents and staff for
strong parental involvement
Title I parents have the right to provide input in the
development of the Parental Involvement Plan.
Rhea Elementary School Parental Involvement Plan
We are committed to working together to provide the best education for your children. Please review our current
Parental Involvement Plan. We encourage and need your input in making our school the best it can be. Thank you for
staying involved in your child's education. We look forward to a successful year. If you have any questions, please call
our school.
Statement of Purpose:
The faculty of our school is committed to providing a quality education for all students as well as recognizing the
essential role of parents and the value of their input.
•
Goal 1: Provide parents with the opportunity to have input in the Parental Involvement Plan.
•
Goal 2: Provide outreach for parents of English Language Learners (ELL) students so they can be involved in their
child's education.
•
Goal 3: Provide an opportunity for parents and their children's school to jointly develop a School–Parent Compact
that is to be implemented annually and includes: the school's responsibility to provide high–quality curriculum and
instruction in a supportive and effective learning environment; the way in which each parent will be responsible for
supporting their child's learning; and strategies that will address the importance of ongoing communication
between teachers and parents.
•
Goal 4: Provide notice and information under the "Parents Right to Know" requirements to all parents in Title I
schools, in an understandable and uniform format and, to the extent practicable, in a language parents can
understand.
•
Goal 5: Provide opportunities for parental involvement capacity building
What is the School-Parent
Compact?
The compact is a commitment from the
school, the parent, and the student to
share in the responsibility for improved
academic achievement.
You, as Title I Parents, have the right to
provide input in the development of the
School- Parent Compact.
Distribution of the Compact
Student Name ______________________
Homeroom ________
Rhea Elementary School
Title I Compact
Student/School/Parent Agreement
Directions: Please read and check each statement, sign and date your section, and return the agreement to school. (Parents: Please go over the student section
with your child and have him/her sign, and date it.)
PARENT/GUARDIAN AGREEMENT
(Any person who is interested in helping this student may sign in lieu of the parent.)
I want my child to achieve. Therefore, I will encourage him/her by doing the following:
See that my child is punctual, is well-rested, and attends school regularly.
Support the school in its efforts to maintain proper discipline.
Provide a quiet, well lighted place and time for study, and review homework regularly.
Encourage my child's efforts and be available for questions.
Stay aware of what my child is learning by talking about school and attending school events.
Read to my child, let my child see me read (newspapers, books, magazines), and have my child read to me.
Parent Signature _______________________________________
Date ________________________
TITLE I STUDENT AGREEMENT
It is important I work to the best of my ability. Therefore, I shall strive to do the following:
I will be responsible for my own behavior at all times.
I will put forth my best attitude and effort in all that I do.
I will believe in and respect myself and all others.
I will spend more time reading and talking with my family, and I will do my homework so that I will be prepared for my classes.
I will try to be helpful to others at school and in the community.
Student Signature _______________________________________
Date ________________________
AS A TEACHER AND PRINCIPAL WE TAKE RESPONSIBILITY FOR OUR STUDENTS' LEARNING
We will do all that we can to ensure that your child has a positive school experience each day.
We will offer a curriculum and related activities that always keep the aim of improving student achievement.
We will be available for scheduled conferences.
We will provide opportunities for parents to give input into school operations and to attend school activities.
We will give timely reports on students' progress, and we will be happy to discuss what we can do together to improve your child's learning.
We will honor the diversity of cultures represented in Forney ISD.
We will do all that we can to help build a more effective home/school partnership.
We will maintain an "open-door" policy to parents, so that they know that they are always welcome at our school.
Teacher Signed:___________________________________
Date:_________________
Principal Signed:____________________________________
Date:_________________
Who are the parent leaders
at my school?
Name
Email
Sam Dimson
samdimson@gmail.com
David Braun
david@fellowshipforney.org
Questions?