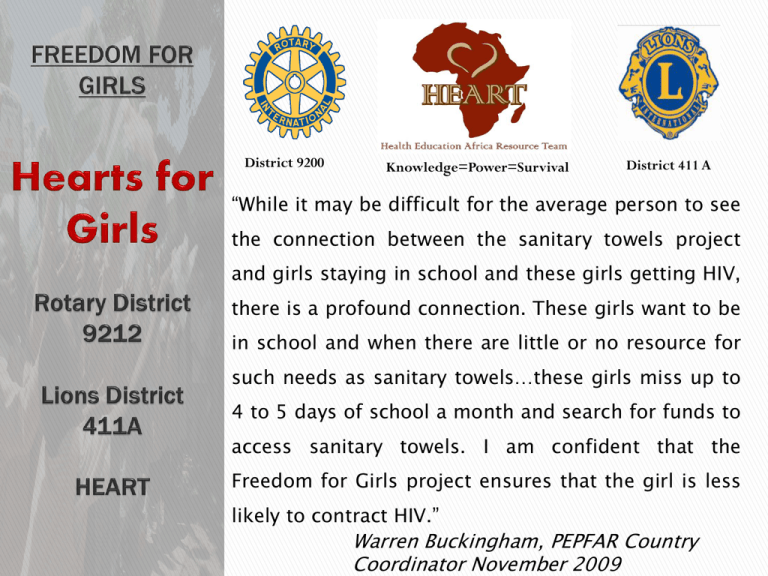 District 9200
Knowledge=Power=Survival
District 411 A
"While it may be difficult for the average person to see
the connection between the sanitary towels project
and girls staying in school and these girls getting HIV,
there is a profound connection. These girls want to be
in school and when there are little or no resource for
such needs as sanitary towels…these girls miss up to
4 to 5 days of school a month and search for funds to
access sanitary towels. I am confident that the
Freedom for Girls project ensures that the girl is less
likely to contract HIV."
Warren Buckingham, PEPFAR Country
Coordinator November 2009
WHO?
• American school girls for Kenyan school girls
WHAT is Hearts for Girls?
Supporting needy girls in sub-Sahara Africa with:
 Sanitary
pads and health education
 Graduating
 Reducing
 Care
from primary school
the risk of contracting HIV
package
Through: Health Education Africa Resource Team
(HEART)
WHY are we doing this?
Knowledge = Power = Survival
 25%
of girls are NOT receiving basic education.
 25%
are mothers before age 18
 14
million girls aged 15-19 give birth each year
(United Nations Population Fund, State of world Population 2005)
 Only
35% of girls between the ages of 16 & 20 yrs
are still in school
 54
(www.zanaafrica.org)
% not in school due to menstruation cycle
HOW are we doing this?
Supported by US and Kenyan Rotarians, Lions,
and businessmen
Care packages manufactured locally
Teachers oversee the distribution each month
 Distribution and health education by Lydiah
Njoroge,
 FFG Field Officer monitors the implementation of
the project in schools
Local
Packaging and
Storage in
Ridgeways,
Nairobi, Kenya
Meet Some of the Girls…
Sabinah Kileta
Class 8, Mruru Primary
Wants to be a Broadcaster
"The Sanitary towels have helped
me in many ways. Before the towels I had
to try to use my clothes, but often we lack
water and soap.Thank you for
remembering me."
Catherine Wambugha
Class 8, Nyolo Primary
Wants to be a Teacher
"When I would be on my cycle
I was not able to come to
school. Boys used to laugh,
but now they don't."
Nelly Maseghe
Class 6, KunguPrimary
Wants to be an Engineer
"The sanitary towels have
helped me very much because I
received them when I had no
way to buy them. My teacher
gives them to me every month
…now I am very well without
this problem."
Magrina Mwamburi
Class 8, Kidaya Primary
Wants to be a Police Officer
"I am very happy because you
have helped us with the towels
because in the shop they're too
expensive I cannot buy them. Last
year I used them carefully and
they help me so much."
WHERE are we now?
• Over 97,000 school girls have benefit from the Freedom for Girls
sanitary napkins project distributed by HEART in Kenya.
Progress
120000
100000
80000
60000
40000
20000
0
2008 2009 2010 2011 2012 2013
Year
# of
Packets
2008
2009
7,764
20,128
2010
47,151
2011
68,091
2012
87,307
2013
97,056
Interview with school girl, Terri

http://youtu.be/opWQkRMMkbI
How can we afford this project at LOW cost?
 Previous Donations:
 Kundan Doshi (Doshi Group of Companies)
 Dr. Rasik Kantaria (Prime Bank Ltd.)
 Kanu Devani (Pelican Signs)
 Christian Knochenhauer (Art Kenya)
 Vickie Winkler (HEART)
 Bimal Kantaria (Prestige Packaging)
 Sarit Shah (I &M Bank)
 Mrs. Margery Kabuya (Beverly Flower Farm –
Ridgeways)
Please join us in supporting our sisters in Kenya!
Thank
You!