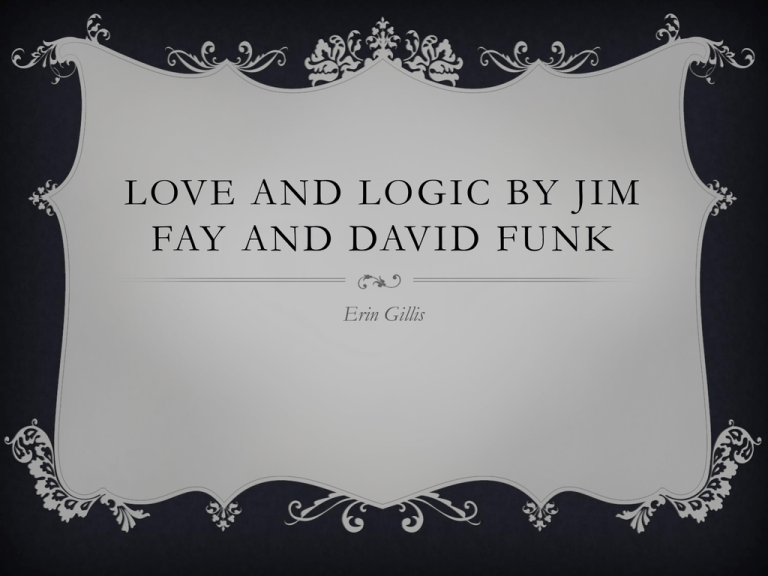 LOVE AND LOGIC BY JIM
FAY AND DAVID FUNK
Erin Gillis
JIM FAY
Jim Fay is the co-founder of the Love and Logic Institute. Jim has
been in the education field for 31 years as a principal, educator and
administrator. Fay has spent 30 years speaking and consulting about
his philosophy.
DAVID FUNK
Dave Funk has been an educator since 1969 and has
taught in both regular and special education
classrooms. He is responsible for participating in the
evaluation and placement of disabled students,
coordinating a number of special programs, and
serving as liaison to parent groups.
LOVE AND LOGIC
PHILOSOPHY
 Adults providing limits in a caring way
 Building students up after being disciplined
 Staying calm and avoiding confrontation with students
 Using polite statements that are enforceable
 Discipline is maintained with compassion
DISCIPLINE IN THE
CLASSROOM
 Treating students with respect
 Building positive relationships with students
 Providing many choices throughout the day but when discipline is
needed only use two choices
 Using ENFORCEABLE STATEMENTS!
EXPERIENCE FOR
CHILDREN
 Requires children to experience consequences
 Absence of adult anger allows children to think and learn from
mistakes
 Act more responsible and not "point fingers"
 Be empathetic in the situation and have logical consequences!
LOVE AND LOGIC HELPS
EDUCATORS…
Set classroom limits without anger
Provide hope and willingness when it gets tough
Raise odds for students to stay in school
Manage and immediately handle disruptive students
Build positive relationships
Help students own and solve their own problems
THIS WORKS BECAUSE…
 When adults take care of themselves, students are forced to handle their problems
 When students have to solve a problem they have to think
 When students have to think they have to learn that decisions have consequences
 When dealing with consequences they have to learn to think
 When we allow students to deal with consequences they have to learn to think before
causing a problem
 When students learn to ask themselves "How is my behavior going to affect me?" They have
learned self control.
REFRENCES
 http://www.loveandlogic.com/what-is-for-teachers.html
 http://www.kellybear.com/TeacherArticles/TeacherTip46.html
 Fay, Jim, and David Funk (1995). Teaching With Love And Logic:
Taking Control Of The Classroom. Golden, CO: The Love and Logic
Press, Inc.