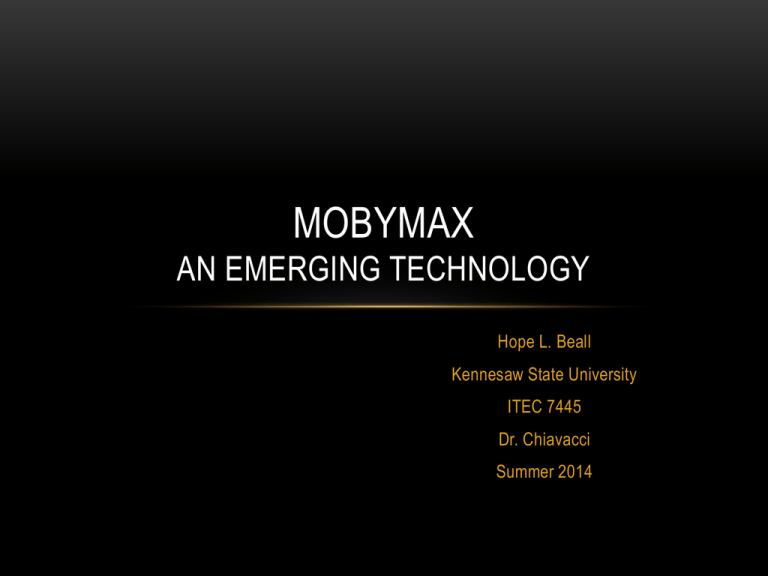 MOBYMAX
AN EMERGING TECHNOLOGY
Hope L. Beall
Kennesaw State University
ITEC 7445
Dr. Chiavacci
Summer 2014
DO YOU WISH YOU COULD SPEND
LESS TIME ON ASSESSMENTS AND
MORE TIME ON INSTRUCTION IN THE
CLASSROOM?
 MobyMax takes formative assessment to a whole new level by
continually monitoring students progress from the moment a
student begins the diagnostic placement test in a subject.
 Teachers can immediately see results and see every exercise a
student has completed and make an informed instructional
decision based on data from MobyMax.
Bartow County Schools' Technology
Vision
"Our vision of schools as we move through the next three years
includes some of the following scenarios. Modern technology will be
available in each classroom and technology access will be extended
beyond the classroom. Classroom teachers will actively seek
technology applications and networking from other schools, business
enterprises, governmental agencies, research institutions, and
universities to expand student experiences directed at problemsolving and issues resolution surrounding a major theme or concept.
Interactive whiteboards will be available and in use by teachers.
Students will be actively engaged in the learning process with
technology" (Harper, Pearson, & McEntyre, 2009, pg. 4).
Bartow County Schools' Technology
Vision Continued
Teachers will have a vast number of resources readily available to them
and will be using technology as a tool in their daily lessons to increase student
learning and achievement. Students' interest and attendance will increase and
improve as they are able to be more active participants in the learning process
with technology. Teachers will easily be able to find resources that they can
use to present Georgia Professional Learning Standards to their students.
They will have access to materials that will assist students on all levels to be
successful.
Parents will have current information available to them about their child's
academic progress, discipline, and attendance. Access to the school's
curriculum tools will be available to parents and students (Harper, Pearson,
McEntyre, 2009, pg. 5-6).
HOW DOES MOBYMAX SUPPORT
THIS VISION?
 Modern technology will be available in all kindergarten-fifth grade
classrooms.
 Program recommended through networking with other Bartow County
Schools who are already using it.
 Teachers will use the technology tools in the daily lessons to make datadriven decisions in regards to the instruction in order to increase student
learning and achievement in an efficient way that decreases the time
needed for assessment and increases instructional time.
 Program will assist teachers in pinpointing specifically what is needed to
ensure all students, regardless of their current levels will be successful.
 Program provides educators and parents with current data regarding
student progress and helps to identify student weaknesses.
OBJECTIVES
 Increase student achievement in all subjects through the use of prescriptive
assessments that pinpoints personal student gaps in knowledge and
understanding.
 Obtain individual and specific student progress data in regards to the
mastery of CCGPS for Math and ELA.
 Provide quick and accurate student data for teachers to use when making
instructional decisions and for students remediation planning.
 Decrease assessment time so that instructions and practice time will
increase.
KEY BENEFITS
 Quick and Efficient: Each student in the classroom can be assessed in minutes to allow
teachers to know which students need further assistance to reach benchmarks.
 Teachers can use data to group students based on proficiency levels for use in
differentiation and remediation.
 Assessments are administered automatically and intuitive for students.
 Delivers accurate, valid, and reliable data to be used for RTI.
 Completely correlates with CCGPS.
 Provides immediate feedback.
 Provides direct instruction.
 Finds and fixes missing skills to help students overcome learning disabilities.
 Automatic IEP reporting for special education teachers.
TARGET POPULATION
 MobyMax is available for grades kindergarten through eighth grade.
 Requesting purchase for all grades kindergarten through fifth. This will allow
all Euharlee Elementary students the benefit from the program, while
remaining cost effective.
 Regular education students, EIP and Title 1 students, and SWD students will
participate in using the program.
TARGET POPULATION EQUITABLE ACCESS
 Each student in fourth and fifth grades at Euharlee Elementary, will be issued
MacBook Air laptops at the beginning of the 2014-2015 school year.
 The individual and unlimited access to these MacBooks will provide all fourth
and fifth grade students easy and unlimited access to MobyMax.
 Kindergarten through third grade will not have personal laptops. They will
have 3-4 desktop computers that are in each classroom for use. Also, as
they rotate through computer lab, they will have the opportunity to complete
lessons too.
 Teachers and support staff have school issued MacBook Airs that will allow
access to the program and data results.
EQUIPMENT AND SOFTWARE
 The technology program is web-based so Internet access will be required.
 A browser is required.
 Data and software are accessible anytime and anywhere.
 No download is required.
 Designed to work in very low bandwidth environments and have very little
impact on the school network. For example, a student only downloads 1 MB
of data in 5 minutes typically.
 Mobile options available in Google App Store, Itunes, and as well for IOS and
Tablets.
MOBYMAX HELP
 The following resources are available to customers on MobyMax website.
 Help with signing in
 Registering students
 Parent letters
 Math and Language
 Fact Master
 Vocabulary
 Reading Stories and Reading Skills
 Writing
 Student Motivation and Classroom Tools
 Moby Tablets
 Frequently asked questions
 Troubleshooting
 Contact Support by phone and email
LIMITATIONS
 In order to use the program, students must have Internet access and in the
case of using MacBook Air they must have WI-FI access.
 If WI-FI is not working, then fourth and fifth grade students will not be able to
access the web-based program.
COST OF THE TECHNOLOGY
 MobyMax is available for an annual subscription fee by grade level or whole school.
 Total cost for one year whole school is $499. This is for a 12 month subscription.
 A MobyMax teacher license is $79 for 12 months.
 Special discounts are available for district-wide purchasing.
 Any new features added will be included in the MobyMax license at no extra cost.
POTENTIAL FUNDING SOURCES
 Bartow County Education Foundation provides yearly grants in the amount of
$500 to those teachers who apply and are chosen.
 Euharlee Elementary is a Title 1 school and has Title 1 funds that can be
used if purchases will be used with Title 1 students.
 Fundraisers are held throughout the year to help with purchase of
instructional materials for the classrooms.
 Euharlee Elementary PTO requests can be made to pay for all of or portions
of requested instructional needs.
HOW WILL THIS TECHNOLOGY BE UTILIZED?
 Benchmark assessments that are aligned to the current CCGPS will be
administered to students in fall, winter, and spring.
 The data attained will accurately forecast student performance in regards ot
end of the year state testing.
 Assessment data will identify specific standards that students are not
meeting. This information will be used to drive instruction and remediation in
the classroom.
 At risk students will be targeted with interventions based on gaps that are
found from the data.
 Data and information collected about each student will be sent home to
parents, used during conferences, RTI, SST, and during IEP and eligibility
meetings.
HOW WILL THIS TECHNOLOGY BE UTILIZED?
CONT'D
 Data and reports for each student will be used to bridge assessment and instruction.
 Teachers will target prerequisite skills that will further students' understanding of grade
level skills.
 Teachers will use reports to group students for targeted instruction.
 Teachers will set student goals using the information attained through the use of the
program.
 Teachers will be able to measure data for all standards in the common core by student,
class, school, and district.
 Teachers can securely communicate with both parents and students via email and text
messages within the Messenger interface.
 Teachers can send group messages, reminders, or just let them know you're proud of
their progress.
 Parent Portal is available so they can check student progress anytime.
HOW DOES MOBYMAX PROMOTE SPECIFIC
LEARNING GOALS?
 With the use of this technology, teachers will maintain learner centered classrooms.
Teachers using this program will be able to :
 Assess students based on CCGPS and determine if meeting benchmarks or if
remediation is needed.
 Group students for instruction and remediation based on individualized needs.
 Plan instruction that is data driven and will meet the needs of the learner.
 Determine if student is ready to learn a new concept.
 Progress monitor students to determine if interventions are working.
 Forecast mastery of state standards to identify at-risk students.
 Measure student growth.
 Spend more time on instruction and less time on assessments.
DIFFERENTIATION WITH MOBYMAX
 Creates individualized learning paths
 Monitors progress continually.
 Built on common core standards
 The adaptive curriculum creates a unique, individualized education plan for each
student.
 Allowing gifted students to progress as quickly as they like
 Ensures that remedial students get the instruction needed.
 Program places students on a continuum so that teachers and parents will clearly
see student's progress towards mastering the CCGPS.
COMMUNICATION AND COLLABORATION
 With MobyMax multiple data reports, teachers can ensure that there is a
clear understanding of each student's progress towards mastery of CCGPS.
 The reliable and specific data that is provided can be used to communicate
with parents so that they have a detailed explanation regarding their child's
progress and goals.
 The data can be used to communicate a need for placement or other
interventions and/or modifications that a student may need to be successful
in collaboration with student support teams and special education
professionals.
MOTIVATIONAL TOOLS FOR STUDENTS
 A badge is rewarded each time a student earns 10 stars. Students love viewing their badges
and reading the interesting science phenomena each badge depicts.
 Vibes can be sent by teachers whether good or bad. Teachers send vibes to positively
reinforce the behavior you want to see. Vibes immediately show up in student 's account.
 Goals can be set for students so that they know what is expected of them and are encouraged
to work hard to achieve success.
 Class contests can create engaging learning environment, making Moby the highlight of your
students' day.
 Certificates can be printed at anytime detailing student progress. You can print them weekly,
monthly, or at end of grading period to let students know how much they've learned.
 Games can be played.
•
Teachers can reward students for hard work by allowing games to played after they finish
their lessons.
•
Students earn game time by passing practice sets.
•
Teachers can control amount of time students are allowed to play games.
WHAT DOES THE RESEARCH SAY?
 Students using MobyMax for 40 hours average more than a 1.5 grade level increase in math
and language.
 Teacher can immediately see every exercise a student has completed and make instructional
decisions based on Moby's easy to use data dashboard.
 Gifted students have shown significant gains in student achievement.
 Specific feedback, such as specific explanations that accompany every problem, has been
proven to enhance achievement.
 MobyMax excels at harnessing the power of direct instruction by breaking down the standards
into clear learning objectives for students.
 MobyMax has developed a standalone writing skills curriculum to harness the power of writing
instruction to increase student achievement.
 The systemic review ensures that students develop understandings by utilizing a systematic
review cycle to revisit previously mastered material and ensure that mastery is retained.
WHAT DOES THE RESEARCH SAY?
CONT'D
 MobyMax integrates IEP goals directly into the student's curriculum and data reporting.
 Complex skills are broken into small, achievable sub-skills, spiraling knowledge through a
lesson to achieve eventual mastery of complex skills.
 Fact master ensures that students get fact fluency proactice necessary to achieve
automatic recall of all math facts.
 Use of data to inform instructional decisions leads to improved stud3ent outcomes.
PROFESSIONAL LEARNING
 Webinars are provided through MobyMax at no extra charge.
 Free Support by phone, email, or web
IMPLEMENTATION PLAN
 Students will be shown how to log in to MobyMax and how to use the
program.
 During the first year, at one grade level meeting per nine weeks, data will be
discussed on how MobyMax is working with said students.
 If MobyMax is proven to have growth on students, the program will be
renewed for the next year.
REFLECTION
 When looking for an emerging technology to research and consider implementing, I thought
back of the programs I tried and used with my students this past year.
 I implemented the free version of MobyMax with 4 th grade this past year, while 5 th grade
purchased a full license for the 5 th grade students.
 With the program, I noticed:
•
How quick and easy to set up
•
Aligned with CCGPS
•
Provided Instant Results
•
Provided specific strengths and weaknesses of each student and created learning paths.
 I truly feel that this program will allow us to limit the many time consuming assessments and
benchmarks we currently use and will provide a clearer picture of our students so that we may
use reliable data to drive our instruction and eliminate unnecessary lost instruction time.
WORKS CITED
 Harper, J., Pearson, E., McEntyre, J. (2009) Local system technology plan.
Bartow County School System. Retrieved July 11, 2014 from
http://bartow.ga.schoolwebpages.com/education/page/download.php?
fileinfo=QmFydG93X0NvdW50eV9TY2hvb2xzX1RlY2hub2xvZ3lfUGxhb
l8wOV8xMi5wZGY6Ojovd3d3MTAvc2Nob29scy9nYS9iYXJ0b3cvaW1hZ
2VzL2RvY21nci8xMjdmaWxlMzI5Ny5wZGY=&sectiondetailid=2183
 MobyMax: Complete K-8 Curriculum
In-text: (Mobymax.com, 2014) Bibliography: Mobymax.com, (2014). MobyMax:
Complete K-8 Curriculum. [online] Available at: http://www.mobymax.com/Max/
[Accessed 13 Jul. 2014].