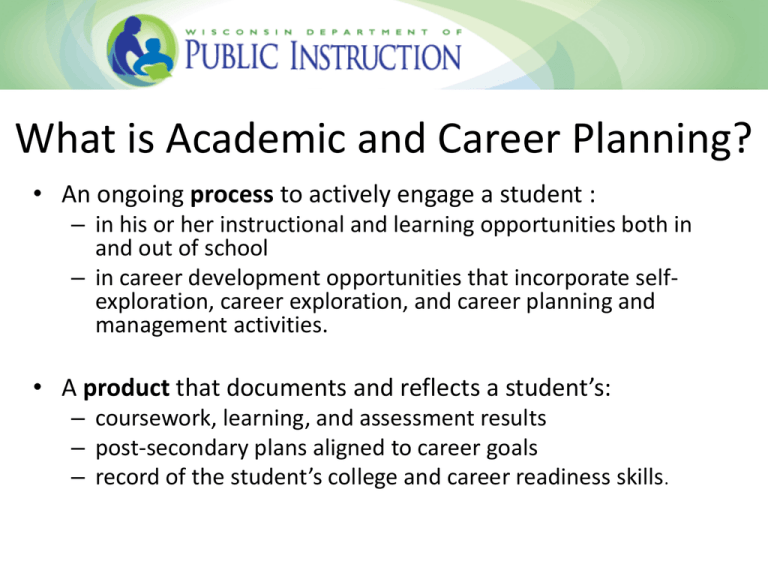 What is Academic and Career Planning?
• An ongoing process to actively engage a student :
– in his or her instructional and learning opportunities both in
and out of school
– in career development opportunities that incorporate selfexploration, career exploration, and career planning and
management activities.
• A product that documents and reflects a student's:
– coursework, learning, and assessment results
– post-secondary plans aligned to career goals
– record of the student's college and career readiness skills.
Why Academic and Career Planning?
1.
RESEARCH! Students with a future focus show:
a)
b)
improved motivation, engagement in school, academic performance,
relevant course selection, understanding post-secondary options; and
engage in decreased risk-taking behaviors.
2.
ACPs are identified as best practice in the WI comprehensive
school counseling standards & in the WI Digital Learning Plan.
3. Academic and Career Planning adds relevance to other initiatives
(i.e. personalizing learning, PBIS, RtI, Dual Enrollment, Youth
Options).
4. WI Statute 115.28(59) supports Academic & Career Planning
Student Learning Plans: Supporting Every Student's Transition to College and Career Rennie Center for Education
Research and Policy, June 2011.
School Connectedness: Strategies for Increasing Protective Factors Among Youth
Centers for Disease Control and Prevention, 2009.
Wisconsin Statute 115.28(59)
• Includes $1.1 million in 2014-2015 funding for
software technology and professional development
supporting statewide implementation of ACP.
• Authorizes DPI to create administrative rule with
requirements for ACP services for all students in
grades 6-12 by 2017-18.
Governor's Council on College and Workplace
Readiness recommendations:
•
•
•
•
•
Who should have an ACP?
When should it start?
How often should an ACP be updated?
Who should lead the ACP process?
How should school staff be engaged in ACPs?
All Wisconsin students should have an ACP beginning in 6th grade; exposure to career opportunities and
interest surveys occur in elementary grades.
At a minimum, ACPs must be updated through formal, ideally student-led, conferencing with
parents/guardians and school staff once a year. Districts should require parents/guardians to attend.
However, when possible, ACPs should be updated through formal, ideally student-led, conferencing
with parents and school staff twice a year.
In addition to formal conferencing, the subgroup recommends that all students must have an
opportunity to review and update their ACPs informally on a more frequent basis, such as once a week,
through district developed protocols (i.e. in career courses, homeroom periods, core content classes,
etc.)
The subgroup recommends:
 the establishment of school and district leadership teams to help support effective ACPs,
 that school counselors play an integral role in the leadership team while other school staff (subject
area teachers, homeroom advisors, coaches, etc.) should be engaged to support the student
 that DPI, in partnership with Wisconsin educators, develop and provide guidance to school districts
specifically addressing best practices from around Wisconsin and the country regarding engagement
of all school staff,
 that specific district-led professional development be undertaken to ensure that all school staff are
involved, supported, and positively engaged in a school's ACP process.
ACP Task Force State Plan Priorities
• Development and implementation of intensive
professional development systems, including training
modules
• Development and implementation of a communication
and marketing campaign
• Development of an ACP evaluation system NOT tied to
school report card
• Selection of statewide web-based career development
platform
Software Feature Recommendations
1. Student Portfolio
a)
b)
c)
d)
Personal profile page
Collection of meaningful work and experiences
Interest inventories and records
Space for academic, personal, and career goal-setting
and revisions
e) Storage space for:
•
•
•
•
Transcripts
College and career readiness assessment results
Recommendation letters
Resumes
Software Feature Recommendations
2. Education Plan
a) Intentional sequence of courses toward
graduation
b) High school course information connected to
student's post-secondary path
c) Program of Study (clusters and pathways)
Software Feature Recommendations
3. Career/Post-Secondary Plan
a) Career aptitude assessments linked to career cluster
information
b) Career interests and goals
c) Post-secondary education admission requirements
for all institutions
d) Up-to-date labor market information, including:
•
•
DWD information about in-demand jobs on a regional, state,
and national basis
Searchable database of employment opportunities
Software Feature Recommendations
4. Accessibility
a) Internet-based program that is age-appropriate and
user friendly and integrated with student information
systems to greatest extent possible
b) Capacity to serve all students in the state
c) Support for students with disabilities (including
compatibility with IEP/PTPs and 504 Plans) and ELL
students
d) Transferable as students move to other schools
e) Compliant with privacy/confidentiality laws
f) Online technical assistance
g) Parent portal
A Shift
4-Year Plan (Traditional)
ACP (Now)
Product-based
Process-based
Some or select students
All students
Acts as a 4-year plan of courses
Acts as a navigational tool for students from
grade 6-12 and beyond
Student "on own" for its development
Student-driven with collaboration
(mentor and parents)
HS Graduation = End point
HS Graduation = Check point
Student adapts to offerings
Options adapt to student needs
Career development is only the school
counselor's job.
Career development is a systematic, wholeschool responsibility.
ACP Process Components:
Know, Explore, Plan, Implement
• KNOW
– Self awareness
– Exploration activities
– Individual goal-setting
• EXPLORE
– Career awareness assessment
– Career research
• PLAN
– Connect a student's middle and high school instructional
activities with the education and preparation needed to
successfully enter a particular field of interest.
– Work-based learning opportunities
– Extra-curricular and community-based learning experiences
– Postsecondary training options
– Financial plan to cover cost of postsecondary training
• IMPLEMENT
–
–
–
–
–
Update Quarterly
Adapt/Modify Intentional Sequence of Courses
Adapt/Modify Personal Goals
Adapt/Modify Career Goals
ACP Conferencing
ACPs and Career and Tech Ed (CTE)
• CTE teachers are career prep experts
• CTE provides relevance and opportunities
• ACPs direct students to most appropriate
opportunities
• ACPs are another element of CTE planning
• Current Labor Market Info
ACP Product Contents Include:
GOAL SETTING ACTIVITIES: PERSONAL,
ACADEMIC, CAREER
HONORS COURSES, DUAL CREDIT,
AP, YOUTH OPTIONS, OR ARTICULATED COURSES
STUDENT GRADUATION ELIGIBILITY
STUDENT GRADE CLASSIFICATION
ACTIVITY ELIGIBILITY
INTENTIONAL COURSE SEQUENCE TOWARD
GRADUATION
SCHEDULE CHANGES
COURSE DESCRIPTIONS
GRADE POINT AVERAGES
INDEPENDENT STUDY COURSES
CAREER EXPLORATION & ASSESSMENT
EXPLORE-PLAN-ACT-WORKKEYS-ASVAB
WORK-BASED LEARNING/YA EXPERIENCE
SUMMER SCHOOL EXPERIENCE
EXTRA/CO-CURRICULAR, VOLUNTEER, &/OR
SERVICE LEARNING ACTIVITIES
AREA TECHNICAL SCHOOL PROGRAMS
POST-SECONDARY TRANSITION PLAN
PHYSICAL/MENTAL HEALTH WELLNESS PLAN
Select ACP Resources
Work-based Learning
Youth Options
Dual Enrollment
Transcripted Credit
Programs of Study
ACP Resources In Development
ACP Webpage
ACP List-serv
ACP on Facebook & Twitter
ACP Software
ACP Guidance (K-12)
ACP Guidance (parents)
ACP Guidance (community)
ACP Guidance (business)
Quality Academic & Career Planning
• Includes and reinforces strong relationships between students
and the mentors/adults in their lives
• Increases the connections between student self-awareness,
daily instruction, and career/college goals
• Shows positive outcomes—students are more engaged and
autonomous in school
• Enhances student resiliency to overcome challenges & changes
• Provides qualitative and quantitative data regarding college and
career readiness paths
ACP Navigation Goal
All students understand themselves, explore
their world, establish goals for their futures,
and create a plan to achieve their goals;
while realizing that alternative
routes or temporary roadblocks
can mean that a re-calculation is
necessary on one's journey.