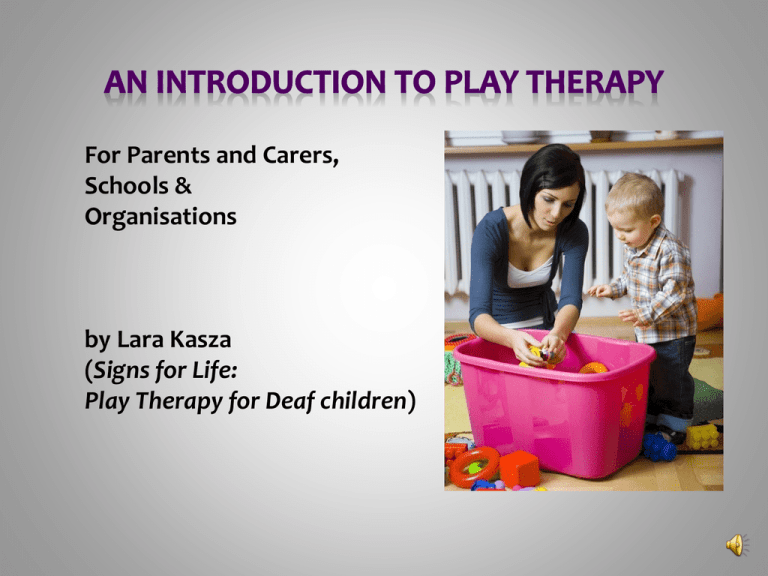 For Parents and Carers,
Schools &
Organisations
by Lara Kasza
(Signs for Life:
Play Therapy for Deaf children)
Contents:
Why do we need Play Therapy?
How do we know that Play Therapy works?
What are the benefits of Play Therapy?
Who is Play Therapy for?
What is Play Therapy?
The Play Therapy 'Toolkit'
How can we use Play Therapy in your School or
Organisation?
Safeguards
Contacts
Why do we need Play Therapy?
"OUR GREATEST NATURAL RESOURCE
IS THE MINDS
OF OUR CHILDREN."
Walt Disney
YET
of the 34,000 Deaf children
in the UK
40%
will suffer from
a mental health problem
compared to 25% of hearing children
(www.signcharity.org)
How do we know that Play
Therapy works?
This is a brief behavioural questionnaire
commended by OFSTED
It measures total difficulties in terms of
Emotional symptoms
Conduct problems
Hyperactivity/inattention
Peer relationship problems
as well as 5 strengths and pro-social behaviour
It is completed by the Referrer (usually the Teacher), the Parent/Carer
and the Child before and after therapy. The score shows if there has
been any improvement as well as our observation of the child.
Teachers have identified the following as contributing to
better academic results and more engaged learning:
Good participation in group work
Communication with others
The ability to take in information
The ability to concentrate on work
They also want:
A reduced number of exclusions
Improved attendance rates.
Do you agree? What would you like to see?
3
2.5
2
1.5
Before
1
After
0.5
0
Group Work
Take in
Communication Concentration
information
What do parents hope to see?
"An increase in her self-confidence"
"Higher self-esteem"
"Help him improve his concentration"
"To be happy"
"To be ok with her friendships going up and down"
"To be able to control his emotions – specially his anger"
"To be better able to express herself"
What would you like to see?
You can discuss these with your child's therapist.
What are the benefits of Play Therapy?
IT IS OFTEN USED WHEN SIGNING/TALKING THERAPY DOES
NOT WORK
Who is Play Therapy for?
Play Therapy is for children:
Who are under performing: academically, socially, culturally or
physically or showing signs of delayed development
Have behavioural problems
Have communication problems
Have been traumatised or abused
Are affected by bereavement or loss, separated or divorced
parents
Are withdrawn or aggressive, have been bullied or are bullies
Have unauthorised school absences or been excluded
Are statemented or on a Child Protection Register and plan
Deaf-aware play therapy is tailored for children who are:
Profoundly Deaf, either pre or post-lingually, with either
hearing or Deaf parents
Are deafened, hard of hearing, or have any hearing
impairment
Are BSL or SSE users
Are predominantly oral
Have a cochlear implant
Hearing children with BSL-using, Deaf parents or siblings.
What is Play Therapy?
"Play Therapy is a safe and containing therapeutic relationship
between a therapist and a child
in which the child is free to use a variety of play and creative arts
techniques (called the 'Toolkit')
to work through emotional, behavioural and social problems that are
preventing the child from realising their potential."
(PTUK)
To sum up it is:
A method of helping children with behavioural and emotional problems to
help themselves.
Play is a natural medium for the child's self-expression – it is essential for
development.
Provides an opportunity to 'play out' their feelings and problems.
It has a therapeutic objective – of bringing a child through a process
towards self-responsibility.
By providing a free atmosphere within safe boundaries the adult allows the
child complete freedom to express themselves physically, verbally and
with the play things.
It is non-directive, non-interpretative, child-centred and based on Axline's 8
principles.
Warm and friendly relationship
Accepts child as is
Establishes a feeling of permission
Reflects back so the child gains insight
Responsibility to make choices is the child's
Child leads – Therapist follows
Does not hurry the therapy
Only a few limitations so that there is an anchor to reality and
the child is aware of responsibilities
The Play Therapy 'Toolkit':
Includes:
Sandtray and figurines
Doll's House and cooker
Puppets
Art and craft materials
Clay, play doh and plasticine
Board games, activity games
Therapeutic storytelling
Music
Dance & movement
Creative visualisations
Masks
What happens in Play Therapy & how does the Toolkit benefit the different areas
of a child's development?
Toolkit:
Creative
visualisation
Storytelling
Drama
Puppets and Masks
Art
Music
Dance and
Movement
Sandplay and
sandworlds
Area developed:
Understanding and thinking
Moral and Spiritual development
Social relationships
Caring for self
Creativity and aesthetic experiences
Communication
Physical
Emotional
How can we use Play Therapy
in your School or Organisation?
As part of your ethos, commitment and
policy of care for the children you support, Play Therapy:
Responds to 'Every Child Matters' offering children vital extra support to develop their full
potential.
Can provide the early intervention needed for at-risk children.
Compliments your child-centred approach to the education and care of your pupils.
Enables children to be more receptive to learning.
Demonstrates your commitment to the SEAL(Social and Emotional Aspects of Learning)
objectives by addressing your pupil's social and emotional needs.
Addresses the principles of the National Curriculum inclusion statement
by responding to pupils' diverse learning needs
Can reduce exclusions and increase school attendance.
Fulfils the recommendation of Play Therapy required for some children
as part of their Child Protection Plan.
The work for Social services is paid by them directly and need not affect the school budget.
Requirements needed for safe practice in schools, centres and
organisations:
Safe play room (consistent)
Assurance that sessions will not be interrupted
Time for sessions
Assessment and post-therapy evaluations using SDQ's
Assured time-tabling
Agreed scheduling/advance notification of changes
Agreed communication protocols
Parental consent
Parental involvement
Assessment of all children at appropriate stages
Integrating Play Therapy with your School or Organisation:
Boundaries in the classroom and the playroom are very different
Communications between the play therapist and staff will respect
child's confidentiality
Need for clear protocols – can share progress but not details of the
child's process
Collaborative assessments
For play therapy
For measurement
Safeguarding clinical work:
PTUK's Ethical Framework
Clinical Supervision
CRB and Insurance
Review Sessions with Teacher, Parents and Child
Clinical Governance
Regular Reporting
Pre and Post Outcome Measurements
THANK YOU!