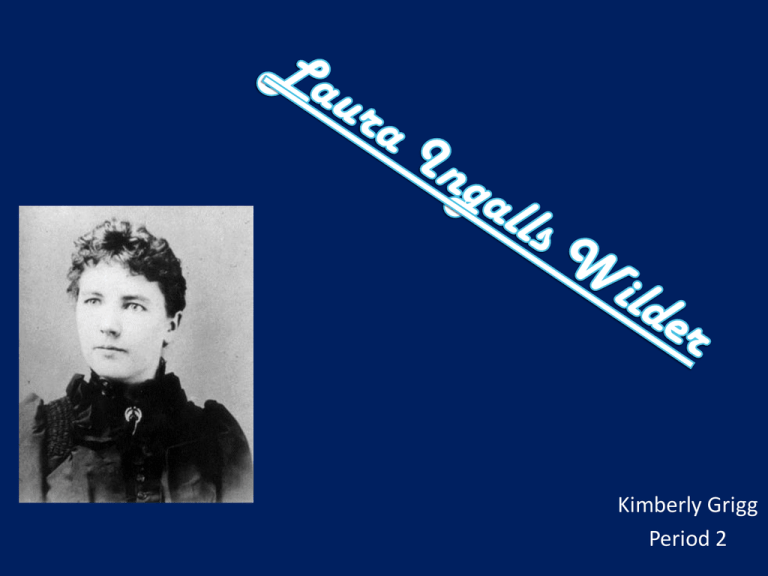 Kimberly Grigg
Period 2
Introduction
Laura and
Almonzo
– Born: February 7, 1867 Pepin, Wisconsin
Rose
Wilder
– Died: February 10,1957
Laura's
– Burial Place: Mansfield Cemetery in
daughter
Mansfield
– Married: Almonzo Wilder on August 25,
1885
– Children: baby boy who died soon after oh
August 25, 1889, Rose Wilder December 5,
1886
– Birth President: Andrew Johnson
Social Contribution
Laura Ingalls Wilder was a famous author who
wrote about her life as a young child. When
writing about her childhood she inspired children
by telling about all the tough times she had. All the
tough times she had written about proved to
children that life was not always easy as a child.
Laura and her sisters
when they were
younger
Childhood
Laura came from a family of adventures, her
grandparents and parents were all pioneers.
When she was little her family moved around a
lot to different places. Laura had three sisters
Mary Amelia Wilder the oldest, Grace Pearl
Wilder the third born, and Caroline Celestia
Ingalls the youngest. The last place Laura lived
as a child was in De Smet South Dakota. The
second year that she had lived in De Smet there
was numerous blizzards.
Childhood
continued
Laura's family and the rest of De Smet had been
cut off from food, supplies, and growing their
crops from December until May of the next year.
Laura and her
family
Adolescence
When Laura was a teen she attended school
whenever possible; but because of her families
frequent moves Laura was mostly self taught. In
1882, when Laura was 15 she received her teaching
certificate. For three years Laura had taught at a
school 12 miles away from her home in De Smet, so
she had boarded with a family near the school.
Adolescence continued
That's when she met Almonzo Wilder.
Almanzo had kindly offered to drive her home
on the weekends on his horse and buggy .
Horse and a buggy
Adulthood
After Laura married Almonzo they had a son
who died soon after birth. They also had a
daughter named Rose. When Laura and
Almonzo were married they moved several
times. They were also a happy couple who
stayed together until Almonzo's death on
October 23, 1949. After Almonzo died Laura
still continued writing her books. Laura wrote
her books until she died; after she did die her
daughter Rose continued to finish her last
book that Laura had been working on.
o "While the pencil of Mrs. Laura Ingalls Wilder,
90 had stopped with her death, the works of
her pencil will live on."
-Newspaper
o "Snow drifts in one night were piled as high as
the second stories of the houses."
-Laura
o " Who would wish to leave home and wonder
forth in the world to meet it's storms?"
o -Caroline Quiner
o "It seemed that we wanted nothing so much as
we wanted to keep going west!" -Laura
o "It is a drowsy country that makes you
feel wide awake and alive but somehow
contented." -Laura
o "…. As soon as I can get through this work
that's piled up ahead of me, I'll really write
a beautiful thing." -Rose
o "An ideal home is one built by a man and
woman together." -Laura
o "Mrs. Wilder has caught the very essence
of a pioneer life." –New York Times








17th President
Lived in North Carolina
In office 1865-1869
Born the year of1808
Died the year of 1875
Part of the Democratic Party
Had no vice-president
Married Eliza McCardle
Johnson
1. What inspired you to write books
about your life as a child?
2. Why did you want to be a teacher
and go to school?
3. When you were younger did you
have problems, like fighting
with your sisters?
Bibliography
• Photograph. Another Late Bloomer. Lilian Nattel, 6 Aug. 2009.
Web. 6 May 2010. <• liliannattel.wordpress.com/.../>.
• Photograph. Almanzo James Wilder Husband of Laura
Elizabeth Ingalls. Jannette, 19 Apr. 2009. Web. 6 May 2010.
<jeannettestakeonlife.blogspot.com/2009/04/alm>.
• Photograph. Seize The Day. Molly Blaisdell, 30 Nov. 2007.
Web. 6 May 2010. <•
mollyblaisdell.blogspot.com/2007_11_01_archiv...>.
• Photograph. Laura Ingalls Wilder A Writers Life. Pamela Smith
Hill. Web. 6 May 2010.
<www.pamelasmithhill.com/pages/Books-LIW.html>.
Bibliography Continued
• Photograph. About The Author. Brianne Peck, 23 Apr. 2003.
Web. 6 May 2010. <•
campus.lakeforest.edu/~ebner/peckbe/author.html>.
• Photograph. Driving. 10 Apr. 1997. Web. 6 May 2010. <•
www.kulacrosse.com/.../subs/driving/index.html>.
• Photograph. Little House In The Big Woods. 22 Apr. 2008.
Web. 6 May 2010.
<crookedhouse.typepad.com/crookedhouse/2008/04...>.
• Photograph. Little House On The Prarie. LLC Inc, 6 May 2010.
Web. 7 May 2010. <• houseput.com/Books/themilkman.htm>.
Bibliography Continued
• Lillian C. Buttre, American Portrait Gallery. New York: J. C.
Buttre, 1877
• Photograph. The 8 Worst Presidents Ever. New York Times.
Web. 7 May 2010. <•
civilliberty.about.com/od/historyprofiles/tp/...>.
• Stone, Tanya L. Biography Laura Ingalls Wilder A Photograpic
Story Life. New York, New York: DK, 2009. Print.