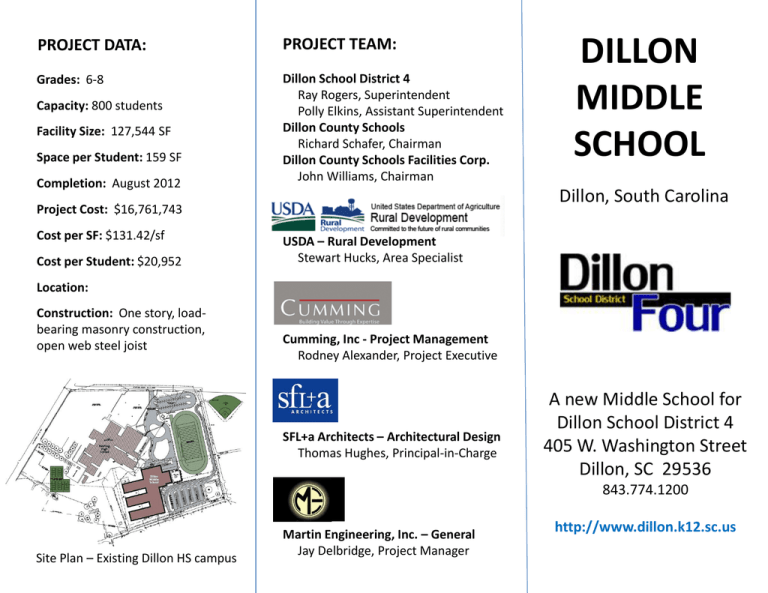 PROJECT DATA:
PROJECT TEAM:
Grades: 6-8
Dillon School District 4
Ray Rogers, Superintendent
Polly Elkins, Assistant Superintendent
Dillon County Schools
Richard Schafer, Chairman
Dillon County Schools Facilities Corp.
John Williams, Chairman
Capacity: 800 students
Facility Size: 127,544 SF
Space per Student: 159 SF
Completion: August 2012
Dillon, South Carolina
Project Cost: $16,761,743
Cost per SF: $131.42/sf
Cost per Student: $20,952
DILLON
MIDDLE
SCHOOL
USDA – Rural Development
Stewart Hucks, Area Specialist
Location:
Construction: One story, loadbearing masonry construction,
open web steel joist
Cumming, Inc - Project Management
Rodney Alexander, Project Executive
SFL+a Architects – Architectural Design
Thomas Hughes, Principal-in-Charge
A new Middle School for
Dillon School District 4
405 W. Washington Street
Dillon, SC 29536
843.774.1200
Site Plan – Existing Dillon HS campus
Martin Engineering, Inc. – General
Jay Delbridge, Project Manager
http://www.dillon.k12.sc.us
DILLON MIDDLE SCHOOL
The new Dillon Middle School is currently under
construction and is located on the existing Dillon High
School campus. It replaces the J.V. Martin Middle
School and will house grades 6-8 when complete. The
new middle school project is part of a larger
construction project for the Dillon County SchoolsThe
project has received a $23.5 million loan from the
USDA's Department of Rural Development and is slated
for completion in time for the 2012-2013 school year.
The facility is LEED (Leadership in Energy
and Environmental Design) registered and
designed to receive LEED certification
from the United States Green Building
Council (USGBC). Upon completion, the
new Dillon Middle School will reflect a
contemporary educational facility and
offer new opportunities for the Dillon,
South Carolina community.