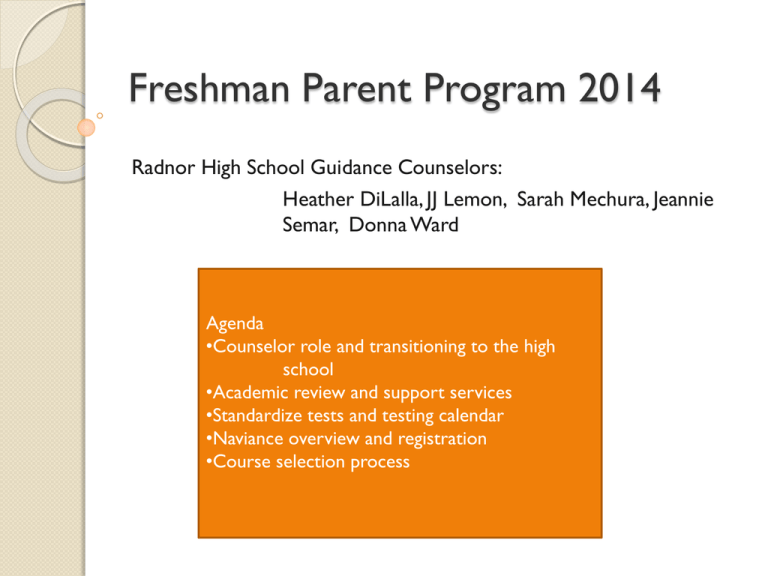 Freshman Parent Program 2014
Radnor High School Guidance Counselors:
Heather DiLalla, JJ Lemon, Sarah Mechura, Jeannie
Semar, Donna Ward
Agenda
•Counselor role and transitioning to the high
school
•Academic review and support services
•Standardize tests and testing calendar
•Naviance overview and registration
•Course selection process
Guidance Counselors

Jeannie Semar (A – Da)
◦ Jeannie.Semar@rtsd.org
◦ 610.293.0855 x 3527

Donna Ward (De - Hi)
◦ Donna.Ward@rtsd.org
◦ 610.293.0855 x 3526

Amy Wess (Ho - Ma) - Sarah Mechura is her LTS until mid-February
◦ Amy.Wess@rtsd.org
◦ Sarah.Mechura@rtsd.org
◦ 610.293.0855 x 3537

JJ Lemon (Mc – Sc)
◦ JJ.Lemon@rtsd.org
◦ 610.293.0855 x 3524

Heather DiLalla (Se – Z)
◦ Heather.DiLalla@rtsd.org
◦ 610.293.0855 x 3523
The Role of the Counselor

Freshman Year:
◦ Transition and Orientation to Radnor High School
◦ Guidance Lessons
 Decision Making
 Academic Planning
 Introduction to Naviance

Sophomore Year
◦ Personality Assessment
 Career Interests and Information
◦ Guidance Lessons
 Academic Planning
 Naviance
The Role of the Counselor

JuniorYear:
◦ Post-Secondary Planning
◦ Winter Evening Program

SeniorYear
◦ Post-Secondary Planning
◦ Fall Evening Program
The Role of the Counselor

Personal Counseling

Academic Monitoring and Counseling

Course Counseling

HS Hope referrals

Parent Resource
Guidance Department Staff

Ms. Stephanie Querze
610.293.0855 Ext. 3522
Counselor Assistant

Mrs. Leonor Gelpi-Perez
610.293.0855 Ext. 3529
Counselor Assistant

Ms. Christine Hofman
610.293.0855 Ext. 3823
School Social Worker

Dr. Dorothy Lowery
610.293.0855 Ext. 3530
School Psychologist

Dr. Richa Kleiman
610.293.0855 Ext. 6122
School Psychologist

Mrs. Amy Wildey
610.293.0855 Ext. 3309
School Psychologist
Academic Review
• Home Access Center
• Contact Nadine McDevitt in the Main Office for log in information
• Teacher Web Pages
• Accessible through the High School website
Quarterly Report Cards
Transcript Interpretation
Grading Scale
Found on Page 11 of Program of Studies
Academic Supports

Academic Success Center
Room 115

Math Center
Room 203
◦ Open all 8 periods for students to drop in

Writing Center
Library
◦ Open all 8 periods
◦ By appointment only – sign up sheet on Writing Center door

Teacher Office Hours available

After School Peer Tutoring
◦ Daily 2:30 to 3:30
Library Writing Center
HS Hope

Student Assistance Program

Students who are struggling personally, academically, or both

Members include Counselors, Administrators, School Psychologists,
School Nurse, and outside resources

More information and referral forms available on the HS website
What are the college entrance
exams?

PSAT

SAT

ACT

SAT Subject Test

AP- not part of the admissions requirements
Standardized Testing Links

www.collegeboard.org

www.actstudent.org

www.fairtest.org
Differences Between SAT/ACT
ACT
VS
SAT
Five sections:
Reading, English, Math,
Science,Writing
CONTENT
Four separate sections
each completed before
moving on to next
content area with the
essay section given last
FORMAT
Ten sections that jump
from content area to
content area with the
essay section given first
Each subject scored 136; composite score
also 1-36, essay score
not included
SCORING
Each section scored
200-800, all included in
overall score, maximum
total score is 2400
No penalty for
incorrect answers
TEST STRATEGY
Three sections:
Critical Reading
Math
Writing
Incorrect responses
result in the loss of a
fraction of a point
When should your student be
taking these exams?

Freshman year
◦ OCTOBER - PSAT
◦ JUNE- SAT Subject

Sophomore year
◦ OCTOBER - PSAT
◦ JUNE- SAT Subject

Junior year
◦ OCTOBER- PSAT
◦ DECEMBER - JUNE – ACT, SAT, and/or SAT Subject

Senior year
◦ SEPTEMBER - NOVEMBER – ACT, SAT, and/or SAT Subject
Frequently Asked Questions

Can students with a learning disability qualify
for testing accommodations?
◦ PSAT, SAT, AP
◦ ACT

Is preparation necessary?
◦ Refer to PSAT report- My
Quickstart
◦ Free online practice
◦ Prep services & resource materials available for purchase
What is it?
•Naviance
is a secure web-based planning and
advising system that helps students navigate
through high school and understand their post
high school options
•Each
student will create an account during 9th grade
Health classes in May
How NAVIANCE can help you
Underclassman features
• Resume builder
•Career Interest Profiler
• Explore careers and clusters
• Personality type assessment (10th grade)
"Do What You Are"
• Summer enrichment opportunities
• Receive grade specific guidance emails
•Brag sheet for counselor letter of recommendation (11th
grade)
NAVIANCE for college bound
students
College search and match programs
Display scattergrams and application
statistics from Radnor
 Organize application deadlines
 Register for college visits
 Request transcripts
 Electronic submission of transcript, if
accepted by a college/university
 Teacher recommendations
 Research scholarship opportunities


Naviance
College Visit Sign Up
Naviance
College Organizer
Scattergram
2014-2015 Program of Studies will be available on rtsd.org
Course Selection Timeline
Student Assembly
•
Students will be advised on how to access and
request his/ her electives for next year during
community period assembly.
•
Please be sure to review the Program of Studies with
your child and keep in mind that no schedule changes
are allowed after June 27, 2014.
Course Selection Timeline
Teacher Recommendations
•
Teachers will input course recommendations for
major subjects from February 4th through February
14th.
•
The teachers and students will meet during
this time to discuss options.
Course Selection Timeline
Elective Choices
•
Students should review the Program of Studies, talk
with teachers, parents, counselors, and classmates to
help select 3 electives and 3 back-up choices.
•
Students will be responsible for uploading these
choices into HAC February 18th through February 21st
•
Be mindful of prerequisites and graduation
requirements.
Course Selection Timeline
Counselor Meetings
•
Every student will meet with their counselor during
the school day from February 24th through March 7th
to review all courses selected. Counselors will be out
of their offices those two weeks. We will review with
students the following criteria:
•
•
•
•
Total number of credits
Leveling of classes
Elective choices
Overall balance of selections
Course Selection Timeline
Course Changes
•
All course changes are processed by Guidance.
•
Students can make changes to their schedule
anytime on or before June 27th. After this date, no
requests will be honored.
•
Core courses changes require an override form.
• English, Math, Science, Social Studies, and
World Language
•
Elective changes do not require an override form.
Course Selection Timeline
What your child should be doing now
•
Reviewing the Program of Studies and thinking about
what courses they want for next year.
•
Consult individually with teachers regarding course
recommendations for next year.
•
Seek out your Guidance Counselor with any
questions.
•
Prepare for mid-term exams January 21st through
January 24th .
Questions?