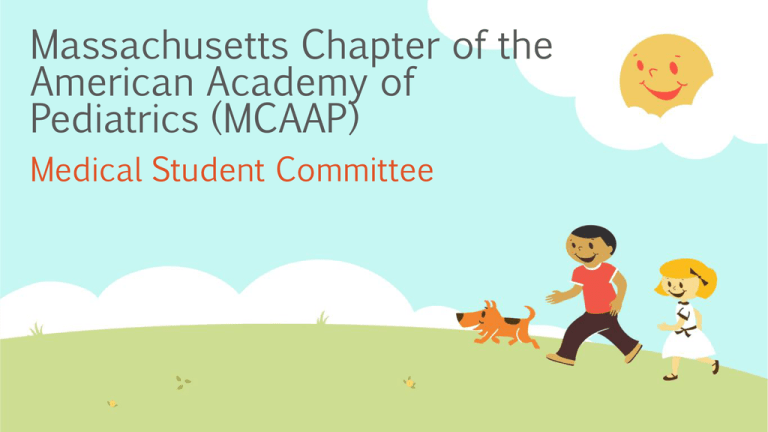 Massachusetts Chapter of the
American Academy of
Pediatrics (MCAAP)
Medical Student Committee
Mission Statement

Offer enthusiastic representation for medical student members of the
MCAAP

To promote collaboration between medical students and other
members/committees of the MCAAP

To utilize the resources of the MCAAP to empower medical students
to improve the health of children and adolescents
Enthusiastic Representation

2-3 members represent each medical school in Massachusetts
 Boston University School of Medicine:

Kristin Schwarz (co-chair), Mike Stratton, Lauren Sweetser
 Harvard

Michelle-Marie Peña, Anna Jo Smith, Nicole de Paz
 Tufts

School of Medicine:
Christian Pulcini (co-chair), Alyssa Levin-Scherz, Lea Sheward
 UMass

Medical School:
School of Medicine:
Eli Freiman
We are here for you! Visit our website:
http://mcaap.org/medical-student/
Promote Collaboration

Collaboration between medical schools on pediatrics-related events and
initiatives

Streamlining Mentorship

Providing opportunities – research, clinical, and/or volunteer
opportunities available with current MCAAP members

Encourage all medical students to join MCAAP Committees
http://mcaap.org/committees/







Committee on Obesity
Committee on Developmental Disabilities
Committee on Adolescence
Immunization Initiative
Committee on International Child Health
Committee on Suspected Child Abuse and Neglect
Committee on School Health
Empower Medical Students

Free AAP membership

Community outreach projects

Legislative advocacy training at RFDASH
Residents and Fellows (& Medical Students) Day at the Statehouse
We Want YOU …
To be an innovative and active member in the MCAAP to
better serve children and adolescents in Massachusetts
and beyond!
Thank you for attending today!