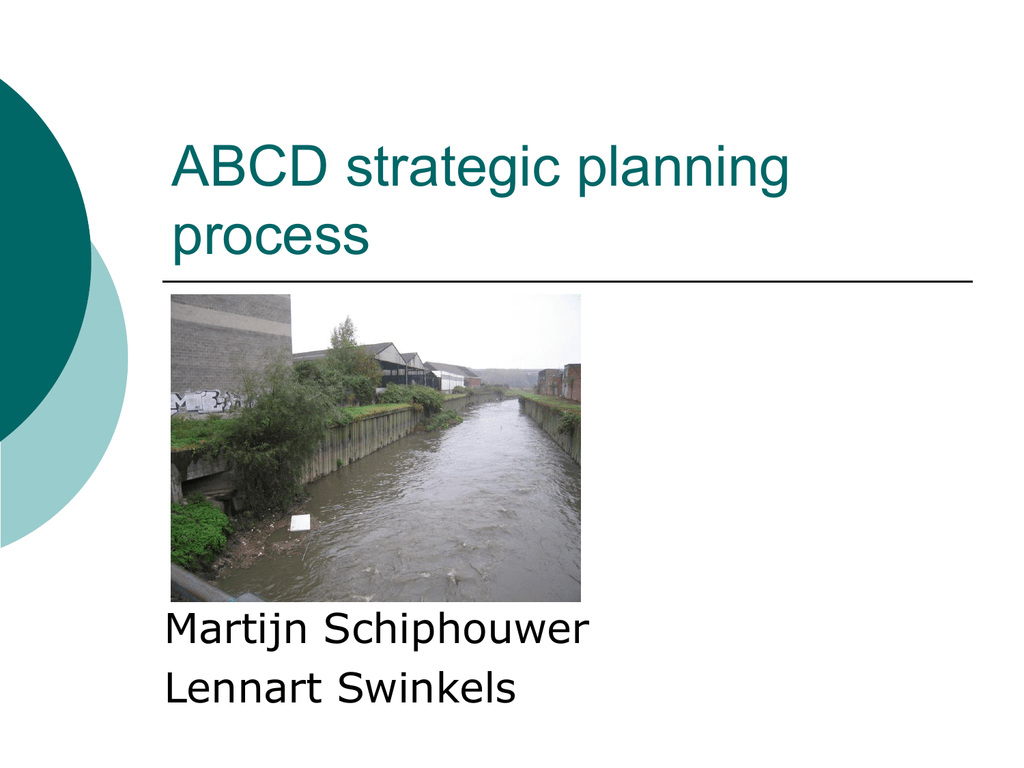 ABCD strategic planning
process
Martijn Schiphouwer
Lennart Swinkels
System





System: Scheldt Estuary
Belgium/Netherlands
Sub system: The Rupel river system, a
tributary of the Scheldt
Untreated waste water from the Brussels
region affects oxygen levels and
biodiversity
The Netherlands: all municipal water goes
to waste water treatment plants
In a sustainable river system, release of
harmful substances does not exceed the
carrying capacity
The scope
H
H
ob
ok
en
up
el
m
on
de
Vl
is
n
si
ng
en
Te
rn
eu
ze
e
ee
rt
oe
l
en
sk
er
k
an
sw
oe
de
k
H
D
Li
llo
Ka
l lo
ob
ok
en
-in
d
An
tw
er
pe
n
H
R
Mg/l
Scheldt river situation
Average Oxygen concentration (2007)
10
9
8
7
6
5
jaargem
4
3
2
1
0
Vision

A balanced Rupel river system in
terms of waste water disposal and
water quality. This will lead to a less
polluted Scheldt system with a
higher biodiversity.
Stakeholders
Stakeholder
Interest
European Union
Policy and legislation on an European
scale
National government
Policy and legislation on a national
scale
Province of Brussels; water
treatment authority (BMWB)
Policy and legislation on a regional
scale
Aquafin
Design, construct and exploitation of
the water treatment infrastructure
Industrial and domestic users
Use of water treatment infrastructure
facilities
Flemish environmental
organization (VMM)
Secure sustainable use of the
environmental and protection
Flows
Needs
Protect society from
infections and diseases,
healthy environment
Output
Sewerage system and
treatment plants
Input
Policy and financial support
Waste
Treated effluent
Lost
Waste water which is not
connected to a treatment
plant
System condition analyses


SC2: Unacceptable concentrations of substances
produced by society =>
we have to eliminate our contribution to the
progressive buildup of chemicals and compounds
produced by society in the environment
Organic pollution of the Rupel river system is still
of unacceptable proportion, biodiversity is very
low
Significant areas



The biggest challenge is to have
sustainable waste water infrastructure for
the total Rupel watershed
Current treatment capacity has to
improve
More sewerage systems must be
connected to treatment plants
Creative solutions

Optimalisation and expansion of
waste water infrastructure
Decide on priorities
Short term actions

Create awareness amongst industrial and domestic water users

Connect the largest unconnected urban areas to the main sewage
treatment plant

Upscale treatment facilities

Long term actions
All waste water to treatment plant
Building of new treatment plants
Implement strict laws concerning waste water discharge

Important stakeholders: Province, Aquafin, water users and VMM

Polluter pays principle, awareness of all parties, participation


Questions?