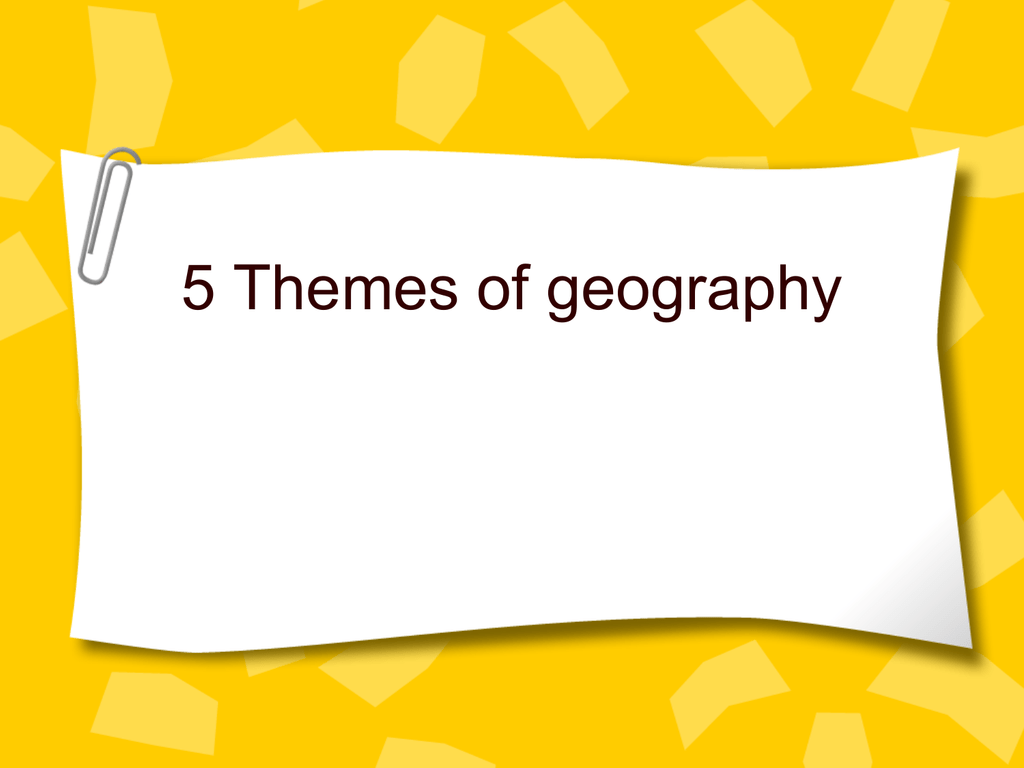 5 Themes of geography
What are the five themes?
Tools geographer's use to study
features on earth.
– Location
– Place
– Movement
– Region
– Human Environment Interaction
Location
Describes where places are at on earth.
Types of Location:
– ABSOLUTE: exact location on earth (fixed)
• Doesn't change
–
–
–
–
Latitude/Longitude
Hemispheres
Grid System
Address
– RELATIVE: compared to other places (variable)
• Changes dependent upon where you're comparing it to.
– Miles
– Distance
– Direction
Absolute Location
Examples:
– Rome is located at 41 N, 12 E
– Argentina is located in the southern
hemisphere.
– Leland is located in San Jose, CA.
Relative Location
Examples:
– Rome is located near the Mediterranean
Sea.
– Argentina is near Brazil.
– Ecuador is south of Mexico.
– San Jose is 50 miles from San Francisco.
Place
A place is defined by it's unique
characteristics.
– Physical characteristics
– Human characteristics
Physical Characteristics
Specific to THAT place, not generic.
– The way a place physically looks.
Created by nature.
–
–
–
–
Mountains
Rivers, Lakes, Seas
Climate
Vegetation
Examples:
–
–
–
–
Andes Mountains are in South America.
Amazon River flows through Brazil.
Pampas are located in Argentina.
The isthmus of Panama connects Central & South America.
Human Characteristics
Specific to THAT place, not generic.
– Peoples activities change the way a place looks or is
represented.
Man-made or invented.
–
–
–
–
Language
Unique buildings
Religious Practices
Celebrations/traditions/holidays
Examples:
– Portuguese is the official language of Brazil.
– Many Mexicans are Catholic.
– Mayan ruins are located in Mexico.
Movement
Places do not exist in isolation.
– Interconnectedness of the world changes the way
places"look".
• Today: "globalization"
– People, goods & ideas move from place to place.
(internet, shipping, trains, planes, trucks)
Examples
– Immigration from Latin America to US.
– War in Iraq (troops, supplies, ideas, people)
– Twitter, Facebook (ideas)
Movement
Places change or are developed by
Movement of land.
– Plate Tectonic forces
• Physical distinctiveness
Examples
– Hawaiian Islands, Rocky Mts, Grand Canyon
Region
The world is divided into different regions
based upon similarities & differences.
–
–
–
–
–
Climate
Location
Beliefs
Languages
Ethnicity/Race
Types:
– Formal
– Functional
– Perceptual
Formal Region
Most common/familiar.
Determined by the distribution of a uniform
characteristic (physical or cultural)
– Location
– Climate
– Religion
Examples
– Central America (Mexico, Guatemala, Nicaragua, Panama)
– Latin America (spanish-speaking nations)
– Tropics (countries located near equator)
Functional Region
Serves a purpose that affects places around
it.
– Distributes goods/people
– Serves specific purpose
Examples:
–
–
–
–
Panama Canal
Amazon River Basin
Hollywood
Havana, Cuba
Formal & Functional Regions
Fig. 1-11: The state of Iowa is an
example of a formal region;
the areas of influence of
various television stations are
examples of functional
regions.
Perceptual Region
c) Perceptual Region, or
vernacular region, is a place
that people believe exists as
part of their cultural identity.
Perceptual Regions
Fig. 1-12: A number of features
are often used to
define the South as
a vernacular region,
each of which
identifies somewhat
different
boundaries.
Perceptual Region
Groups of areas that provoke a certain
stereotype or feeling.
Examples:
– The Bronx
– The "ghetto"
– China town
THE USA how "Others" see us
HEI
The environment & people are
interconnected.
Consequences to those actions depend
upon how people choose to interact with
the world and use their resources.
– Positive/Negative
– Intentional/Accidental
– Favorable/Destructive
HEI
Current Environmental Issues:
– Global Climate Change
– Energy Resources
– Water Conservation
– Deforestation
Assignment
Can you apply the 5 themes to any
story?
Will it give you a much better
understanding about the story if you
know the culture where the story takes
place?