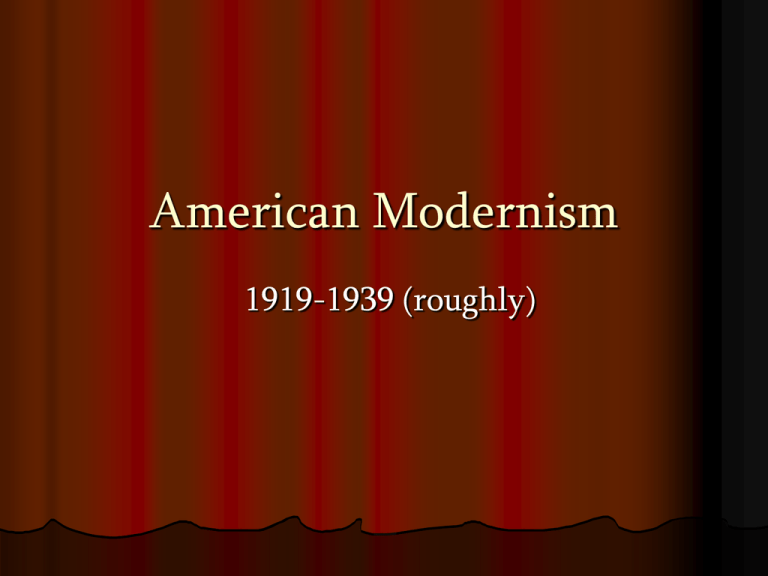 American Modernism
1919-1939 (roughly)
New York Armory Show
1913 – The New York Armory Show
introduces contemporary European
art to America.
Most controversial painting was
Marcel Duchamps Nude
Descending a Staircase. (pictured
right)
(image taken from:
http://www.abcgallery.com/D/duchamp/duchamp2a.jpg)
Fountain, Marcel Duchamp
The Great War, 1914-1919


1914: Archduke Francis Ferdinand is assassinated in
Sarajevo, after which the Austro-Hungarian
Government declares war on Serbia.
August, 1914: Germany declares war on Russia and
France; Great Britain declares war on Germany as
German troops invade Belgium. Japan also declares
war on Germany.
The Great War, 1914-1919




April 2, 1917: Saying that "the world must be made
safe for democracy," Wilson asks Congress to
declare war on Germany.
June 26, 1917: The Versailles Treaty was signed,
ending WWI
Hemingway: drove ambulance in Italy during WWI
EE Cummings: volunteer ambulance driver
Important works of 1915
T.S. Eliot, "The Love Song of J. Alfred Prufrock"
Robert Frost, North of Boston
1922: Modernism's Golden Year

Important works published in 1922:
–
James Joyce, Ulysses (the copies sent to the US were
burned because they were considered "obscene")
–
T.S. Eliot, The Waste Land
Elements of Modernism




Emphasis on bold experimentation in style & form,
which reflects the fragmentation of society
Rejection of traditional themes, subjects, & forms
Rejection of sentimentality & artificiality
Sense of disillusionment & loss of faith in
American dream
Elements of Modernism


Rejection of the ideal of the hero as infallible () in
favor of a hero who is flawed & disillusioned, but
shows "grace under pressure"
Interest in the inner workings of the mind
(especially new techniques: stream of
consciousness)
Symbolism


Definition: form of expression in which the world
of appearances is violently rearranged by artists
who seek a different and more truthful version of
reality
Everyday version: Symbolists believed that art
should aim to capture more absolute truths which
could only be accessed by indirect methods. Thus,
they wrote in a highly metaphorical and suggestive
manner, endowing particular images or objects with
symbolic meaning
Imagism



Manifesto: "The image is the thing!"
Images and Imagery alone can carry a poem's
emotion and message
Imagist poets wanted to "rid poetry of its
prettiness, sentimentality, and artificiality,
concentrating instead on the raw power of the
image to communicate feeling and thought"
Imagism

Ezra Pound:
–
–
2. Direct treatment of the "thing"
3. Use absolutely no word that does not contribute to
meaning


(From Pound, "A Retrospect")
An Image: "that which presents an intellectual and
emotional complex in an instant of time"
"In a Station of the Metro"
The apparition of these faces in the crowd;
Petals on a wet, black bough.