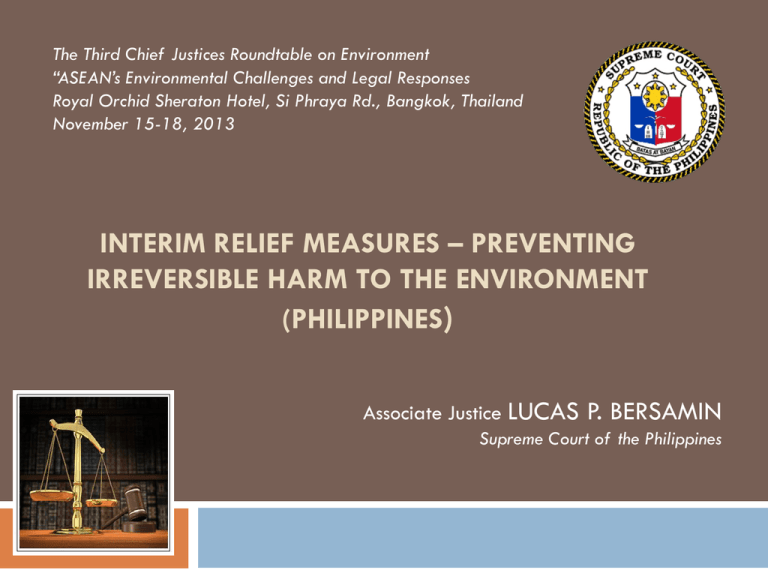 The Third Chief Justices Roundtable on Environment
"ASEAN's Environmental Challenges and Legal Responses
Royal Orchid Sheraton Hotel, Si Phraya Rd., Bangkok, Thailand
November 15-18, 2013
INTERIM RELIEF MEASURES – PREVENTING
IRREVERSIBLE HARM TO THE ENVIRONMENT
(PHILIPPINES)
Associate Justice LUCAS
P. BERSAMIN
Supreme Court of the Philippines
RULES OF PROCEDURE FOR ENVIRONMENTAL
CASES
(A.M. NO. 09-6-8-SC)
Promulgated on April 29, 2010
Main Objectives:
a. Protecting and advancing the constitutional right
of the people to a balanced and healthful ecology
b. Expedite proceedings for the enforcement of this
right through effective enforcement of
remedies and redress for violation of
environmental laws
PROCEDURAL IMPROVEMENTS
a. Submission of all evidence at the time of the filing
of the complaint;
b. Prohibited pleadings;
c. Extensive use of pre-trial;
d. Affidavits of witnesses in lieu of direct
examination;
e. Limited trial duration.
NEW REMEDIAL MEASURES
 Environmental Protection Order
 Writ of Kalikasan
 Writ of Continuing Mandamus
 Consent Decree
ENVIRONMENTAL PROTECTION
ORDER (EPO)
An order issued by the court directing or enjoining any person
or government agency to perform or desist from performing an
act in order to protect, preserve, or rehabilitate the
environment
Temporary Protection Order (TEPO) – interim or ancillary relief
Case: Boracay Foundation Inc. v. The Province of Aklan, June
26, 2012 (G.R. No. 196870)
ENVIRONMENTAL PROTECTION
ORDER (EPO)
TEPO –
Application and issuance are the same with TRO;
General Rule: issued after notice and hearing;
Exception: may be issued ex parte
May only be issued in matters of extreme urgency;
applicant will suffer grave injustice and irreparable injury;
Effective for 72 hours.
WRIT OF KALIKASAN and WRIT
OF CONTINUING MANDAMUS
Writ of Continuing Mandamus - a special writ issued by the
court directing any agency or instrumentality of the
government or officer thereof to perform an act or series of
acts decreed by final judgment which shall remain effective
until judgment is fully satisfied
Writ of Kalikasan - a special writ specially designed to
address large-scale environmental threats which may result to
widespread destruction; the petition for the issuance thereof
may only be filed in the Supreme Court or in the Court of
Appeals
WRIT OF KALIKASAN and WRIT
OF CONTINUING MANDAMUS
Case: Metropolitan Manila Development Authority v.
Concerned Residents of Manila Bay, December 18, 2008
(G.R. No. 171947-48)
Case: West Tower Condominium Corporation v. First
Philippine Industrial Corporation , November 2010 (G.R.
No. 194239)
CONSENT DECREE
A judicially-approved settlement between concerned parties
based on public interest and public policy to protect and
preserve the environment
ADVANTAGES:
(1)it encourages the parties (the government and the violators) to come up
with comprehensive, mutually acceptable solutions to the environmental
problem, and since the agreement was arrived at voluntarily, there is a
greater possibility of actual compliance;
(2) it is open to public scrutiny;
(3) it allows the parties to address issues other than those presented to the
court; and
(4) it is still subject to judicial approval and can be enforced through a court
order
THANK YOU!