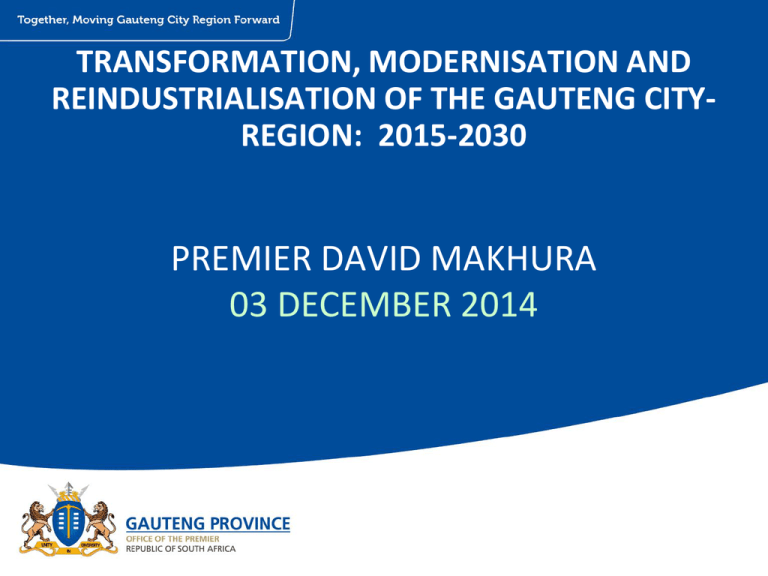 TRANSFORMATION, MODERNISATION AND
REINDUSTRIALISATION OF THE GAUTENG CITYREGION: 2015-2030
PREMIER DAVID MAKHURA
03 DECEMBER 2014
TABLE OF CONTENTS
•
•
•
•
•
•
•
•
•
•
INTRODUCTION
UNDERSTANDING THE GAUTENG CITY REGION
ECONOMIC OUTLOOK OF THE GAUTENG CITY REGION
PERFROMANCE OF THE GCR ECONOMY
EDUCATION IN THE GCR
GOVERNANCE AND STRUCTURES OF THE GCR
GCR TEN PILLARS AND THE TMR
FUNDING THE GAME CHANGERS
GAME CHANGERS
CONCLUSION
INTRODUCTION
• I would like to thank all of you for making time to join our
Dialogue with Industry Leaders, as part of the stakeholder
engagement sessions we have been having with different
sectors over the past six months. In particular, I would like
to convey my deepest appreciation to Mr Andile Nqaba of
Dimension Data for agreeing to host us.
• Over the past 196 Days since the start of the Fifth
Administration, Gauteng Provincial Government has been
hard at work in addressing all matters critical to the people
and the economy of our province. We have met with
different stakeholders to discuss how best we can unlock
the potential of all sectors of our provincial economy to the
benefit of all sectors of our population. We are here to
share our vision, solicit your views and enlist your support.
INTRODUCTION
• During my Inaugural State of the Province Address on 27th
June 2014 in Thokoza, I made a firm commitment to do
certain things within the first 200 Days. I made a
commitment to consult extensively in order to build
consensus on our Ten-Pillar Programme for Transformation,
Modernisation and Re-industrialisation (TMR) of Gauteng.
• We have already convened seminars, summits and
conferences and appointed panels to deal with various
issues of concern to the people of Gauteng – the
revitalisation of the township economy, corruption, crime,
social cohesion, unlocking private sector investment in
infrastructure, improving service delivery and turning
around the performance of the state institutions. Today's
Dialogue focuses on the Economy of the Gauteng City-
UNDERSTANDING THE GAUTENG CITY
REGION: PAST, PRESENT AND FUTURE
OUR VISION:
A Globally Competetitive City-Region and Leading Economy
in Africa. A seamlessly integrated governance, social
cohesion, economic inclusion, knowledge and innovation as
key drivers of smart and sustainable industrial
development
UNDERSTANDING THE GAUTENG CITY-REGION
• Gauteng has evolved into an industrial hub and financial
nerve centre and technological heartbeat of our country,
owing to the impact of the mining revolution on SA's path to
industrialisation,
de-industrialisation
and
reindustrialisation.
• For over a century, we have been the economic hub of our
country and a leading industrial hub of our continent. Today
our province contributes more than 35% to our country's
GDP and more than 10% to Africa's GDP.
• The development of what became Gauteng province in
1994 bears unique industrial and economic features – an
urban conurbation and clustering of cities and towns that
contribute more 42% of SA's industrial output.
UNDERSTANDING THE GAUTENG CITY-REGION
• The economic footprints of the Gauteng City-Region go beyond current
administrative boundaries to constitute an integrated cluster of cities,
towns and urban nodes that together make up the economic and
industrial heartland of South Africa and SADC region.
•
The cluster of cities and towns that make up the GCR are:
– City of Joburg: the Core – evolved from mining into Financial Hub of the City Region.
– Ekurhuleni Metro: the Manufacturing, Logistics and Transport Hub whose industrial
footprints extends to Witbank and Secunda. Seen significant de-industralisation. New
economy – an Aerotropolis SEZ/IDZ (economy based on airport and logistics.
– City of Tshwane: Administrative Capital has become a key driver of knowledge,
innovation and automotive industry development – link to Rustenburg and
Waterberg (new giants linked to platinum and coal mining).
– West Rand District: was a powerful mining region extending to Klerksdorp and
Potchefstroom that has undergone significant de-industrialisation due to the decline
of the mining industry. New economy - agribusiness/agroprocessing and green and
blue economy will be the future. Consolidation of municipalities into a single metro.
– Sedibeng District Municipality: steel industry and associated manufacturing and
energy drove the economy. De-industrialisation due to decline of steel. New
economy to be anchored on steel, Vaal river, tourism, agriculture linked to Sasolburg.
UNDERSTANDING THE GAUTENG CITY-REGION
• A GCR requires a very dynamic governance model and responsive
political leadership that must promote creativity, innovation and futurefocus instead of bureaucracy and power play. There are a number of
imperatives and principles that must govern the operations of the City
Region so that it is a preferred destination for investment, business
growth and economic development.
• Our strategy is to create more consolidated capable municipalities that
are built around building Gauteng into a globally competitive city-region.
Every city and district has been zoned for specific type of industrial
development and infrastructure investment, in line with its comparative
advantage and the imperatives of its new economy.
• Although there is provincial government and municipalities as separate
spheres of government, urban dynamic, geographic size and economic
integration of our cities dictate that we run Gauteng as a single entity
and seamlessly integrated government. We have, therefore, set up
strong GCR governance and coordinating institutions - Premier/Mayors
Coordinating Forum, Gauteng Infrastructure Coordination Commission,
Transport Commission, GCR Academy, GCR Observatory, e-Governance
Steering Committee and GRC Sectoral Forums to be launched. These
imperatives dictate a metropolitan system of local government across
the entire province. Too many layers of governance will kill GCR
COST OF DOING BUSINESS IN THE GCR
• In ensuring that we improve the ease and
reduce the cost of doing business in the GCR,
we will address the following;
– Administrative inefficiencies
– Improve transport and logistics infrastructure
– Skills development
– Address issues of crime
– Address the cost of inputs such as electricity and
utilities through developing an energy mix
intervention and broadband connectivity
THE GAUTENG CITY REGION ECONOMY
VISION OF THE GAUTENG CITY REGION
• OUR VISION IS TO ENSURE THAT:
– "Gauteng becomes a seamlessly integrated city-region;
– the leading economy in the continent – positioning ourselves to
compete with West and East Africa for growth, the Middle East for
investment. Cost of Doing Business, Infrastructure and Governance
being key areas of focus.
– a growing economy underpinned by social cohesion and economic
inclusion. We can't grow the GCR on the old structure of SA's and
Gauteng's economy. Radical change required. Black participation
critical. Key role for SMMEs and township enterprises crucial.
– Building new and future-oriented industries that are innovationdriven, knowledge-based, green, smart and sustainable industries."
– Earmarking certain type of industrial development for specific
regions of the GCR.
– Promoting and developing full capacity to unlock the potential of all
the eleven sectors of our provincial economy.
ECONOMIC COMPETITIVENESS OF THE GAUTENG CITY REGION
• Competitive advantage of the GCR include:
• Having the most developed modern economic infrastructure
in the continent;
• Being home to the head offices of the four major banks in the
country and well developed financial sector;
• Being home to the Johannesburg Stock Exchange (JSE);
• Being home to the head offices of large South African and
international business and conglomerates;
• The GCR continues to attract a range of skilled and unskilled
from both internal and external migrants eager to benefit
from its industries and services; Being home to the largest
internal port in the continent (City Deep);
• Being home to the largest and busiest airport on the
continent (ORTIA);
• Being the gateway to Africa's economy; and
• The Time Zone is aligned to the European Time Zone and the
Middle East making it easy to do business during office hours
with these regions, ideal for Business Process Outsourcing.
ECONOMIC COMPETITIVENESS OF THE GCR
•
•
•
•
•
•
The R&D, education and training are important for any economy. Research and higher
education institutional landscape of the GCR gives the province the edge:
Number of public university campuses:
– University of Pretoria, Tshwane
– Wits University, Joburg
– University of Johannesburg
– North West University, Sedibeng
– University of Limpopo (MEDUNSA)
Number of private university campuses:
– Monash University of South Africa, Joburg
– CIDA City of Campus, Joburg
Number of universities of technology:
– Tshwane University of Technology, Tshwane
– Vaal University of Technology, Sedibeng
Number of FET Colleges: 7
– 1 in Joburg; 2 in Ekurhuleni; 2 in Tshwane; 1 in Sedibeng; 1 in the Wets Rand District;
Number of private college campuses:
– 60 Private Colleges, registered with the National Department of Education
GCR CHALLENGES THAT NEED URGENT ATTENTION
• Economy excludes the majority of our residents
• Big monopolies dominate our economy, limited role for
SMMEs, township enterprises and cooperatives
• Crime
• Corruption
• Bureaucracy and inefficiencies
• High rate of poverty and inequality
• Energy and water supply no longer secure
• Lack of long term planning on infrastructure
• Low skills base
TEN PILLARS OF THE TMR: VISION AND
PROGRAMME FOR THE NEXT FIFTEEN YEARS
GCR TEN PILLARS AND THE TMR
• The practicalisation of the NDP: Vision 2030 in the GCR
is to be done through the TMR programme based on
the Ten Pillars and the Game Changing Interventions.
• This programme is about Transforming, Modernising
and Re-industrialising the GCR.
• It is based on the 4 Transformations; the 4
Modernisations and the 2 pillars of Industrialisation of
Africa and Reindustrialisation of the GCR respectively
• It is also based on the Game Changers, which are
anchored around the infrastructure development
programmes for the next fifteen years as per the GCR
Infrastructure Master Plan and the Integrated
Transport Master Plan, amongst others.
FOUR TRANSFORMATIONS
1.
RADICAL ECONOMIC TRANSFORMATION:
•
•
2.
DECISIVE SPATIAL TRANSFORMATION:
•
3.
Through public transport and new sustainable and integrated human settlements and new cities.
We have the transport plan and we are now at the stage where we are integrating all the plans
that will result into a single Gauteng City Region Transport Master Plan. This will be our blue print
for the next fifteen years and beyond. This will also require strong research support and critical
skills in project management, engineering and project finance hence a strong partnership with
the private sector remains critical.
ACCELERATING SOCIAL TRANSFORMATION:
•
•
4.
Interventions in key sectors of the economy to unlock growth and employment potential and
bring in blacks, youth and women and revitalise township economy.
Our aim is to grow the Gauteng economy into a Trillion Rands and at the back of this is
infrastructure development and investment
Modernise the delivery of education and build smart schools; improve on the delivery of primary
health care, strengthen the PHC, modernise health institutions and the rollout of NHI; tackle and
address urban poverty and social development challenges; dramatically improve the safety of
communities.
Once more this work needs a strong research focus and in particular on urbanisation, including
how do we respond to ongoing challenges or immigrations as a result of continued development?
We also need scientific responses in responding to challenges of urban poverty and this an area
of work that we will need GCRO to take a lead on.
TRANSFORMATION OF THE STATE AND GOVERNANCE:
•
Continue to build a developmental state with capabilities to respond to on going challenges of
society, through better organisation and professionalisation; promote activist, purpose-driven
and results-based government; active citizenry, sectoral engagement and community
mobilisation.
FOUR MODERNISATIONS
1.
MODERNISATION OF THE PUBLIC SERVICE:
• Build green and smart public services and infrastructure to deliver services
effectively and efficiently: build a connected government; vertically,
horizontally, back office, intranet, government to citizens, citizens to
government. Modernisation of the delivery of education which includes
the building of the classroom of the future, health care and other basic
services to our people
2.
MODERNISATION OF THE ECONOMY:
• Focus on economic modernisation through deployment of research,
innovation science and green and blue technology. This is precisely
because the economy of the Gauteng City Region is largely dominated by
the tertiary sector.
3.
PLANNING OF NEW HUMAN SETTLEMENTS:
• Modernisation of human settlements development through green and
high density settlements. The notion of new human settlement is also
about breaking down the apartheid spatial plans and correcting the spatial
challenges of over the past twenty years.
4.
MODERNISATION OF PUBLIC TRANSPORT:
• Planned urbanisation and urban development: Radically improve on better
urban planning , public transport and arrest urban decay.
TWO INDUSTRIALISATIONS
1.
RE-INDUSTRIALISE GAUTENG AND SOUTH AFRICA
•
•
•
•
•
2.
Includes a direct response to the de-industrialisation of the Gauteng
economy. Hence our focus of re-industrialisation will include the
revitalisation of Manufacturing; Beneficiation; BPO; This work is mainly in
Ekurhuleni and this includes heavy industry and engineering, steel and we
are building Ekurhuleni as a Logistic Hub.
Strengthening the Automotive industry in Tshwane and cultural and
economic tourism;
West Rand, Green Economy; Agro-processing; revitalisation of some of the
mining land and the development of related activities that can contribute
to the growth of the economy;
Joburg remains our financial services hub, including working towards the
establishment of the BRICS regional bank
Sedibeng as a Metropolitan possible by 2016; also build it as a water city,
ecotourism, including working on the steel industry based in this region.
TAKE A LEAD IN AFRICA'S NEW INDUSTRIAL REVOLUTION
•
We are reviewing our trade relations in the SADC region and the
continent. We believe the implementation of the Game Changers of
infrastructure development projects, will reposition the GCR as the leader
in the industrial revolution of the continent
CATALYTIC INTERVENTIONS AND GAME
CHANGERS FOR THE GAUTENG CITY REGION
CHARACTERISTICS OF GAME CHANGERS
• Aimed at promoting development throughout the GCR
• Catalytic in nature with ripple effect and have potential to take the GCR
to a higher trajectory of economic growth and development
• Have a major infrastructure component in the project content.
• Support radical spatial, social and economic transformation
• Be based on multi-year inter-governmental and inter-departmental
collaboration and cooperation
• Promote and support economic development and job creation
• Lead to improved service delivery, entrenching of good governance,
deepening of democracy and strengthening partnerships
• In the current fiscal limitations, innovative approaches to implementing
the Game Changers will be explored including crowding private
investment
ECONOMIC CLUSTER GAME CHANGERS
•
•
•
•
•
•
•
•
•
•
•
•
•
BUILDING ECONOMIES OF THE FUTURE TODAY:
Build sound foundations on which new sectors of the economy, emphasising sustainability
and knowledge, can be developed, Including Beneficiation and Agro-processing
Gateway to Africa: Entrench and expand on Gauteng's status as the Gateway to Africa to
realise the economic opportunities offered by the continent through efforts to reduce
red-tape and improve ease of doing business in the GCR
Logistics Hubs, ICT Hub, Aerotropolis, Agrotropolis;
New logistics hubs and new cities;
REVITILISATION OF THE TOWNSHIP ECONOMY: R1 billion over the next 5 years
Re-industrialising Gauteng: re-build the manufacturing sector in Gauteng, increasing
manufacturing output and increasing employment in manufacturing and related up and
downstream sectors.
Build a Digital city region: This includes Broadband infrastructure ROLLOUT to promote
economic efficiency, increase economic diversity, support good governance, improve
productivity, and enhance sustainability.
INVESTING IN INFRASTRUCTURE DEVELOPMENT: R32 billion and R60 billion over the next
three years:
Improving PUBLIC TRANSPORT.
Developing a HEALTHY ENERGY MIX as a direct response to the challenges in the
electricity grid. Huge investment in alternative energy.
Adopting a plan to deal with WATER AND SANITATION infrastructure.
Rollout of BROADBAND.
SOCIAL CLUSTER GAME CHANGERS
•NEW SUSTAINABLE HUMAN SETTLEMENTS AND CITIES:
•
•
•
Building new post-apartheid, integrated & sustainable human settlements and cities
Transform the current dislocated urban spatial patterns thus supporting greater
economic efficiency, increasing access to socio-economic opportunities.
New cities in the Vaal and West Rand.
•QUALITY HEALTH CARE:
•
To ensure the effective roll-out of the National Health Insurance programme and
reengineering Primary Health Care throughout the GCR.
•MODERNISE EDUCATION
•
Building Smart Schools and Classroom of the future
•BUILDING SAFER COMMUNITIES:
•
Build a strong movement against crime, through the strengthening of civilian
oversight
•LIBERATION AND STRUGGLE HERITAGE:
•
To develop build monuments/infrastructure projects which promote social cohesion
and inclusion as well as enable economic spin-offs.
•FOOD SECURITY:
•
To assure equitable, affordable access to quality food, including the transformation of
the food industry and addressing challenges of urban poverty
•
WE ARE INVESTING R200 BILLION IN HUMAN SETTLEMENTS, EDUCATION AND
HEALTH OVER THE NEXT FIVE YEARS!
GOVERNANCE GAME CHANGERS
•BUILDING AN ACTIVIST, RESPONSIVE AND CLEAN GOVERNMENT:
• Launched the Service Delivery War Room to improve
responsiveness, setting the Integrity Management Office to
strengthen the fight against corruption.
• Improve interaction, communication and engagements with
communities and sectors of society on key decisions.
•SUSTAINABLE GAUTENG:
• Minimise Gauteng's ecological and environmental footprint
while sustainably maximising the socio-economic benefits.
Invest in green and blue technology.
•INCLUSIVE AND BALANCED COMMUNITY AND REGIONAL
DEVELOPMENT:
• To promote inclusive and balanced development across
Gauteng, by assisting regions and communities that are less
developed and underdeveloped West Rand and Sedibeng.
FUNDING THE GAME CHANGERS
• The tight fiscal condition that the country and the GCR finds itself requires
innovative approaches to raise funds for the implementation of the TMR, the
Ten Pillar Programme and the Game Changers
• We have established the Gauteng Infrastructure Funding Agency to mobilise
funding for our catalytic and game changing projects to build a new Gauteng.
• A study conducted by the Gauteng Infrastructure Fund on bankable projects
identified the following:
⁻ The need for innovative partnerships with the private sector and
developmental agencies
⁻ Public sector finance crowding
⁻ The need for improved joint planning, budgeting and infrastructure
delivery across the three spheres to eliminate duplication of efforts,
resources and improve efficiency in the public sector
⁻ The need to improve project and contract management capacity and skills
in the built environment
⁻ The need for more collaboration and skills sharing across the GCR,
academic institutions and the private sector
CONCLUSION
• Over the next 5 years, we would like to unleash the full energies of all
our businesspeople and unlock the full potential of all 11 sectors of our
provincial economy. We have been consulting with every sector and we
want to hear from you today.
• Next week, we have our end of year cabinet lekgotla to finalise all our
plans and budgets to ensure that we move with speed in 2015; we have
no time to waste.
• In January, February and March 2015, we shall host a number of
conferences to launch our projects. An Infrastructure Investment
Conference, Africa Investment Conference and meeting with the CEOs
of the Top 50 JSE-listed companies.
• We will also undertake overseas trips to promote our province as the
best investment destination and raise funds for our game changing
projects.
• We will also launch the Gauteng Business Platform and appoint the
Economic Advisory Panel to advise us on the economy over 5 years.
TOGETHER, MOVING GAUTENG CITY REGION FORWARD!
Thank You!