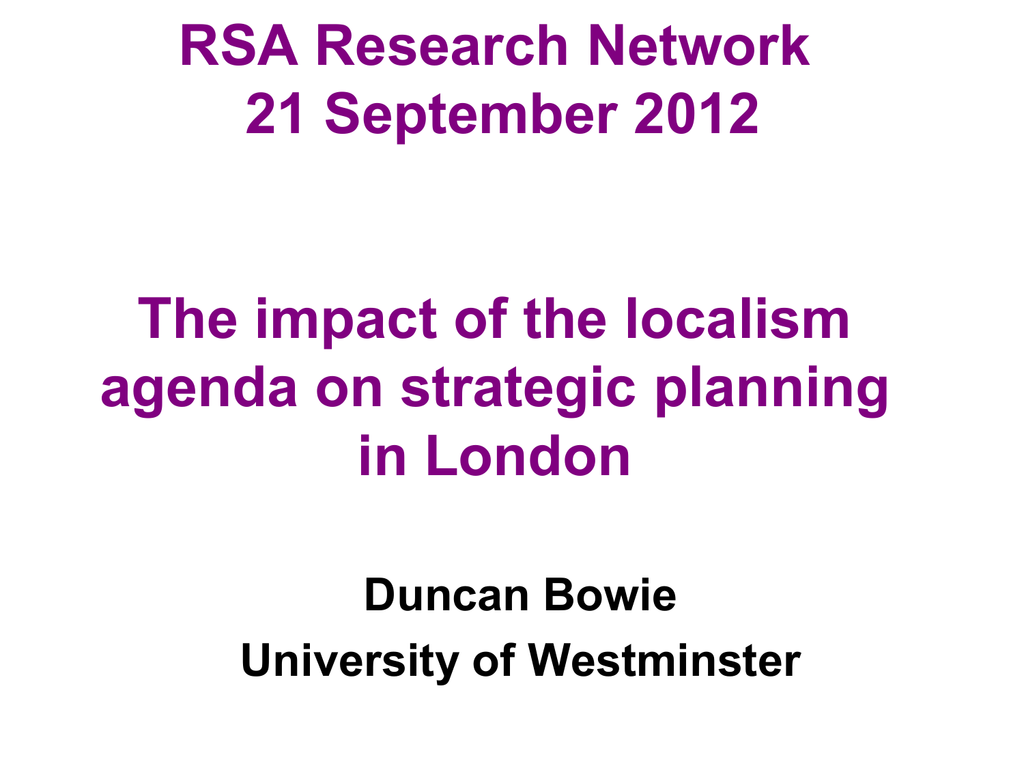 RSA Research Network
21 September 2012
The impact of the localism
agenda on strategic planning
in London
Duncan Bowie
University of Westminster
London as a case study
• Mayor of London as the sole
remaining Strategic Planning
Authority in England
• Can strategic planning in London
survive the challenges of the localist
agenda ?
• Case study focuses on housing
targets and housing delivery
The London Metropolitan
Region
The Context
• The Localism Act
• The National Planning Policy
Framework
• Boris Johnson's London Plan
• Further planning deregulation
• Further relaxation of London Plan
affordable housing targets
The combatants
Mayor of London's powers
• Mayor is the plan-making authority – new London
Plan published by Boris Johnson in July 2011
(revised the Livingstone 2004 London Plan)
• Mayor has power to intervene in strategic
planning applications – negative and positive
powers
• Mayor now has control of affordable housing
investment programme (previously held by
central government controlled Housing
Corporation/ Homes and Communities Agency) effective from April 2012
• Mayor has significant land holdings ( Transport
for London land and land held by former London
Development Agency) but not all suitable for
housing
Policies in the 2004 and 2008
Livingstone London Plan
• Net completions target was 23,000 per
annum in 2004, raised to 30,500 per annum
in 2008
(based on housing capacity study). Targets
set at borough level
• 50% of new homes to be affordable –
11,500 in 2004 plan; 15,250 in 2008 Plan
• 70% of affordable homes to be social rent ;
30 to be sub market rented and shared
ownership –intermediate housing )
• All provision to lifetime homes mobility
standard; 10% wheelchair standard
• Density based on Sustainable Residential
Quality
2011 London Plan housing
policies
• Net completions target is 32,210 homes pa
(based on housing capacity study).
Targets set at borough level
• Policy is 13,200 new homes to be
affordable ( 40% of total)
• 60% of affordable homes to be social rent
40% to be sub market rented and shared
ownership –intermediate housing )
• Density as accessibility policies as before
• Minimum space standards for all new
homes
Why strategic planning is
important in London
• Shortage of development sites relative to
identified need – so important to use
capacity effectively
• Land capacity is not in the same areas as
housing need
• If all boroughs do not contribute new
supply, housing pressures in stress areas
become more acute
• Local decisions will increase social
polarisation
• London cannot be divided up into self
contained housing market areas
Existing Tenure Polarisation
House prices by local area
(2008)
Spatial distribution of
deprivation
Housing Capacity by Borough
Housing output by borough
2010/11
Housing as % London Plan
target 2010/11
Density on new sites
Mismatch between need and
supply
• Social rent output only half of requirement
• Most new homes were small homes – less
than 30% of new social rented homes were
3 or more homes, compared with 40%
requirement
• Less than 15% of new market homes had
three or more bedrooms
• 90% of new homes were flats not houses
• Increasing proportion of new homes were
in blocks over 10 stories – over 100 tower
blocks in development pipeline
The Coalition Government's
Approach
• Abolish national and regional housing targets
• Let each local council decide how much housing
and affordable housing is built in their area
• Introduce incentives to local authorities (and
neighbourhoods)
• But double devolution shifting power from
councils to neighbourhoods
• Abolishing government grant for social rented
housing/ Grant for sub market rented homes only
– flexibility on security of tenure
• Self financing of Housing Revenue Accounts
The NPPF
• LPAs should identify land to meet
identified needs
• Cooperate with other LPAs
• Guidance on sub-regional housing land
capacity studies SHLAAs and housing
market assessments to remain BUT
• Lack of clarity as to how targets be
determined across a subregion
Core strategies
• Should allocate sites to meet
assessed need
• But no requirement on LPA to set an
affordable housing target
• No requirement to set separate
targets for social rent/ affordable
rent/ intermediate housing/ market
housing
Neighbourhood Plans
• Ministers say should be in 'general
conformity' with core strategy
• Cannot provide less development
than core strategy requires but can
provide more
• No clear definition of strategic
matters for general conformity test
The key issue
• Unless core strategy sets neighbourhood
targets, how can conformity be tested ?
• Can neighbourhood plans amend core
strategy site allocations
• If YES, how is core strategy implemented
• If NO, what is the point of a
neighbourhood plan ?
• The confusion grows
CLG 13th October 2011 leaflet
The London Plan Examination
in Public– Summer 2010
• Coalition Govt withdrew John Healey's
objections to Johnson deleting
Livingstone's 50% target
• Ministerial statement that with no
Government targets for London, it was for
Mayor to decide what targets to include
• Borough planning officers argued
proposed borough housing targets not
consistent with new localism
• The Mayor's response:
"As CLG's statement made clear, the Coalition Government has
provided the flexibility to move away from dependence on targets
to meet these needs. However, coupled with other policies rather
than as an end in themselves, targets are a valuable part of the
Mayor's armoury to exercise his strategic housing responsibilities
and address need in a city as large and complex as London. That
does not mean that he necessarily considers the current
methodology for developing the targets to be the most effective
way forward for the future – it reflects the historic 'top down'
national guidance which in several instances constrained
boroughs and the GLA from taking proper account of London's
unique circumstances. The Mayor intends to work with boroughs
and other stakeholders to develop a more effective, responsive
methodology, which will respect these distinct circumstances and
support a new target better fitted to help London tackle its
housing needs and which will be brought forward as an early
alteration to the London Plan."
The EiP Panel on Localism
"we do not see it as any part of our role to enter into a
philosophical debate on the nature of localism. Rather,
having regard to the statutory duties and
responsibilities of the Mayor, throughout the
Examination we facilitated debate over the necessity or
otherwise of particular standards and targets whether
as mandatory policy or guidance both as matters of
principle and of specific detail. With very limited
exceptions we endorse the position taken by the Mayor
over the strategic justification for inclusion of such
matters or their non-inclusion having had the concept
of localism very much in the forefront of our
deliberations"
Panel response
• Supported borough targets based on Londonwide
housing capacity study
• Agreed boroughs should be bound by
Londonwide density ranges relating to
Sustainable Residential Quality principles
• BUT supported Mayor dropping 50% affordable
housing target
• Supported Mayor changing social rent:
intermediate ratio contrary to evidence in Mayor's
hosing market assessment
• Agreed that boroughs had flexibility on setting
own affordable housing targets
• Welcomed proposal for more locally based
housing targets
Locally sensitive housing
targets ?
• Retain consistent approach to density and
site capacity ?
• Increase LPA ability to veto exclusion of
sites- remove justification requirement ?
• Do LPAs need neighbourhood consent for
site allocations, capacity and mix
assumptions ?
• Yet in London, neighbourhood plans also
need to be in conformity with London Plan
as it is part of each borough's
Development Framework under 2004 Act –
so Mayor will check each neighbourhood
plan.
The reality of neighbourhoods
• Localism is not a panacea and can be dangerous
• London is not am aggregate of local
neighbourhoods – a City of villages
• As a global city, much of London's population is
transient – both voluntary and enforced – some
neighbourhoods can have annual population
turnover of 50%
• Who are neighbourhoods planning forthe 21 residents who write the plan
all existing residents
the residents children and grand children
people who may want to lve in the area
Responsible Localism
• Evidence base
• Impact assessment
• The opportunity costs of not
developing
• Will neighbourhood plans reflect
economic and social requirements as
well as environmental ones ?
Civic leadership
• A sense of place
• A sense of accountability
• A sense of public interest and
purpose
The Nick Boles chaos theory
• 1,000 flowers blooming or wilting ?
• A belief in altruism is not enough
• Planning is mediating between conflicting
interests – all planning decisions are 'political' in
terms of producing benefits and dis-benefits
• Spatial equality still matters
• A system of neighbourhood planning with no
checks and balances is not 'fit for purpose'
unless the purpose is chaos
• Nick Boles is now planning Minister
• Further deregulation and even more localism ?
• Is this the end of strategic spatial planning ?
The Limits of Localism
• Localism not delivering national housing
targets
• The return of central intervention
• Poorly performing planning authorities –
decisions to be transferred to Planning
Inspectorate
• Planning Inspectorate to over-ride s106
agreements
Localism and the London
Mayor
• Revising housing capacity targets –
localism and regional consistency
• Maximising numerical output –
relaxing requirements to provide
range of homes
• Stopping councils prioritising social
rent rather than other sub-market
provision
Localism and Metropolitan
Regional Governance
• Localism as a diversion and obstacle
• Strategic planning beyond the London
boundary
• London's growth and the contribution of
the wider metropolitan region
• Need for a metropolitan regional authority
with powers of direction ?