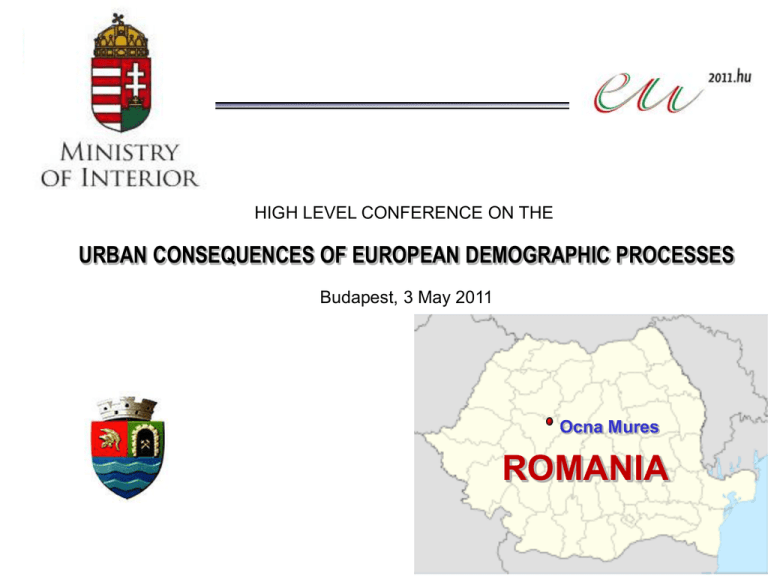 HIGH LEVEL CONFERENCE ON THE
URBAN CONSEQUENCES OF EUROPEAN DEMOGRAPHIC PROCESSES
Budapest, 3 May 2011
Ocna Mures
ROMANIA
Topics
- The (hi)story
- Demographic trends, causes and consequences
- Main policies
- Potential
- Main Strategic development direction
- Assistance needed
HIGH LEVEL CONFERENCE ON THE URBAN CONSEQUENCES OF EUROPEAN DEMOGRAPHIC PROCESSES
Budapest, 3 May 2011
OCNA MURES CITY
- THE (HI)STORY –
the visitor
The story
There is a piece of land, placed in the central part
of Romania, in the middle of Transylvania, a land
known under the name of Ocna Mures, or Uioara
(as ancient documents attest).
Ocna Mures
ROMANIA
Razboieni railway station is an important cross
road which connects Ocna Mures city to a bigger
world.
The story
The salt mines stood as unrested witnesses of a
tumultuous history … the mining started in ancient
times, lasting from Roman Empire Age all the way
to the contemporary one.
But little by little, the salt mines have been flooded and
most of the mining galleries crushed, the solid salt
mining ending in 1978.
The story
The entrance into the city, guarded by Mures river.
The story
The first illuminated football arena in Romania
… loosing shape due to lack of proper funding.
The highschool building next to the footbal
ground is perfect for a sport school, not only
for football, but also for handball and
volleyball....
For many years in the past we used to be
called "the town of volleyball" as a lot of
great players came from here.
Could sport become alive again?
Yes. Football, handball and volleyball practice reopened already. Over 200 kids gladly joined them.
It requires a lot of work and passion (we have that)… and money to support (this is the challenge)
The story
The soda ash products plant
Due to favolable natural resources, in 1896 a soda ash
products plant was established (The Solvay Plant), opening
here a new branch of industry: the chemistry, using the salt
as main raw material. Over the course of one hundred years
of existance, the plant represented the main economic pillar
of the city, becoming the biggest soda ash producer in
Romania and absorbing most of the city manpower (over
3000 workers).
Its ownership went from Solvay to state (through the
nationalisation of 1948). The revolutionary movements in
1989 marked the begining of the decline for the plant, getting
in 2000 into bankruptcy door-step. In 2001 it was acquired at
the stock exchange by a new owner (Bega Grup) who sold it
in 2005 to an Indian company (GHCL).
Currently, the plant is closed, leading to a wave of job cuts
Many small handicrafts traditional in Ocna Mures, such as glass globes, shepherd, woodworking,
but also agriculture kept involved an important part of the active population. Slowly, most of them
have diminished or even disappeared by now.
"Could these be invigorated?"
Yes, with some financial and technological help. They would benefit from the tradition we
have here and important skilled manpower.
The story
A few water surfaces which do not look like
proper lakes.
This is where the old downtown was in the
past, but the land crashed over the old
salt mines, being filled in later on with
water to stop further erosion.
This has the potential of a beautiful recreational lake, with boats and dockings, surrounded by
trees and wooden coffee shops, combined with the usage of the salty water for medical treatment
This is a great opportunity!
The story
Beautiful and imposing churches of various
religions speak about cultural diversity and a
true ethnic mosaic that lived here along the
history. After centuries of continuous attraction
of various migrating people, the economic
down-time led to diminishing of ethnicities in
number and size.
The Teleky castle can also be considered a
special touristic asset.
Tradition in cultural activities: popular dans
bands, choirs, poets, writters.
Valuable touristic attraction points for this region full of history; great touristic assets,
that give the city potential for the future. It can become famous!"
The story
Twice in one year we have been on the cover page of all the newspapers in Romania … in a bad way:
big floods in June
… then a land crach which swallowed the supermarket in December
Now it is time to turn the page and go for a new beginning!
DEMOGRAPHY
Demographics
CAGR of -0.4% registered over the last two decades ... a linear
projection for 2020 leads to continuation of the declining trend.
49%
Youth ... The main driver of the declining
trend
Natality-Mortality balance diminished until it became negative
over the last 10 years
CAGR -0.4%
Industry shrinkage leads to M/F
balance swift in the favor of Female
Ethnic structure stable over the last 30
years, with 85% Romanian population
Causes and consequences of
demographic trends
CAUSES:
Industry closing
Natality decrease
UE work opportunity
for youth (no borders)
20 years of demographic shrinkage registered
&
negative trend for the future projected
• diminishing further of active occupied population
• reducing of income per household
CONSEQUENCES:
• living dependency more and more on survival agriculture
• further deteriorating life standard
• determining youth to migrate towards other areas
• modification of the age structure (aging)
Main policies in tackling the
demographic challenges
•
At the local level:
– Defining the strategic direction for development
– Offer facilities for investors to open businesses and offer new jobs , such as :
• tax exemption on defined time frame depending on number of created jobs;
• ensuring necessary utilities;
• make available fields and buildings where investors may activate.
– Regular meetings with business people from the city to identify their needs and requirements
re. the local administration;
– Inform the population on the newly created activities; convert the manpower towards new
activities.
•
Colaborate with regional, national and European authorities to open doors towards
new opportunities, via:
– Encouraging balnear tourism and develop necessary infrastructure.
– Development of a sport arena as a base for regional sport center, to become a point of
attraction for youth
– Strengthening the relationship of Ocna Mures with neighbour cities through involvement
into common activities
Main strategic direction
Vision…
Make Ocna Mures a better & more attractive place to live for its inhabitants.
Objective…
Development of the city towards reversing the negative demographic and economic trend.
Main strategic direction...
Bring back the balnear resort identity of Ocna Mures and redefine its flagship.
Key strategic initiatives identified ...
1. Develop infrastructure for balnear tourism
-
roads, buldings, lake, water pipes, communication
2. Develop and diversify the economic activities
-
facilities for small industries, agriculture, tourism
3. Develop sport center for performance
-
infrastructure, education, equipment, activities
4. Prepare human resources & improve social services -
education, health system, integration of gypsies, old population
5. Elaborate & implement environment strategy
strategy development, regulation appliance, activities
-
OCNA MURES potential
There is still a significant amount of resources and reasons to believe in a better future.
A few examples of short and mid term initiatives, with the objective to invigorate the economic sector
as the main pillar for recovery the situation and turn around the demographic trend:
Area
Some examples
Reasons to believe
Balnear
tourism
Clinic
Salty baths and pools
Recreational park around the lake
Teleky castle exploitation
Salty water presence
Clean, unpolluted air
Historical artifacts
Industry
UPSOM factory retechnologization
Opening new facilities for small industries
Reopening traditional handicrafts (glass globes,
shepard, woodworking etc.)
Skilled manpower
Tradition
Agriculture
Farm animals
Organic crops
Fish
No pollution => unpolluted soil
Skilled manpower
Favorable geographical position
Global H&W (bio) trend
Sport
&
Culture
Establish a sport school/camp
- football, handball, volleyball
Available sport field and buildings
Ex-sport people of high performance
Football, handball and volleyball clubs opened
Cultural activities:
- traditional dans bands
-choir
Cultural home down-town
Tradition in folkloric dans and choir
Assistance needed
•
from Regional level
– Invest in regional infrastructure affecting Ocna Mures (roads, bridges)
– Directing more social and economic programs towards Ocna Mures
– Establish a regional industrial park to prepared for attracting potential investors to Ocna Mures
•
from National level
– Officially include Ocna Mures among the affected areas to open door for special facilities for
investments
– Intensive assistance for complex rehabilitation project and reinsertion in touristic chain, via
activities such as designing, feasibility studies for infrastructure.
– Agreement between the Ministry of Industry and Ministry of Tourism & Territorial Administration to
transfer the ownership of the current flooded area towards the local authority
•
from UE level
– Transfer knowhow and expertise from cities with similar experiences that suceeded
– Renewal of the city through the transformation of the flooded centra area from a latent danger into
a beautiful recreational lake, environmentally friendly and with multiple exploiting opportunities.
THANK YOU
for offering us this opportunity to talk about
OCNA MURES CITY!