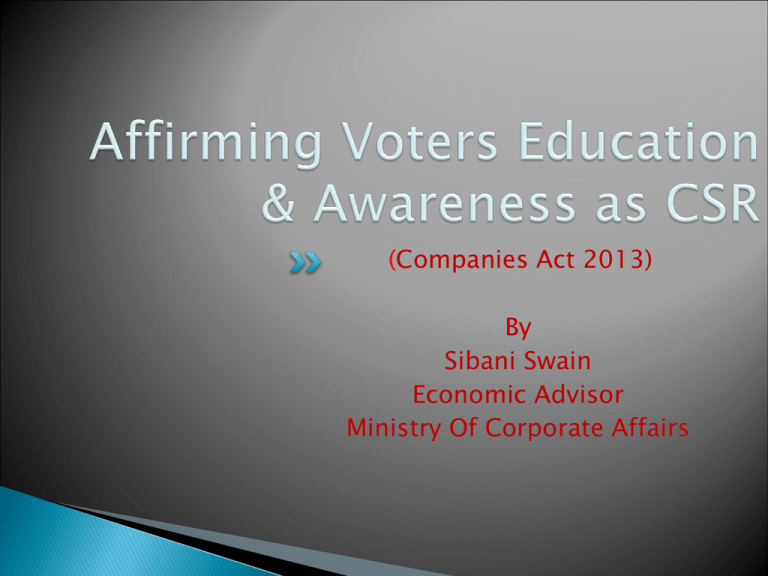 (Companies Act 2013)
By
Sibani Swain
Economic Advisor
Ministry Of Corporate Affairs





What is CSR
CSR in Companies Act-2013
CSR Committee
Mandatory Disclosure(Boards Report)
Schedule VII
Educating Voters
CSR Rules

Corporate Social Responsibility is the continuing commitment by business to
behave ethically and contribute to economic development while improving the
quality of life of the workforce and their families as well as of the local
community and society at large"
Lord Holme and Richard Watts

Corporate social responsibility encompasses not only what companies do with
their profits, but also how they make them. It goes beyond philanthropy and
compliance and addresses how companies manage their economic, social, and
environmental impacts, as well as their relationships in all key spheres of
influence: the workplace, the marketplace, the supply chain, the community, and
the public policy realm.
Harvard University




Companies Mandated to constitute a CSR Committee
Networth of Rs 500 Crore or more
Turnover of Rs 1000 Crore or more
 Net profit of Rs 5 Crore or more
CSR Committee to have
Three or more directors
At least one is to be an independent director
Board's Report shall disclose the constitution of CSR Committee
CSR Committee will
 Formulate CSR policy and recommend to board indicating the activities
to be undertaken as specified in schedule vii
 Recommend the amount of expenditure to be incurred
Monitor CSR Policy from time to time
 Board of Directors will
 Approve CSR Policy
 Ensure implementation of CSR policy
 Disclose the contents of CSR policy in the Board report
 Place the same on company's website, if any
 Ensure CSR spending amounting to at least 2% of the average
net profit of the preceding three financial years
 Board's Report shall specify the reasons for not spending the
specified amount
 There is no penalty for failure to spend 2% of net profit on CSR










Eradicating extreme hunger & poverty
Promotion of education
Promoting gender equality and empowering women
Reducing child mortality and improving maternal health
Combating human immunodeficiency virus, acquired immune deficiency syndrome, malaria and
other diseases
Ensuring environment sustainability
Employment enhancing vocational skills
Social business projects
Contributions to Prime Minister Fund or any other fund set up by the Central Government or the
State Governments for socio-economic development and relief and funds for the welfare of the
Scheduled Caste and Schedule Tribe
such other matters as may be prescribed
Thrust is on Women's participation in Electoral Process
 Activities included in schedule VII of the Act covers 'Gender equality
and Women's empowerment'
 Corporates are free to formulate CSR policy including
projects/programme to be undertaken, amount to be spent,
community/geographical area to be covered etc.
 The Act provides that the company shall give preference to the local
areas






Specifies operational provisions of the CSR policy
Hosted on MCA's Website on 9th September,2013 for inviting Public
Comments
Includes provisions for implementing agencies, pooling of resources by two
or more corporates, CSR coverage etc. as well as format for reporting
Feedback Received on Number of issues including
Activities covered under schedule VII
Tax exemption on CSR spending
Composition of CSR Committee
CSR rules are being finalized after taking into account stakeholders'
comments.