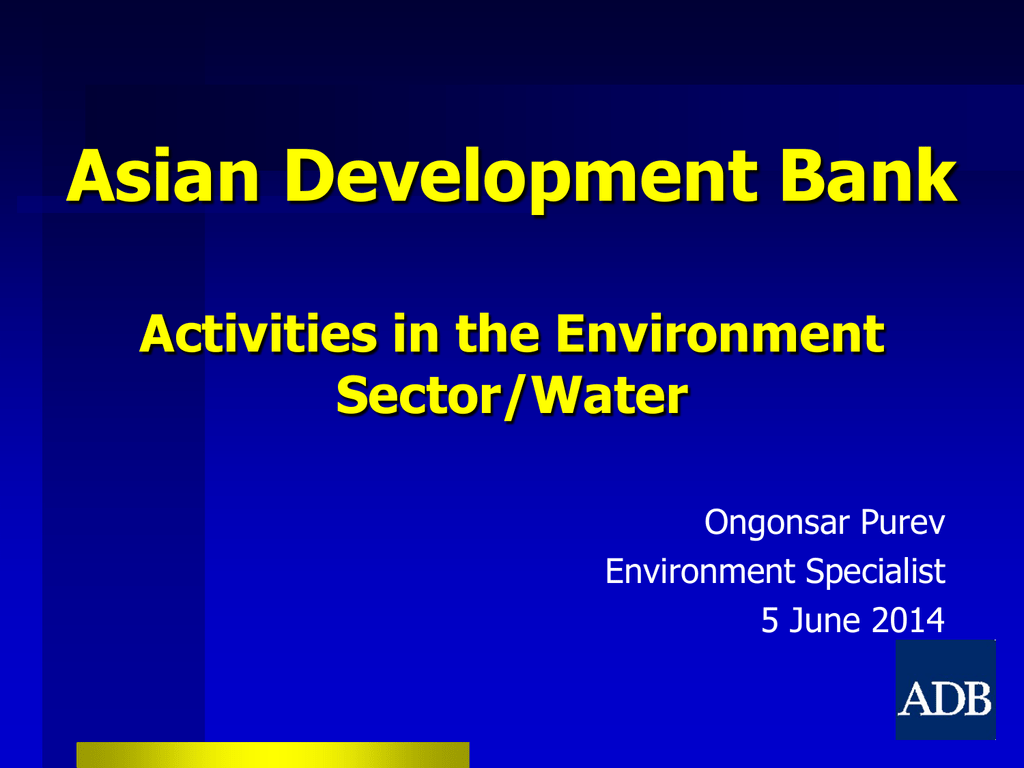 Asian Development Bank
Activities in the Environment
Sector/Water
Ongonsar Purev
Environment Specialist
5 June 2014
ADB in Mongolia
•Mongolia joined ADB in 1991
• ADB remains Mongolia's largest
multilateral partner, with a
broad-based portfolio that
continues to expand with the
country's growth.
Key Areas
• Transport
• Health
• Education
• Energy
Other Areas
• Agriculture and Natural Resources
• Water Supply and Other Municipal
Infrastructure and Services
• Industry and Trade
• Finance
• Public Sector Management
• ICT
CPS 2012-2016
/COBP 2014-2016
Draft pipeline 2014-2016:
• Tuul River Improvement Project
• Country Water Security Assessment
• Khuvsgul lake Protection Project
Tuul River Improvement Project
Impact:
• Environmentally sustainable water
management in the Tuul River Basin.
Outcome:
Improved Tuul River in the Ulaanbaatar area.
Outputs:
(i) Tuul River Basin Authority institutional
capacity strengthened,
(ii) (ii) water security for Ulaanbaatar improved,
(iii) (iii) urban riverbank environment
established.
Tuul River Improvement Project
Duration: 2015-2021;
Budget: USS20.0 million loan (ADF)
Executing Agency:
- Ministry of Environment and Green
Development
Implementing Agency (s):
- Tuul River Basin Authority
- Ulaanbaatar City Municipality
Tuul River Improvement Project
Project Preparatory Technical Assistance
Financed: JFPR, Government of Japan
Budget: USS1.0 million
Duration: March 2014 – February 2015
Country Water Security
Assessment –Proposal
Impact:
• Increased water security through improved water governance in
Mongolia
Outcome:
• Development of sound water management
systems and
enhancement of operational capacity in Mongolia
Outputs:
• Country water security assessment
conducted
• Program for investments and technical assistance prepared
• CWSA results and stakeholder consultations documented
Thank you for
attention.