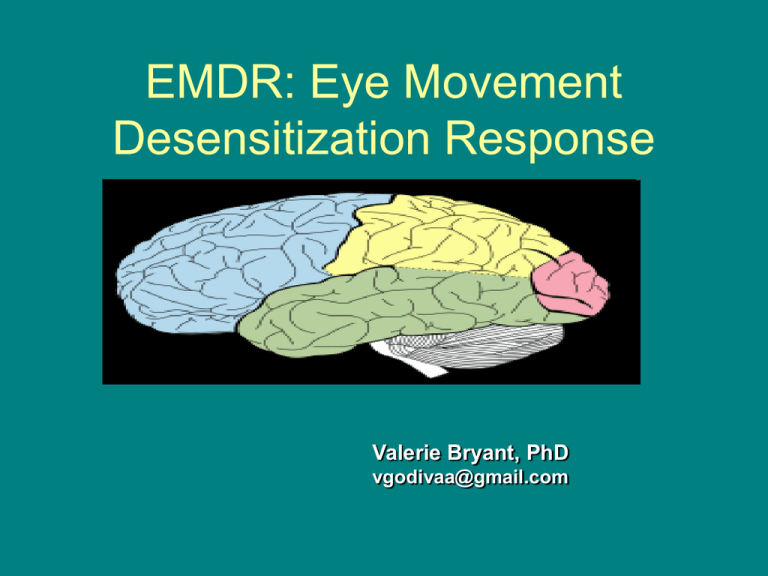 EMDR: Eye Movement
Desensitization Response
Valerie Bryant, PhD
vgodivaa@gmail.com
EMDR
• Eye movement desensitization
and reprocessing (EMDR) is a
form of psychotherapy that is
based on an information
processing system designed to
resolve symptoms resulting
from disturbing life experience.
• It is a structured approach
addressing past, present, and
future aspects of disturbing
memories.
EMDR
• Short & long term treatment
• For children and adults
Addresses cognitive,
emotional and physiological
memories.
Procedures are structured
and follows sequential and
step by step protocols.
Resourcing
• Empirically-tested for PTSD
but also used for other
anxiety disorders such as
performance anxiety, panic
attacks, stage fright,
complex PTSD
• Problem is identified by
client
Frontal Lobe
•
In humans, the frontal lobe reaches
full maturity around age 25 marking
cognitive maturity.
•
The frontal lobe contains most of
the dopramine-sensitive neurons,
which are associated with reward,
attention, long-term memory,
planning and drive.
•
A reduction of dopramine in the
prefrontal cortex is related to
poorer performance & inefficient
functioning of working memories
and slight increased risk for
schizophrenia.
•
The frontal lobes are involved in
motor function, problem solving,
spontaneity, memory, language,
initiation, judgment, impulse
control, and social and sexual
behavior.
•
•
Frontal area is the most common
region of injury following mild to
moderate traumatic brain injury
(Levin et al., 1987).
Left Brain
Cognitive
Logical
Objective
Rational
Analytic
Language
Synthesizing
Looks at parts
Right Brain
Emotions
Intuitive
Subjective
Random
Holistic
Non-verbal
Looks at wholes
TRAUMA MEMORY
• In trauma, information is processed and
stored differently in the brain.
– Encoded, processed, stored and retrieved
differently
– Trauma memory is timeless and immutable
vs. narrative memory
– Reactivated by trigger stimuli vs. narrative
memory upon intent
– Activation of one element evokes all other
elements automatically
What is Post-Traumatic Stress
Disorder? 309.81
PTSD is an anxiety disorder that can
develop in some people after
witnessing, participating or being
exposed to a terrifying event or
ordeal in which grave physical harm
occurred or a threat has occurred.
Numbing, avoidance, intrusive flashbacks, physiologic hyperarousal
Other variables: age, gender, natural resilience, nature & number of
trauma events
COMPLEX PTSD
• Classic PTSD including triad
of:
a. Dissociation &
Reenactments
b. Somatization
c. Affect Dysregulation
shown by difficulty modulating
anger, chronic self-destructive
& suicidal behaviors, difficulty
moderating sexual
involvement, impulsive risktaking behaviors & emergence
of pathological self-care
behaviors.
CLIENT HISTORY
• Risks: History of dissociation, eye problems, inability to
tolerate stress during between sessions, medical
problems (heart problems, high-risk pregnancy); poor
therapist relationship, seizures, self-injurious behaviors,
alcohol or substance abuse, severe life stressors.
• Strengths
• History of trauma
• Maladaptive Coping Styles
• Cognitive Schemas
Therapy Process
Client will focus simultaneously on
the image, the negative cognition,
and the disturbing emotion or
body sensation.
•
BLS
•
After a set of eye movements, the
client is asked to report briefly on
what has come up; this may be a
thought, a feeling, a physical
sensation, an image, a memory, or
a change in any one of the above.
•
Initially, a therapist asks to focus
on this image, thought, and begins
a new set of eye movements.
•
From time to time a therapist may
ask the client about her or his
SUDS. The desensitization phase
ends when SUDS reaches 0 or 1.
PREPARATION
• Therapeutic alliance
• Education about trauma—triggers hardwired by old & new experience :smell,
taste, sound, place
• Affect Tolerance: safe place, light stream,
mindfulness, yoga…
• Informed Consent
PROTOCOL
• Picture (IMAGE) What is
the worst part of that
incident now?
• N/C• P/C
• VOC-as you bring up that
picture, how true does it
feel to you now (1-7 is
completely true)
• Emotions
• SUDS
• Location of Body
Sensations
RESOURCE INSTALLATION
• Imagine the kind of person or quality that would help you
to respond differently.
• What resources might others need to get through a
distressful situation?
• When you think about what it means to have this
resource, what comes to mind?
• What would it be like imagining that resource already in
your body?
• And if you felt more??, What would follow from that?
• As you imagine being able to feel….do….notice where
you experience it in your body? Notice your thinking..
• 4-12 sets
• Psycho-educational: Apply resources for mildly daily
challenging events, anniversaries, anticipating anxious
situations, use daily to reinforce…
Performance Enhancement
• The first step in performance
enhancement is to define your goals, and
any limit or ceiling you are encountering.
What are your strengths?
• Where do you want to be, when?
• What factors are slowing you in reaching
your goals or what could speed your
success?
SAFE PLACE
• Before beginning EMDR
for the first time, it is
recommended that a
person identifies a safe
calming place, an image
or memory that elicits
comfortable feelings and
a positive sense of self.
• Safe place applied later
bringing closure to an
incomplete session or to
help a client tolerate an
upsetting session.