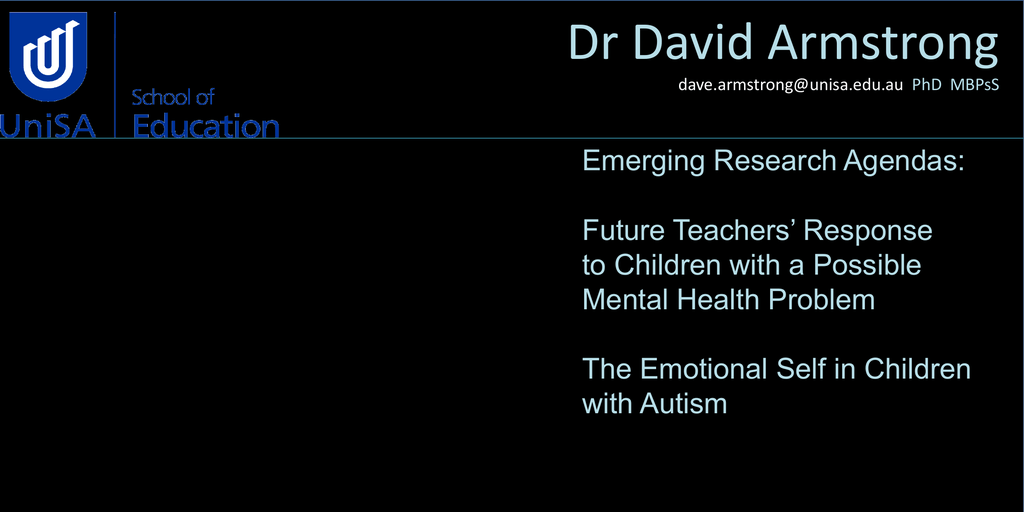 Dr David Armstrong
[email protected] PhD MBPsS
Emerging Research Agendas:
Future Teachers' Response
to Children with a Possible
Mental Health Problem
The Emotional Self in Children
with Autism
The Challenge (both projects)
•
•
•
•
Meeting the educational and wider personal
needs of children and young people with a
disability
International, global, challenge facing
educators, policymakers, communities,
societies.
It has compelling ethical, social and financial
aspects: 'positive outcomes'.
UN legislation to which Australia is a
signatory: UNESCO (1994); UN (2006);
Melbourne Declaration (2008).
Image: Courtesy Dr Gill Parkinson, the University of Manchester.
Current Research
Two current projects in my new role in SA, areas:
1. Autism (Autistic Spectrum Disorder 'ASD')
2. Children and young people's mental health
What insights from research can mean for more
informed practice by educators with affected
individuals (what they do 'decisions', why they
do it 'rationale')
How deeper understanding can lead to better
responses by educators; educations system
policymakers
How all of this can lead to more positive outcomes
(affected children, teachers, families)
Hallett and
Armstrong (2012)
Armstrong and
Hallett (2012);
Armstrong (2013)
Future Teachers' Response to Children with a Possible
Mental Health Problem (or 'help, panic, what do I do….!')
Responding to Mental Health 'what we know'
Blight Individual lives: 'Andrew' 'Ahmed'
Worrying prevalence across many lives/communities: 'In childhood,
mental health problems primarily consist of behaviour and emotional problems.
These affect one in every seven children (i.e. 200 000 in Australia). Left untreated, up
to 50% of preschool problems continue through the childhood years' (Bayer et al
2009: 695).
Educators are often underequipped to respond to children with
behavioural and emotional problem. This is a significant cause of job-related anxiety
for many teachers internationally (Armstrong and Hallett, 2012; Armstrong 2013).
Rising up the policy agenda: Mental Health and Wellbeing Conference
17/09/2013 (Dr Barry Coughlan, Assistant director Clinical Psychology, University of
Limerick, Ireland; Prof Barry Carpenter).
Vulnerability to mental health problems informed by a
'constellation' of factors: disability, SES, genetic/familial; the presence of one
of these (disability) or several (disability, socio-economic disadvantage) makes a child
more vulnerable (Rose et al 2009; Sutton, 2000) .
Responding to Mental Health 'what we can find out'
More about how future teachers respond to children presenting
with prevalent mental health problems: what knowledge do they call on?
What 'gaps' are there in this? What is the exact dynamic of decision-making?
Whether Initial Teacher Education (ITE) is a good place to address
child and adolescent mental health for our future teachers (Bostock
et al, 2011)?
Whether, as theory/research implies, training in/around decisionmaking can help future teachers better respond to children with
possible mental health problems (and reduce anxiety levels)?
Whether emerging models from psychiatry, used in training for
mental health professionals (mentalizing) can promote a more
informed, multi-professional response by future teachers?
New word: 'Team around the teacher'
www.schcounselor.com/2012/02/emotions-tree.html
The Emotional Self in Children with Autism (or am I happy..?)
The Emotional Self in those with ASD, 'what we know'…
Meeting the educational, personal needs of these affected is a
challenge for services in SA, Australia, internationally.
Increased prevalence; more children & young people given the
diagnosis in SA in last decade and across the western world (BaronCohen et al, 2009)
Key element of ASD is an apparent difficulty with responding to
the emotions of others and in expressing emotions: described a
core 'deficit' in social communication (Wing, 1996, DSM 5, APA, 2013)
ASD highly varied and debated
Differences in the way in which emotions develop and are
experienced by those with ASD is an exciting implication of
current research in this area (Lombardo and Baron-Cohen, 2011)
Emotional development is implicated in many areas of learning
and any insights gained in this area for those with ASD have
potentially profound implications for practice (across professions)
Emotions in those with ASD 'what we can find out'
Recognise scale: this is a major trans disciplinary question involving major theories
around autism and consequently recognise that what we find out will make a very
modest but important contribution.
Further uncover the implications for practice e.g. the activities and experiences
which non-autistic adults perceive will emotionally 'benefit' a child cannot actually
do so because that child relies on a very different structure of experience and
subjective understanding of emotions.
Can (or even should we) we get away from inherent working assumptions about
emotional health and normality in interactions with children who have ASD?
Subjective experience of emotions by those affected. Ask those affected by ASD
about their experience of emotions, e.g. 'what makes me happy?' and listen very
carefully to their answers (Hallett and Armstrong, 2012).
Collaborate with Child and Adolescent Mental Health Service, evaluating
data/responses to their 'e for emotion' in their SPICE Development Tool (Curran,
2013) currently used (specialist Modbury Hospital Clinic).
Evaluate current suggestions that those affected by ASD often have an un-developed
'sense of self' relative to their non-affected peers: should developing a sense of self
and key aspects such as a sense of agency therefore be a key aim of professional
interventions around social communication for those affected?
Social
Physical/Sensory
Intellectual
Communication
Emotional
P
I
C
S
E
Two paths forward
For research:
Thank You
For listening
Contact:
[email protected]
Tel. (08) 83024582
References
Armstrong, D. (2013). Educator perceptions of children who present with social, emotional and behavioural difficulties: a literature review with implications for recent educational policy in England and
internationally. International Journal of Inclusive Education, (ahead-of-print), 1-15.
Armstrong, D., and Hallett, F. (2012)"Private Knowledge, Public Face: Conceptions of Children with SEBD by Teachers in the UK – A Case Study." Educational and Child
Psychology 29 (4): 77–87.
Australian Education Ministers (2008) Melbourne declaration on educational goals for young Australians, West Perth, Australia: Ministerial Council on Education, Employment, Training and Youth Affairs.
Baron-Cohen, S., Scott, F. J., Allison, C., Williams, J., Bolton, P., Matthews, F. E., & Brayne, C. (2009) Prevalence of autism-spectrum conditions: UK school-based population study. The British Journal of Psychiatry,
194 (6), 500-509.
Bayer, J., Hiscock, H., Scalzo, K., Mathers, M., McDonald, M., Morris, A.,& Wake, M. (2009) Systematic review of preventive interventions for children's mental health: what would work in Australian contexts?.
Australian and New Zealand Journal of Psychiatry, 43(8), 695-710.
Bostock, J. A., Kitt, R., & Kitt, C. (2011). Why wait until qualified?: the benefits and experiences of undergoing mental health awareness training for PGCE students. Pastoral Care in Education, 29 (2), 103-115.
Hallett, F. and Armstrong, D. (2013 ) 'I want to stay over': a phenomenographic analysis of a short break/extended stay pilot project for children and young people with autism, British Journal of Learning
Disabilities, 41 (1) 66-72.
Lombardo, M. V., & Baron-Cohen, S. (2011) The role of the self in mindblindness in autism. Consciousness and cognition, 20 (1), 130-140.
Sutton, C. (2000) Child and adolescent behaviour problems: a multidisciplinary approach to assessment and intervention. Wiley-Blackwell.
UN (United Nations) (2006) Convention on the Rights of Persons with Disabilities, New York: UN.
UNESCO (1994)The Salamanca Statement and Framework for Action on Special Needs Education, Paris: UNESCO.
Wing, L. (1996) The autistic spectrum. London: Jessica Kingsley Publishers.