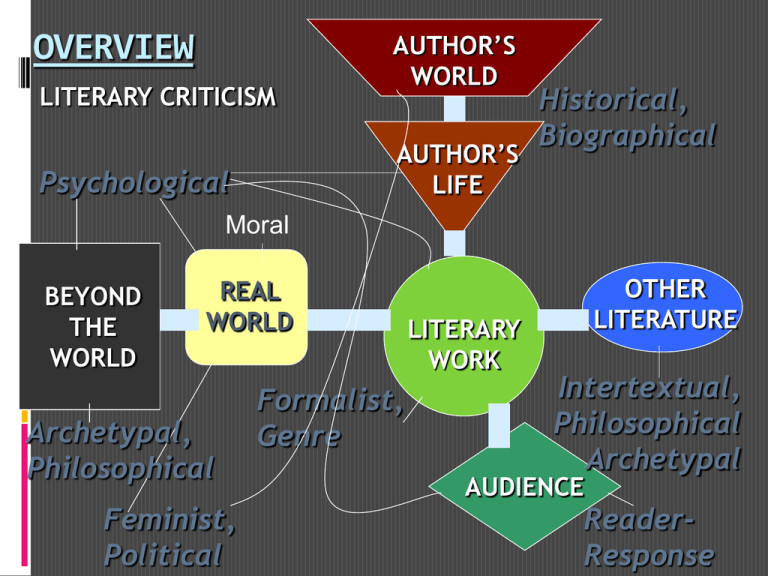 OVERVIEW
LITERARY CRITICISM
AUTHOR'S
WORLD
AUTHOR'S
LIFE
Psychological
Historical,
Biographical
Moral
BEYOND
THE
WORLD
REAL
WORLD
Archetypal,
Philosophical
Feminist,
Political
Formalist,
Genre
LITERARY
WORK
OTHER
LITERATURE
Intertextual,
Philosophical
Archetypal
AUDIENCE
ReaderResponse
Archetypal Criticism
 Identify mythic elements that give a word of
literature a deeper resonance.
 What mythic elements of patterns—themes,
characters, settings, symbols, imagery, plots,
or versions of the hero's quest are employed?
 How do they contribute to the work as a whole?
Biographical Criticism
 Examines the relevance of a writer's life and
identity to the work.
 Assumes there is a relationship between a
writers life and the literary work.
 Does biographical knowledge actually enrich
our understanding of the literature. What
does the literary work say about the author?
Feminist Criticism
 Focuses on the way women are treated in a
work of literature.
 Discusses the women's role in the work-does
it fill a stereotype? Or does it negate a
stereotype?
Formalism [New Criticism,
Structuralism]
 The work itself the focus
 No need for historical context, biographical
information, philosophical or psychological issues,
political or moral messages
 Aesthetics
 Language, interactions of words, figures of speech, &
symbols
 Focus is only on devices and craft. Close reading is
essential
Genre Criticism
 Study of the TYPE of literary work this is:
fiction, essay, letter, satire, tragedy, comedy,
etc.
 Ask yourself: How might one categorize the
genre of this text? How does it exemplify or
explode a conventional genre?
Historical Criticism
 The work a reflection of the author's (or characters') life &




times-shaped by the norms, fears, biases, attitudes and
limitations of the day.
Necessary to know about the author & the political,
economical, & sociological context
What historical research is necessary to understand this work
fully?
What historical knowledge adds depth to the meaning of the
work?
What insights does the work give us into history—the
historuy of the author's time, the history of the time in which
the work is set, etc.?
Moral Criticism
 This perspective is a time-honored belief about a writer's
responsibility to provoke moral thought and promote
postivie moral values in readers.
 Think about: Does a work enlarge our moral
imagination? Has the author presented a moral dilemma
with all its contradictions and complexities? Does the
work help us to underwstand others more deeply and
connect with people and perspectives, places and times
unlike our own?
Philosophical Criticism
 Offers many different approaches to a text: placing a
piece of literature into a philosophical context, using
different philosophical frameworks to interpret a text
 Ask yourself: What philosophical ideas or problems are
addressed in this literary work? What does it say about
human nature or the human condition? What
philosophical knowledge or frameworks might be useful
in interpreting or digging deeper into the text?
Political or Advocacy Criticism
•How do works of literature attempt to improve the
social and political conditions of society?
•Giving voice to the voiceless
•There are a number of types of political criticism:
•Multicultural
•African-American
•Postcolonial
•Marxist
•Ecocriticism
Psychological & Psychoanalytic
Criticism
 Explore the psychologies of fictional
characters, working to understand their
actions and motives.
 Explore the psychology of a writer as
expressed in the work
 Explore the psychology of a society or
culture as revealed in a literary work
 Question to answer: Why does a
character act that way? What are the
forces affecting his/her behavior?
Reader-Response Criticism
 Readers construct meaning as they
interact with the text.
 Each reader brings a unique background
and set of preferences to a text, thereby
giving a different interpretation of the
text.
 Reader is free to use their own
interpretations for understanding, but
articulate those responses with support
from the text.
WORKS CITED
Appleman, Deborah. Critical Encounters in High
School English. New York: Teachers College
Press, 2000.
WordNet: A Lexical Database for the English Language.
2006. Cognitive Science Laboratory at Princeton
University. 01 Nov 2007. http://wordnet.princeton.edu/.
Burris, Skylar. Literary Criticism: An Overview of
Approaches. 2005. University of Texas at
Brownsville. 01 Nov 2007.
http://www.literatureclassics.com/ancientpaths/liccrit.html .