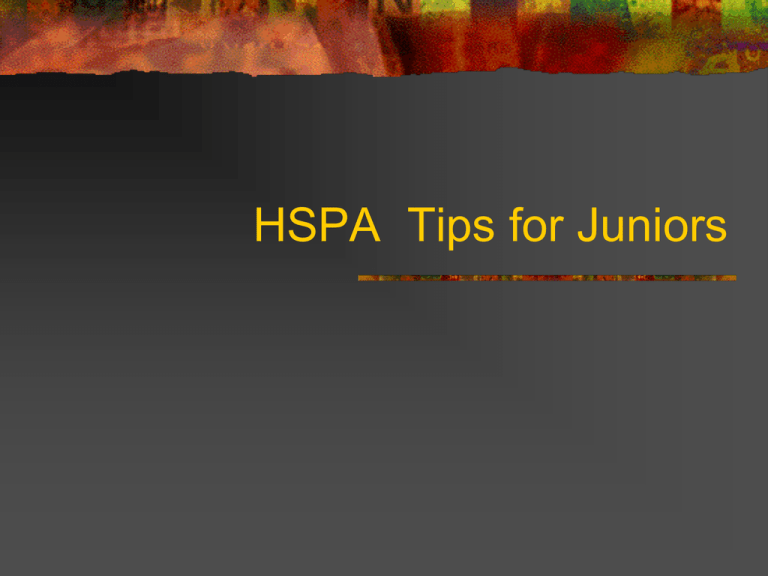 HSPA Tips for Juniors
HSPA Test Taking Tips
 Answer
all the questions on the
test.
 DO NOT leave any blanks!
 Take educated guesses.
 If you skip a question, leave a
corresponding blank on the
answer sheet
Answer Lengths
 Try
to fill up the
space that you
are given in
your answer
folder for the
essays and
open-ended
questions.
 The
60 minute
persuasive
essay should
be at least five
paragraphs
and at least
two pages.
Take Advantage of Time
Use all the time you are given for
each section!
 If you are done with a section, go
back and re-read and correct what
you wrote or check your math work.
 Don't rush through the sections, you
will probably have enough time to
read and answer questions
CAREFULLY!!!

DO NOT PUT YOUR HEAD
DOWN…..
You will have plenty of
time to sleep once you
graduate!
Be alert and at the top of
your game for a few
Legibility
 Write
as NEATLY as you
possibly can!
 If the scorers can't read your
answer, they can't grade it.
 Use capitals and lower case
letters.
Open-ended Techniques
 The
HSPA has
both multiplechoice and
open-ended
questions…
 MAKE
SURE YOU
DO ALL THE
OPENENDED
QUESTIONS!