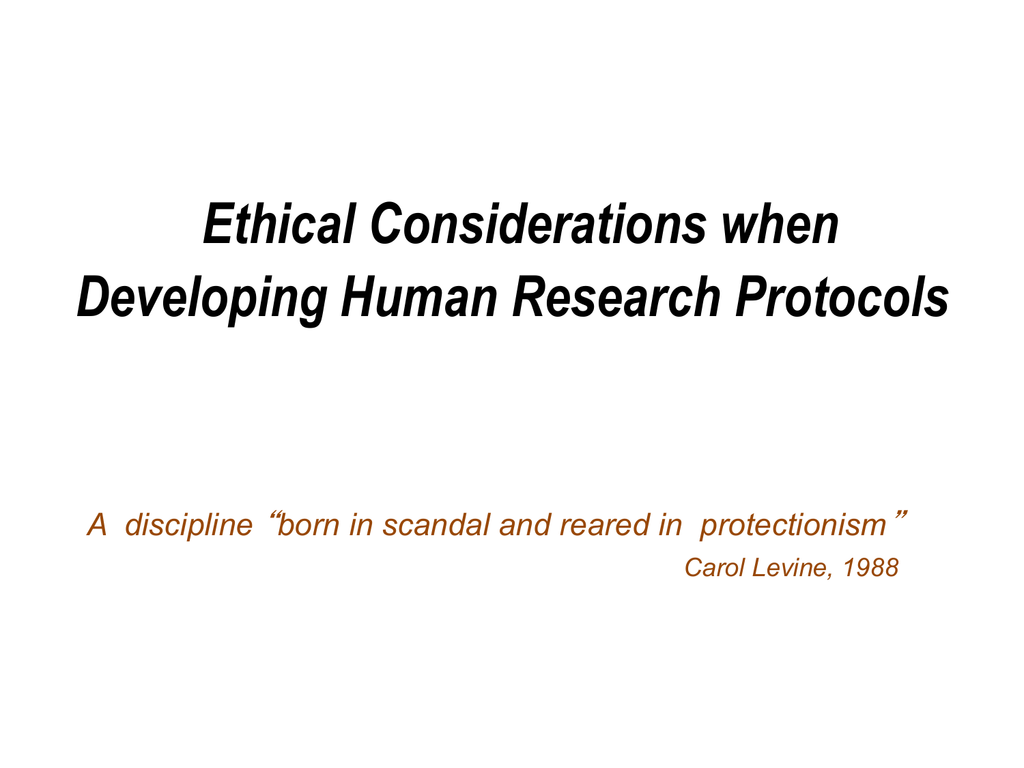 Ethical Considerations when
Developing Human Research Protocols
A discipline "born in scandal and reared in protectionism"
Carol Levine, 1988
Ethical Review of Research
I Social Value
II Scientific Validity
III Respect for Persons
IV Fair Subject Selection.
V. Favorable Risk-Benefit Ratio
VI Independent Review
.
I. Social Value
What is the importance of the information
sought in relation to the burden of
inconvenience, time, amount of
commitment necessary to complete the
research?
Are the data reliable and useful? collection, handling, monitoring of the
integrity and reliability of the data
II. Scientific Validity
• Data collection: appropriateness of methods to answer
the scientific question being addressed; transparency;
training/supervision of data collectors
• Data integrity discussion questions: responsibilities of
investigators and institutions; collegial mentoring vs.
mandated training; intellectual property; proprietary data
vs. sharing policies; transparency vs. protection of
information; cost of sharing
• Should all types of research be covered by single set of
guidelines or should guidelines differ f/type of research?
II. Scientific Validity (contd)
• Data management: recording; retention; analysis
• Data sharing: reasons to share; data sharing policies;
support for sharing; what, how, when to share;
compliance
• Ownership and access: grants vs. contracts; ownership
vs. access; access by collaborators during and after
project ends; institutional responsibility
• Data reporting: authorship agreements;
acknowledgments; institution's publication policies;
funders' publication policies; confidentialty; disclosure of
bias and interests
III. Respect for Human Subjects
Ethical norms and obligations to subjects for
the conduct of research - IRB review
Respect for Persons
Beneficence
Distributive Justice
Research Plan must have:
-Provisions for monitoring research
-Provisions for protecting privacy and
confidentiality
Informed Consent
Principle of Respect for Persons
acknowledge and promote autonomy (i.e. selfdetermination) - Consider the nature and
definition of informed consent in various research
settings.
 additional protections for individuals with
diminished autonomy.
-Informed consent is obtained from subject or Legally
Authorized Representative
-Informed consent is properly documented
IV. Fair Subject Selection
Initial steps in planning and identifying the research project:
•need careful consideration at the outset of the research
participants and their situation – i.e. continued compliance
(no missed follow ups; no drop outs; etc)
• bringing in the participants and keeping them involved. participants have some investment in the outcome of
research for a new drug or intervention,. But in behavioral,
social science, education, longitudinal studies, participants
often do not complete the study and so may weaken the
results.
IV. Fair Subject Selection (contd)
-Equitable Selection of subjects
• Principle of Justice
– equals ought to be treated equally in the distribution
of burden and benefits
• fair distribution of scarce benefits
• fair distribution of burdens
•
•
•
•
who will be the subjects?
What are good recruitment methods?
What is in it for them?
How vulnerable are they?
V. Favorable Risk : Benefit Ratio
 Principle of Beneficence
 minimize possible harms
 maximize possible benefits
- Risks to subjects are minimized
 i.e. Using procedures already planned for diagnosis or
treatment and using procedures consistent with sound
scientific design
-Risks are reasonable in relation to anticipated benefit and
importance of the knowledge reasonably expected
 Consider the risks and benefit from the research itself, not
from what the subject would be exposed to if not a
research participant
VI. Independent Review
Institutional Review Board - established to protect and
safeguard the interests, rights and welfare of human subjects
 Consider:
The boundaries between biomedical and behavioral
research and the accepted and routine standard
practices.
Assessment of risk-benefit criteria in the determination
of the appropriateness of research involving human
subjects.
Assess subject recruitment methods
Common Rule 45 CFR 46
DoD 32 CFR 219
• Defines RESEARCH
– A systematic investigation designed to develop or
contribute to generalizable knowledge.
• Defines HUMAN SUBJECT
– Living individual about whom an investigator
conducting research obtains data through intervention
or interaction or identifiable private information.
• Defines IRB
– Institutional Review Board established to protect and
safeguard the interests, rights and welfare of human
subjects.
Role of IRBs
• Shared responsibility for ensuring ethical
standards among investigators, peers, local
community.
• Independent assessment of risks and benefits to
human subjects.
• Reflect values of local community
• Work collegially with PIs to safeguard subjects'
rights, safety and welfare.
• Additional provisions for vulnerable subjects: Prisoners,
Children , Pregnant women and fetuses.
What happens at IRB meetings
• IRB members receive all the research materials for
review in advance. The Chair conducts the meeting from
a preset agenda and each submission is open for
discussion by IRB Members and Consultants.
• PIs or their representatives are invited to present their
research and answer questions.
• A motion is made for IRB action. Meetings and votes
require a quorum of members and the presence of a lay
member.
• IRB decisions are conveyed to the PI in writing.
Expedited Review
• Does not mean faster than full Board
review.
• Conducted by the IRB Chair or designee
• Designee exercise all of the authorities of
the Board, except disapproval – upgrade
to full IRB review if greater than minimal
risk.
• All Protocol and Consent requirements
apply.