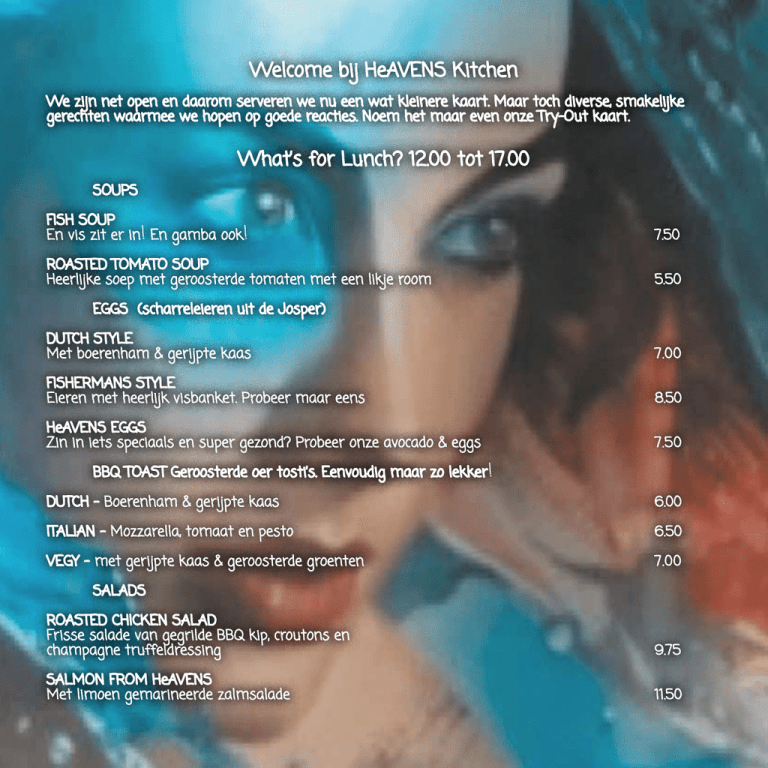 Welcome bij HeAVENS Kitchen
We zijn net open en daarom serveren we nu een wat kleinere kaart. Maar toch diverse, smakelijke
gerechten waarmee we hopen op goede reacties. Noem het maar even onze Try-Out kaart.
What's for Lunch? 12.00 tot 17.00
SOUPS
Fish Soup
!
!
Roasted Tomato Soup
EGGS (scharreleieren uit de Josper)
Dutch style
Fishermans Style
HeAVENS EGGS
BBQ TOAST Geroosterde oer tosti's. Eenvoudig maar zo lekker!
DUTCH ITALIAN VEGY SALADS
Roasted Chicken Salad
Salmon from HeAVENs
Let's share
STARTERS & BITES 12.00 tot 21.30 uur
Samen genieten van elkaars gezelschap en van de hapjes & bites samengesteld door onze
fanatieke keukenbrigade.
Vers smulbrood
Fried Whiskers
Fishcakes
Canadese roze rakkers
Gegrilde Camembert uit de Josper
HeAVENLY PLATTERS
Keuze uit 3 varianten, koud geserveerd met brood, olijven en tapenade
MEAT
FISH
VEGY
What's for dinner? vanaf 17.00 tot 21.30 uur
SOUPS
Fish Soup
!
!
Roasted Tomato Soup
SALADS
Roasted Chicken Salad
Salmon from HeAVENs
SERIOUS (M)EATS - Don't even think of eating less!
Roasted Lamb
Grilled Australian BAVETTE - OMG! Can you smell it …?
A Really Awesome Rib-Eye - The best you ever had!
…
SWEET & SPICY CHICKEN
!
FISH DISHES
HeAVEN'S FAMOUS GAMBA'S - you just died and went to HeAVEN
!
SWEDISH SALMON
!
BBQ MUSSELS - you're on pursuit of happiness!!
!
Al onze gerechten worden geserveerd met friet en salade.
Voor onze vegetarische gasten
COUSCOUS
Kids
Boefjes Plate
Jammie!
Schransschaal
Nagerechten
Brownie
FRESH PINEAPPLE
Enjoy!