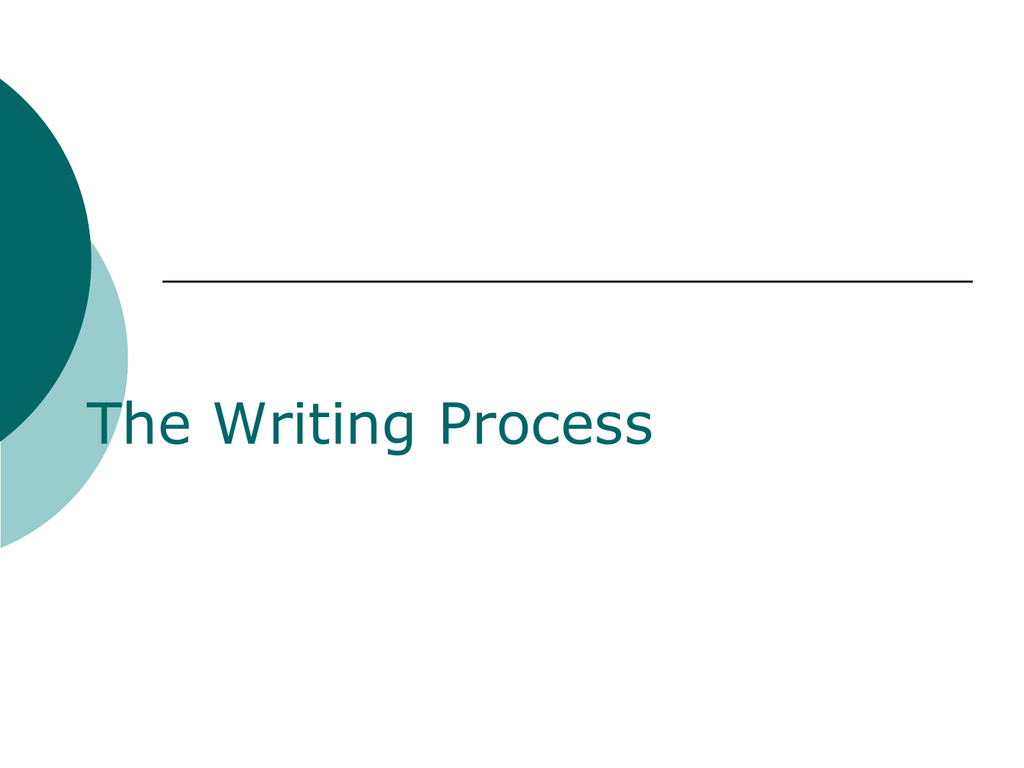 The Writing Process
The Writing Process
GET
IDEAS
Proofread!!!
REVISE &
EDIT
ORGANIZE
DRAFT
Writing is a circular process, and you may have to move
around the cycle more than once as you figure out what is
needed in each draft.
Questions to Ask
Before Starting to Write
What am I writing about? Topic/assignment
Why am I writing?
Purpose
Who will read this?
Audience
What is my main point?
Thesis
What is a topic sentence?
o
o
The topic sentence presents your main idea
in a complete sentence.
It introduces your topic and your position
on the topic.
TOPIC
Your position on topic
Trust the process!
GET IDEAS
Proofread!!!
REVISE &
EDIT
ORGANIZE
DRAFT
Specific Steps to the Process


In Chapter 12, you will learn about the
format of a paragraph and an essay.
Paragraphs are the units that make an
essay.
The steps of the writing process which you
have seen so far can be further broken
down into six clear stages:
The Process Steps
1)
2)
3)
4)
5)
6)
Consider the assignment, purpose, and
audience.
Use invention or prewriting strategies, like
freewriting, brainstorming, clustering, and
journaling to begin writing.
Identify main idea and choose supporting
points to arrange in logical order; make an
outline.
Write first draft.
Revise draft.
Edit draft and compose final.
Every Step is Unique

Each step takes time and has its own process.

The first draft you write will never be the final draft.




The revision stage is one of the most important
stages. A good draft is revised at least two or three
times before it is a final draft.
Performing all the steps and allowing time to
perform them properly is key to writing a good
paper.
You should perform the steps every time you are
given a writing assignment.
By doing so, you will use your time efficiently and
create organized, well-developed writing.