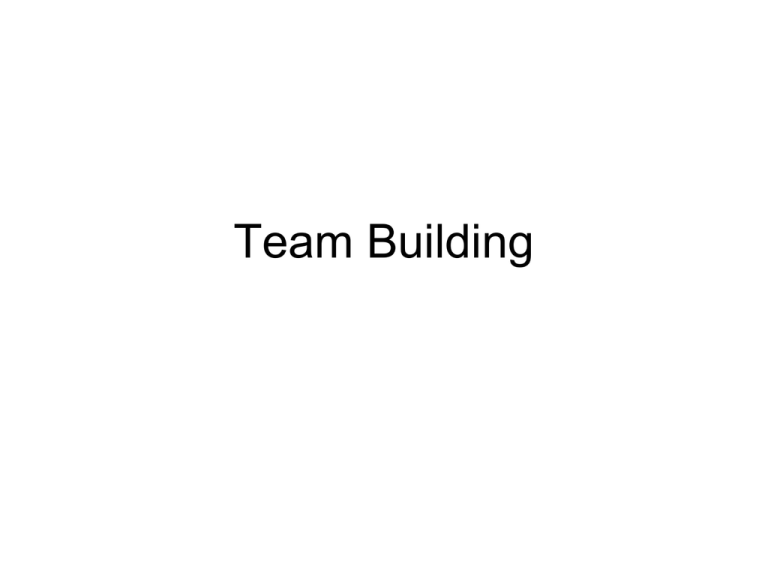 Team Building
Mingle
Think about a team that you've been a
part of - either from your personal or
professional life.
In your experience, what's been the best
thing about working in a team?
What's been the most challenging?
Learning Objectives
• Describe the importance of effectively functioning teams as an
essential element to successful public health programs.
• Describe how to create more effective working relationships
among team members.
• Create positive and productive team agreements and norms.
• Select specific skills and tools when creating alignment within
diverse teams.
• Choose effective responses to resolve common problem
behaviors present in teams
Definitions
• A team can be defined as two or more people
coming together to accomplish a specific
task.
Examples:
– Project teams
– Coalitions
– Management teams
Opportunities - Teams
•
•
•
•
•
•
Leverage diversity
Harness individual knowledge/wisdom
Increase participation
Gain organizational buy-in
Generate more creative responses/solutions
Can be more productive
Common Team Challenges
•
•
•
•
•
•
Don't measure up to potential
Problem behaviors
Lack of clarity/shared accountability for goals
Ineffective decision making
Poor implementation and follow through
Lack empowerment and organizational
support
Team Strengths
Source: Team Diagnostic International
•
•
•
•
•
•
•
Relationships
Camaraderie
Communication
Constructive Interaction
Optimism
Respect
Trust
Values Diversity
•
•
•
•
•
•
•
Results
Accountability
Alignment
Decision Making
Goals & Strategies
Proactive
Resources
Team Leadership
Methods for Building Effective
Teams
•
•
•
•
Team assessment
Team design
Creating alignment
Working with problem
behaviors
Team Assessment and
Design
• What might you want to assess about a
team? How might you assess an
existing or new team?
• What might you want to know in order to
design positive and productive working
relationships within a team?
• What would you want to explicitly
design with a team?
Assessment: What?
• Team structure, members, history
• Results strengths: accountability,
alignment, decision making, goals and
strategies, ability to be proactive,
resources, team leadership
• Relationships strengths: camaraderie,
communication, constructive interaction,
optimism, respect, trust, values diversity
Assessment: How?
• Interviews
• Surveys
• Review of existing team materials
(agendas, minutes, ground rules,
products)
• Observation
Potential Questions
•
•
•
•
•
•
•
•
•
•
•
•
Strengths/challenges of team
Priorities/goals of team
Roles/responsibilities
Ground rules
Decision making process
Meeting structure, minutes, agenda
Leadership
Resources
Means of rewarding achievement/success
How team functions under stress
Vision of team
What team is tolerating
Design/Planning
•
•
•
•
Priorities/goals/vision of team
Team agreements/ground rules
Roles/responsibilities/leadership
Decision making
process/accountability
Antidotes for Common Team
Problem Behaviors
• Notice your own patterns.
• Call behaviors when you see them.
• Look for the request behind the
complaint.
• Don't make it/take it personally.
• Build positivity within the team.