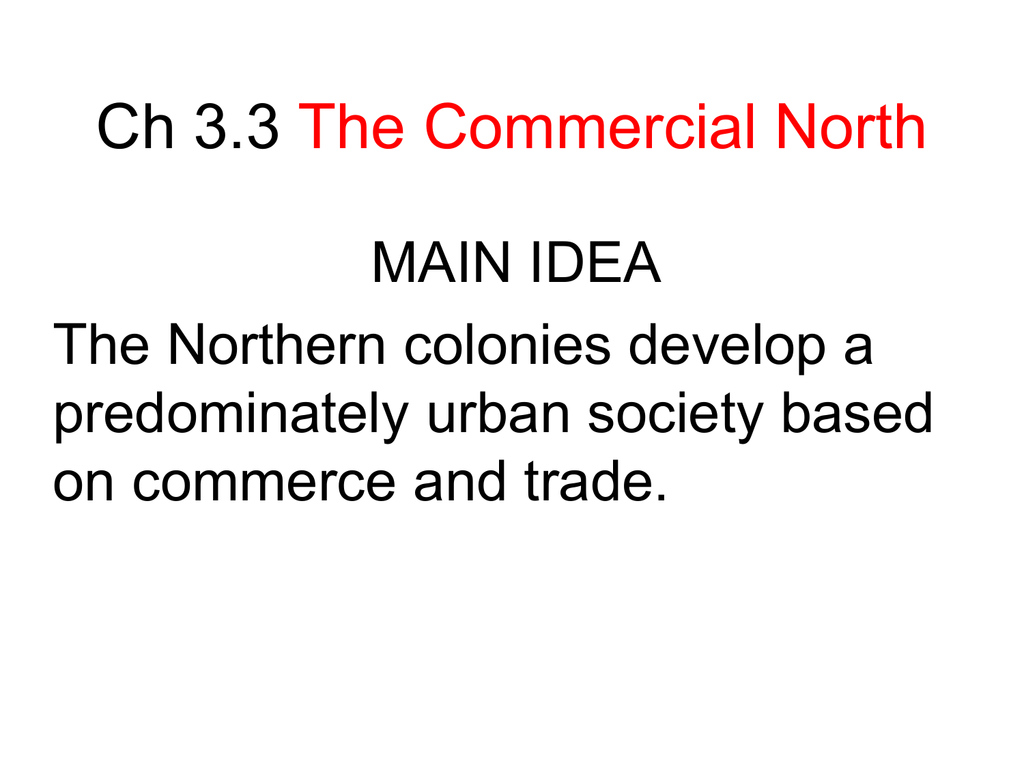 Ch 3.3 The Commercial North
MAIN IDEA
The Northern colonies develop a
predominately urban society based
on commerce and trade.
WHY IT MATTERS NOW
Coastal cities in New England
continue to engage in trade.
Diverse Economy
• Small farms due to rocky soil and
cold winters.
• Middle colonies raise livestock,
crops; export surplus.
• Mid-1700's merchants rule
economy.
Urban Life
• Growth of trade leads
to port cities.
-Some trade as far as
CA.
-New York and
Boston.
• Philadelphia.
-second largest city in
British empire.
-has urban plan.
Influx of Immigrants
• Germans, ScotIrish, Dutch, and
Jews.
• Encounter
prejudice, clash
with frontier
Native Amer.
Slavery in the North
• Less in then in the South.
-Prejudice exists.
• Slaves have some legal rights,
but restricted.
Women in Northern Society
• Extensive work,
but few legal
rights.
• Only single
women and
windows can
own businesses.
• Wives submit to
husbands.
Salem Witch Trials, 1692
• Accusations led to
hysteria, trials, and
executions.
• Victims.
-Independent women, rich.
-150 imprisoned.
-29 convicted.
-19 women/ 5 men hung.
-1 crushed, 5 died in jail.
The Enlightenment
• Movement in 1700s emphasizing reason
and observation.
-use of reason and science to explain
world.
-spread quickly through books and
pamphlets.
-John Locke.
• Colonial leaders embrace ideas.
-Benjamin Franklin.
The Great Awakening
• Religious revival of
the 1730s and 1740s.
• Puritan membership
decline.
• Jonathan Edwards
and George
Whitefield.
-man's sinful, must
seek God's mercy.
-Different groups join
churches.
Effects of Both Movements
• Interest in learning, colleges
found.
• Question authority of both church
and state.
-Stress individual's importance.
-atmosphere lead to American
Rev.