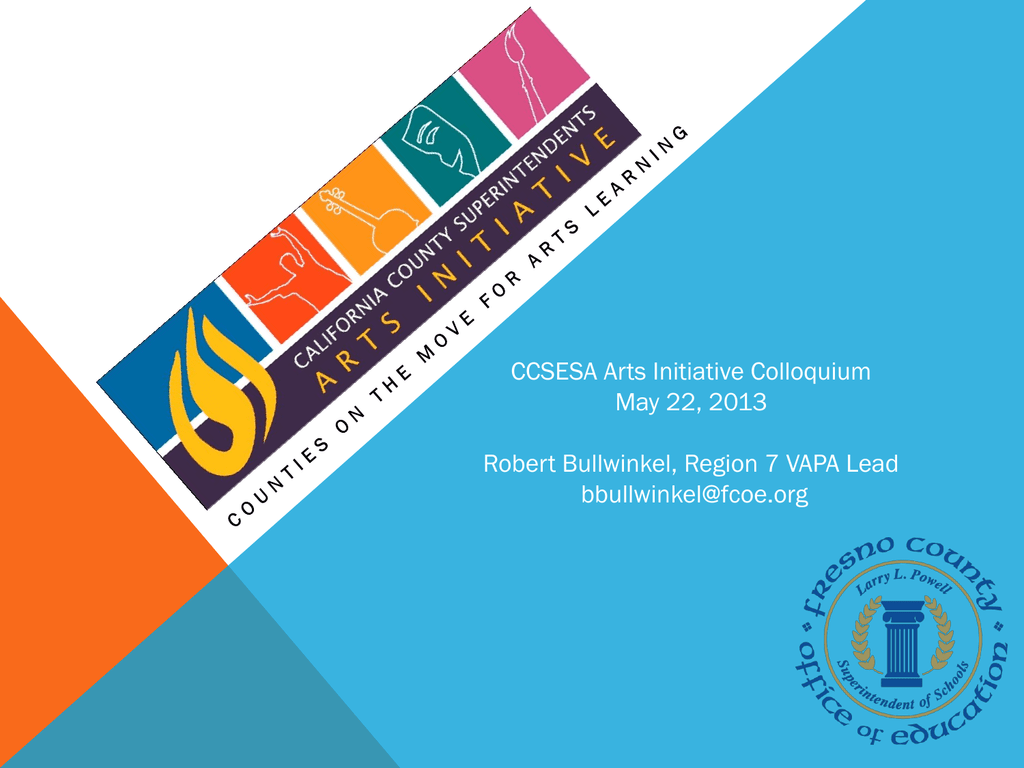 CCSESA Arts Initiative Colloquium
May 22, 2013
Robert Bullwinkel, Region 7 VAPA Lead
[email protected]
COMMON CORE IS COMING!
COMMON CORE IS COMING!
It's all in how you look at it…
COMMON CORE STATE STANDARDS ARE BUILT
ON THE FOUR C'S OF 21ST CENTURY SKILLS.
http://www.p21.org/
http://engageny.org/sites/default/files/resource/attach
ments/common-core-shifts.pdf
VISUAL ART AS TEXT
In an age when literacy dominates
public discourse on education, we
must begin to think more broadly
about what students read. Sure—the
new Common Core State Standards
support the "reading" and scrutiny
of other forms of high-quality text.
Works of art can, indeed should, be
"read" in a very similar way to a
poem by Shakespeare or a speech
by Winston Churchill.
Lynne Munson, President and Executive
Director of Common Core
Attributed to Banksy
http://banksy.co.uk/outdoors/index1.html
http://blog.artsusa.org/tag/english-language-arts
(Sept. 13, 2012)
• What's going on in
this picture?
• What do you see that
makes you say that?
• What more can we
find?
http://www.vtshome.org/
The Problem We All Live With
Norman Rockwell, 1964
Oil on canvas
Principles of Design
Balance is the distribution of the visual weight of objects, colors, texture, and space.
Emphasis is the part of the design that catches the viewer's attention. Usually the
artist will make one area stand out by contrasting it with other areas. The area could
be different in size, color, texture, shape, etc.
Movement is the path the viewer's eye takes through the work of art, often to focal
areas. Such movement can be directed along lines, edges, shape, and color within
the
work of art.
Rhythm is created when one or more elements of design are used repeatedly to
create a feeling of organized movement. Rhythm creates a mood like music or
dancing. To keep rhythm exciting and active, variety is essential.
The J. Paul Getty Museum
© 2011 J. Paul Getty Trust
THE ARTS ARE PERFORMANCE-BASED ASSESSMENT
Smarter Balanced Performance Task Specifications
Information Processing
•Increasing in rigor
Item C
High
Cognitive
Demand
Item B
Mid
Low
Item A
Stimulus
•Text
•Graphs
•Photos, media
•Artistic Presentation
•Etc.
Design Elements
Performance
Task
•Essay, story, script
•Display, models, design
•Oral presentation
•Scoring Rubric
THE ARTS ARE CONTENT
"There is no such thing as doing the nuts and
bolts of reading in Kindergarten through
5th grade without coherently developing
knowledge in science, and history, and the
arts…it is the deep foundation in rich
knowledge and vocabulary depth that
allows you to access more complex text."
David Coleman, Common Core State Standards
Author, President of the College Board
THE ARTS ARE NOW REQUIRED TO TEACH
LITERACY IN GRADES 6-12.
PERFORMING ARTS AS TEXT
Tableau—
A silent, motionless depiction of a scene
created by actors, often from a picture.
The Last Supper c.1546
Jacopo Bassano (1510–1592)
Oil on canvas
TABLEAU CHECKLIST (Taken from www.artsedge.com)
Communication:
Does the tableau tell a story?
Are the poses and expressions bold and strong?
Skills:
Are the students frozen?
Do the students use and maintain appropriate focal points?
Compositional Qualities:
Is the tableau balanced?
Are there varying physical levels (high/medium/low)?
Excerpts, "Letter from a Birmingham Jail"
We have waited for more than 340 years for our constitutional and God given rights. …..Perhaps it
is easy for those who have never felt the stinging darts of segregation to say, "Wait." But when
you have seen vicious mobs lynch your mothers and fathers at will and drown your sisters
and brothers at whim; when you have seen hate filled policemen curse, kick and even kill
your black brothers and sisters; when you see the vast majority of your twenty million Negro
brothers smothering in an airtight cage of poverty in the midst of an affluent society;...when
you are humiliated day in and day out by nagging signs reading "white" and "colored"; when
your first name becomes "nigger," your middle name becomes "boy" (however old you are)
and your last name becomes "John," and your wife and mother are never given the respected
title "Mrs."; …when you are forever fighting a degenerating sense of "nobodiness"--then you
will understand why we find it difficult to wait…
One may well ask: "How can you advocate breaking some laws and obeying others?" The answer
lies in the fact that there are two types of laws: just and unjust. I would be the first to
advocate obeying just laws. One has not only a legal but a moral responsibility to obey just
laws. Conversely, one has a moral responsibility to disobey unjust laws. I would agree with St.
Augustine that "an unjust law is no law at all."
Dr. Martin Luther King, Jr.
April 16, 1963
PERFORMANCE TASK
COLLABORATE WITH YOUR GROUP TO CREATE A TABLEAU
THAT COMMUNICATES A THEME GENERATED FROM
THE PAINTING AND TEXT SET YOU JUST READ. USE
THE TABLEAU CHECKLIST TO THINK CRITICALLY
ABOUT YOUR WORK. AS THE AUDIENCE OBSERVES
THE TABLEAU, HAVE ONE PERSON STATE THE TITLE OF
YOUR PIECE.
ARTIST STATEMENT
In what ways does your tableau reflect a theme found in
"The Problem We All Live With" and "Letter from a
Birmingham Jail?" How did you use the elements of
theatre and visual art to communicate that theme?
Cite evidence from the text and from your own work to
support your thinking.
COMMON CORE STATE STANDARDS FOR
ELA/LITERACY
Which Reading and Writing Anchor
Standards were evident in this lesson?
CALIFORNIA VAPA STANDARDS
2.0 CREATIVE EXPRESSION
Creating, Performing, and Participating in Theatre
Students apply processes and skills in acting, directing, designing, and scriptwriting to
create formal and informal theatre, film/videos, and electronic media productions
and to perform in them.
Development of Theatrical Skills
2.1 Demonstrate skills in pantomime, tableau, and improvisation.
Creation/Invention in Theatre
2.2 Dramatize or improvise familiar simple stories from classroom literature or life
experiences, incorporating plot (beginning, middle, and end) and using a tableau
or a pantomime.
REFLECTION
"The arts have a central and essential role in
achieving the finest aspects of the common core."
Knowledge
Observation
Evidence and Choices
(David Coleman, blog.artusa.org/2012/09/17)
What's one way that WE COULD integrate
literacy and the arts through CCSS?