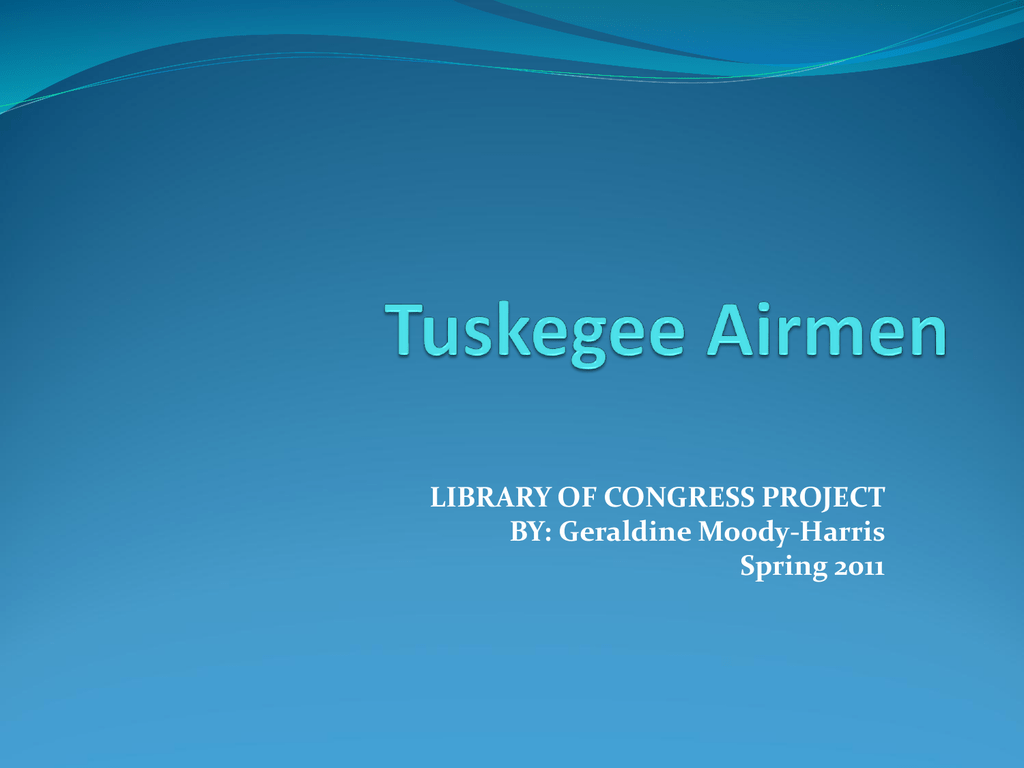 LIBRARY OF CONGRESS PROJECT
BY: Geraldine Moody-Harris
Spring 2011
An Airman's Story
 You will listen to and read
interviews,
 view a movie,
 Access the Library of
Congress
 Analyze primary sources of
Tuskegee Airmen
 You will work in groups of
three
 You will work with your group
to create an article telling a
first hand account of a
Tuskegee Airman's experience
during World War ll
 Remember, you are writing an
Auto Biography. You are your
telling your story
FIND THE Tuskegee Airmen
By clicking on the following
links, you will be able to
listen to interview excerpts,
watch a video of an
interview, read letters or
diaries, and look at
photographs that the
Airmen saved from their
war experiences.
Your Links
http://lcweb2.loc.gov/diglib/vhp/search?query=T
uskegee+Airmen&field=serviceUnit&war=world+wa
r+ii&branch=air+force&gender=Male
http://lcweb2.loc.gov/diglib/vhp/story
/loc.natlib.afc2001001.02658/
Webquest - The Tuskegee Airmen
http://www.cr.nps.gov/museum/exhibi
ts/tuskegee/airgallery.htm
www.acepilots.com/usaaf_tusk.html
http://tuskegeeairmen.org
www.squadron13.com/Gomer/default.h
tm
http://logicalthinker2.tripod.com/Tusk
egee1.html
www.allstar.fiu.edu/aero/Tuskegee.htm
http://www.loc.gov/vets/stories/afampioneers.html
http://www.loc.gov/vets/stories/afamnextgen.html
TIPS FOR RESEARCH
D
•Many of the interviews are
divided into excerpts. Each
excerpt has a brief
description so you can choose
which parts of the interview
most interest you.
•Remember to
research the role
African Americans
played in World War II
and other wars before
that.
•Take notes so that you
will remember the
experiences these men
encountered as a result
of their determination to
become trained pilots in
combat.
•Write about their
training and war
experiences.
•Research the changes
that came about after
they took the challenge
and were recognized as
dedicated and
trustworthy pilots.
•Use pictures to help make
your work outstanding
•Use the links provided to
access the Library of
Congress for primary
Sources.
•Remember Primary Sources
are first hand accounts
Individual Expectations
 Work quietly and constantly.
 Share ideas and consult each other and the
teacher.
 Be mindful of the time allotted to others on
the computer.
 Remember that the teacher is one other
resource.
 Finish the article by the due date.
 Work to the best of your ability.
 Use your time wisely.
Collaborating
 Work quietly and cooperatively with your group.
 Remember, good collaborating means being respectful
of your group members' ideas and capabilities.
 Do your share of the work, assisting those in your
group that may need your help
 Work out a plan regarding how you will present to the
class.
 Remember, only your best is good enough.