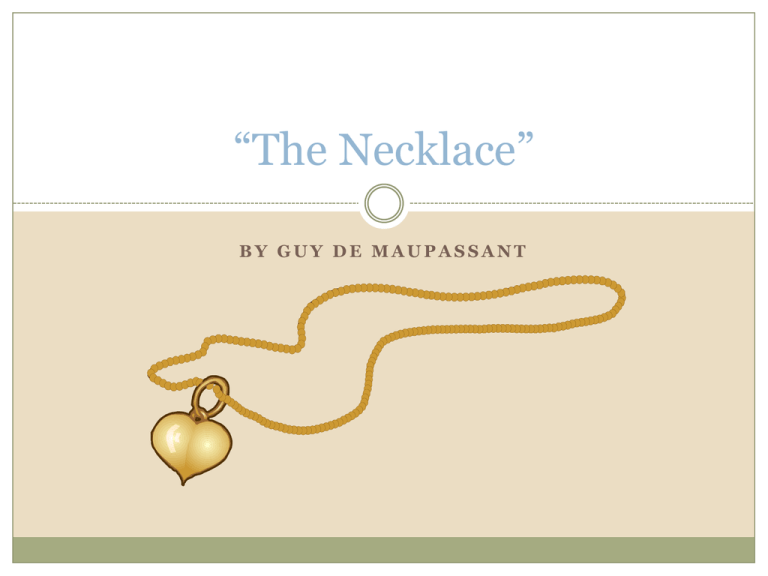 "The Necklace"
BY GUY DE MAUPASSANT
Anticipation Guide
 Do not consider the truth of each of these
statements; consider whether or not you agree or
disagree with them.

Lying is acceptable in some situations; you should always lie to
save face.

Life sometimes hands you cruel situations; the best thing to do
when this happens is to keep your suffering to yourself and
find a way to get by.

Material goods like clothing and cars, are extremely important
to being happy. Money can't buy happiness but it definitely
makes it easier to be happy.
Vocabulary
 Rueful:
 Feeling pity
 Chic:
 Stylish
 Disheveled:
 Untidy
 Dowry:
 Money and goods a wife brings
into the marriage
 Aghast:
 Overwhelming shock
 Adulation:
 Excessive devotion
 Pauper:
 Poor person
 Usurer:
 A person who loans money
 Vexation:
 Irritation
Literary Terms
 Setting:
 Where the story takes place
 Example: an apartment in France
 Protagonist:
 The main character
 Example: M. Loisel – he is always trying to please his wife
 Diction:
 Style of speaking
 Example:
Literary Terms
 Mood:
 How the story makes the reader feel
 Example: frustrated or displeased
 Theme:
 The whole point of the story/the moral
 Example: "Be grateful for what you have."
Characters
 Madame Loisel
 Direct: pretty, attractive
 Indirect: constantly displeased; never happy with anything
 Madame Forestier
 Direct: fashionable
 Indirect: laid back, "cocky"
 Monsieur Loisel
 Direct: worn out
 Indirect: aims to please
Reading Questions
 Why did M. Loisel expect his wife to be pleased to
receive the invitation from the Minister of
Education?

Because she would get to go to a party and she was always
complaining about not going out.
 Describe Mme Loisel's reaction on reading the
invitation.

She gets upset because she has "nothing to wear"
Reading Questions
 Why had M.Loisel been saving 400 Francs?
 For a rifle
 Compare and contrast the life of Mme. Loisel before
and after the disappearance of the necklace.

Before she was ungrateful but very pretty and attractive; she
didn't appreciate what she had nor realize how wonderful her
life really was. After she lost it, she turned ugly and lost
everything; she finally became grateful because she had
nothing left and realized what she finally lost!
Reading Questions
 Why was Mme. Loisel anxious to hurry away from
the ball?

Because her husband only had a "raggedy" coat for her to wear
and it clashed with her beautiful outfit
 What efforts were made to fine Mme. Forestier's
necklace?

The Loisels retraced their steps until they realized it was
probably in the cab. Then they went around to different jewelry
shops to try and find a duplicate.
Reading Questions
 Describe how the Loisel's life changed after they paid for the
new necklace.

They were poor and had to move to an attic apartment; they were
forced to fire their maid and do manual labor.
 What was Mme Forestier's reaction when seeing Mme Loisel
before she figured out who she was?

She was disgusted and surprised because a "poor" woman knew her.
 What was Mme Forestier's raciton when the necklace was
returned?

Nonchalant – she said something about "what if I had actually
needed it?" She tries to act like she cares about the necklace, but she
doesn't.
Reading Questions
 Do you think Mme Loisel recognized good quality
jewelry? Explain.

No; she thought the necklace was real but it was a fake. She
was a "wanna be."
 Why was Mathilde unhappy with her life at the
opening of the story?

Nothing was ever good enough; she thought she deserved to
life a royal life.
Reading Questions
 Do you think M. Loisel enjoyed the ball? Why?
 Yes – because his wife was finally happy. No – because he was
bored by the "show" everyone was putting on.
 How did M. Loisel contribute to the cost of the new
necklace?

He went to loan sharks, borrowed money, sold things, moved,
worked odd jobs and fired his maid.