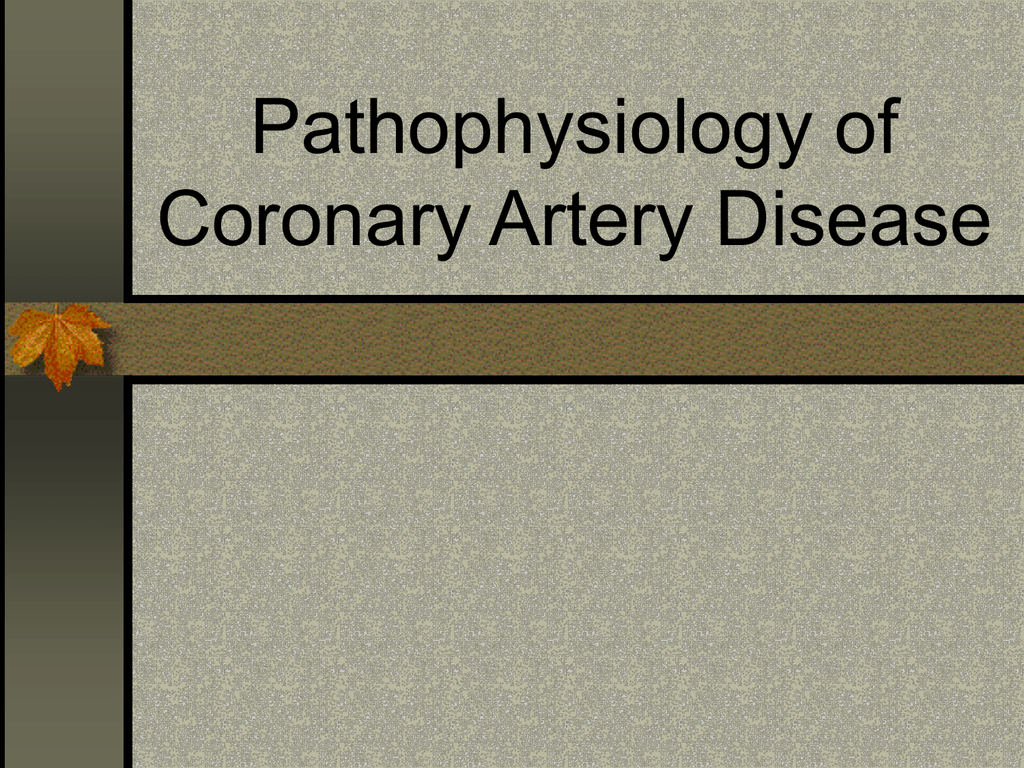 Pathophysiology of
Coronary Artery Disease
Blood supply to the heart
 Coronary Blood Flow: Constant
Demand
 Arteries & veins are located on the
surface of the heart, lying within
groves called sulci
 Blood flows through coronaries
during the RELAXATION phase
(diastole) Why?
Primary Superficial Arteries
 Right Coronary
 Right Marginal
Branch
 Left Coronary
 Left Anterior
Descending
 Left Circumflex
Areas of Coronary Artery
Perfusion:
 LAD: Majority of the left
ventricle: Anterior/Inferior
 Circumflex (Cx): Inferior and
Posterior LV
 RCA: RV, Posterior and Septal
Circumflex
LCA
LAD
Right Marginal
Branch
RCA
Rt. Marginal
Pathogenesis of
Atherosclerosis
Step 1: Endothelial
Injury
 Location? coronaries, carotids,
renal arteries, lower extremities
 Tunica Intima damaged (How?)
 LDL Oxidation: Initiates
Inflammatory Process:
 Monocytes: Attracted and "glued"
to endothelium by "ELAMS"
(endothelial-leukocyte
adhesion molecules)
STEP 2: Inflammation gone
Haywire
 Monocytes/Leukocytes enter the
Sub-endothelial space
 Initiate Smooth Muscle Cell
proliferation
 Attract more LDL to create a "fatty
streak"
Ouch!
Blood Clot
Normal
Narrowed
Occluded
LDL's and Atherosclerosis
 Oxidized LDLs act as a "free
radical", which induces endothelial
injury inflammation begins
 Some LDLs are removed by
macrophages, but high LDLs will
cause much injury

LDLs = accelerated
atherosclerosis
Vessel
Lumen
Smooth
Muscle
Myocardial Oxygen Supply
 Cardiac cells extract most of the
oxygen delivered (high A-vO2 diff)
 Thus additional oxygen can only be
met by delivering more blood by the
coronary arteries
 A reduction in coronary artery
lumen size attenuates blood flow
Degree of Occlusion &
Blood Flow
Blood
Flow
25
50
75
100%
Blood Flow
 Big reduction beyond 75%
occlusion
 Severity of disease depends on
# of occluded arteries
 Also location of occlusion (left
coronary vs apical)
Myocardial O2 demand
(MVO2) depends on..
Myocardial tension
(pressure x volume)
 Inotropic State (Measure?)
 Chronotropic state
(Measure?)
 Myocardial mass

Indirect measure of MVO2
 Rate pressure product (a.k.a.
double product, tension-time index)
 Considers 2 of the MVO2 indices:
 HR X SBP
 Good estimate of oxygen use by
the heart.
 Used to determine angina threshold
End Results of
Atherosclerosis
Unstable Angina
Stable Angina
Acute Myocardial
Infarction
Sudden Cardiac Death
Stable Angina
 Angina occurs at a consistent and
predictable level of MVO2
 Reduced Coronary Blood Flow
 Always exercise at an intensity
below the angina threshold
 How would you identify the angina
threshold?
Anginal Symptoms
 Varied: Chest pressure/heaviness
 Back, neck, shoulder ache
 Diaphoresis
 Pallor
 Dyspnea
 Does it occur upon exertion?
Unstable Angina
 Due in part to intra-coronary
spasm
 This reduces lumen diameter
 May occur ANY time
(unpredictable) and at any work
intensity
 Termed "Vasospastic" or
"Prinzmetal's Angina"
Acute Myocardial Infarction
 Intra-lumenal thrombus
formation
 Thrombus lodges in coronary
artery, stops blood flow
 Cells downstream are starved of
O2
 Leads to tissue necrosis
LAD:
Thrombosis
Area of
Infarct
Sudden Death
 May be due to the death of
heart tissue from large vessel
occlusion
 or.. emboli (ischemia) induce
ventricular arrhythmias that
will kill
(i.e. ventricular fibrillation)
Infarction symptoms
 Similar to angina: diaphoretic,
pallor complexion, pain
 Vomiting, dyspnea
 Symptoms are often ignored or
denied by the patient
 Odds of survival are greatest if they
get help within 1 hour
Complications of MI
 Cardiac Tamponade: Fluid
between
pericardium/myocardium
 Pericarditis: Inflammation of
the pericardium
 Emboli: From either MI
thrombus or atrial clots formed
with atrial pooling
Most Common
Complications:
 Congestive Heart Failure:
 75%
of MI's experience overt CHF
Fluid backs up…
 25% of MI's experience
"compensated" CHF
reduced
perfusion to "vital organs"?
 Dysrhythmias: The importance
of ECG monitoring post-MI
Assignment:
 Read: "Cardiovascular disease
and the endothelium"
 Answer: How does
understanding the mechanism
of the disease
(pathophysiology) improve
prevention, detection and
intervention strategies?