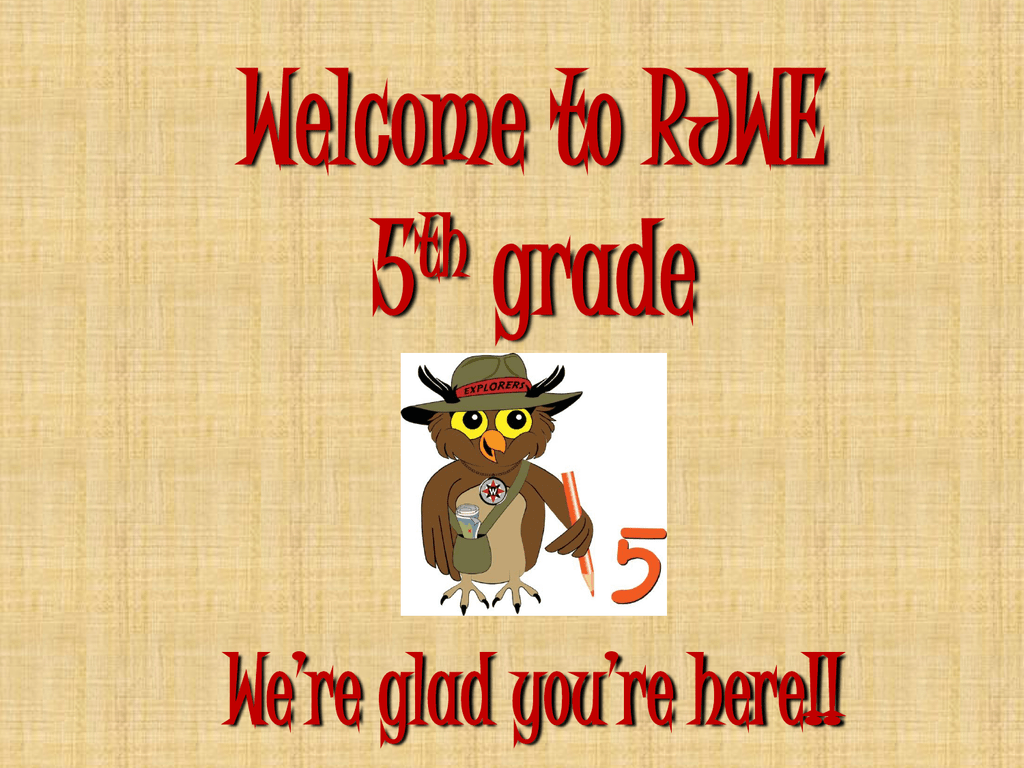 Welcome to RJWE
th
5 grade
We're glad you're here!!
th
RJWE 5 Grade
Ms. Enache– Language Arts & Social Studies
Ms. Jones – Math & Science
Ms. Laedtke– Language Arts
Ms. Coleman– Math
Ms. Foley – Science & Social Studies
Ms. Dyott– Language Arts & Social Studies
Ms. Kerr – Math & Science
Schedules


Check the 5th grade website or handbook for
specifics on your child's schedule.
Specials 8:45 am – 9:35 am (4 Day Rotation)
Music
Art
P.E.

Challenge – Tuesday

Library/Computer Lab – Every other week
Snacks



It should be a healthy finger food and not full of
sugar.
Water in a closeable bottle is allowed in the
classroom.
Examples:
 Dried fruit
 Crackers
 Grapes
 Raisins
 Cheese sticks
 Pretzels
Discipline
Rules:
 Be respectful to yourself and others.

Be safe.

Be responsible.
Discipline
Consequences:






Warning (noted on Expectation Card)
Mark on Expectation Card and it will be sent
home to be signed
Additional mark on Expectation Card and Think
Time form
Additional mark on Expectation Card and ASD
Parent and teacher conference
Administrative Referral
**In some instances, students may not receive a
warning due to the seriousness of the offense.
Discipline
Rewards:
 Students may receive tickets for good and respectful
behavior. Examples of tickets available for
purchase:
 Stinky Feet Pass
 Homework Pass
 Wear a Cap Pass

At the end of every nine weeks, students that receive
5 or less marks on the behavior card, will earn a
special time during the day to celebrate their
achievement!
Expectations
Communication Folders:
 Each Thursday we will send home a
communication folder.
 Please discuss the contents with your
student.
 Sign and return the folder on Friday
morning.
 Regardless of behavior, expectation cards
are sent in the communication folder.
Expectations
ID's
 Students are required to wear an ID at
school.
 ID's should be kept on a lanyard.
 Students are encouraged to keep ID's at
school to prevent them getting lost.
Helpful Hints
As a parent you can:






Encourage your child to read every night.
Ask to look at your child's planner nightly.
Have your child organize his/her materials
weekly.
Take time to talk with your child daily about
their day.
Check supplies and replenish as needed.
Encourage your child to practice math facts
nightly.
Change of Transportation
Getting your child home safely is our top priority!
 Please send transportation changes in writing
with your child in the morning so that we can let
the office know of the change.
 If you have an emergency, please contact the
front office at 281.234.1700.
 Teachers CANNOT accept change of
transportation through email as we may be
absent and/or unable to consistently monitor
email throughout the day.
STAAR testing dates
Math: March 30, 2015
Reading: March 31, 2015
Science: April 22, 2015
Math
Areas of Study:





Data Analysis
Operations and Problem Solving with
Fractions, Whole Numbers, and Decimals
Algebraic Thinking, Common Factors
Measurement, Geometry, Formulas,
Conversions
Personal Financial Literacy
math

Students will keep an interactive notebook
(ISN) that contains notes and classwork.



Can be used a reference and study material
Guided Math will allow all students to
receive small group instruction during
each unit.
Homework is given once or twice each
week.
math


Students can access our textbook online! 
A handout will be coming soon with your
student's specific log-in information.
Language Arts
Through the Reader's and
Writer's Workshop, students
will:
 Read and write many different
genres.
 Become more engaged with
literature.
 Read and write for knowledge
and enjoyment.
 Love reading and writing!
Language Arts
Units of Study:









Launching the Reader's & Writer's Workshop
Fiction/Narrative Writing
Poetry (Reading &Writing)
Myths & Drama/Narrative Writing
Reading Persuasive Text & Writing Researched Based
Argument Essay
Expository (Reading & Writing)
Reading Literary Nonfiction & History Research Report
Writing
Memoir (Reading and Writing)
Ongoing: Word Study, Focus Poetry, & Editing Everyday
science
Fifth Grade Units:
 Properties of Matter
 Forces
 Life Cycles and Habitats
 Electricity
 Standard and Alternative Energies
 Erosion/Deposition
 Earth/Space
Science



ISN's will be used in class to record labs,
important vocabulary, reflections,
diagrams, etc.
Labs will be completed weekly to enhance
learning of scientific concepts.
Homework given as needed (once a week).
Science


Our science curriculum is accessible
online.
Be on the look out for more specifics on
how to log in.
Social Studies
A Survey of American History








US Geography
Colonization
American Revolution
Articles of
Confederation
Writing of the US
Constitution
US Government
US Bill of Rights
US Expansion









Free Enterprise
US Prior to 1861
JA/BizTown
Civil War
Reconstruction
Westward Movement
Early 1900s
Major Events of the
20th Century
Civil Rights Leaders
Social Studies

Students will keep an Interactive Student
Notebook (ISN).

The ISN will be updated weekly. All
assignments should be glued in ISN, and it
will serve as a study guide for tests.
Thank you!
Have a great
night!