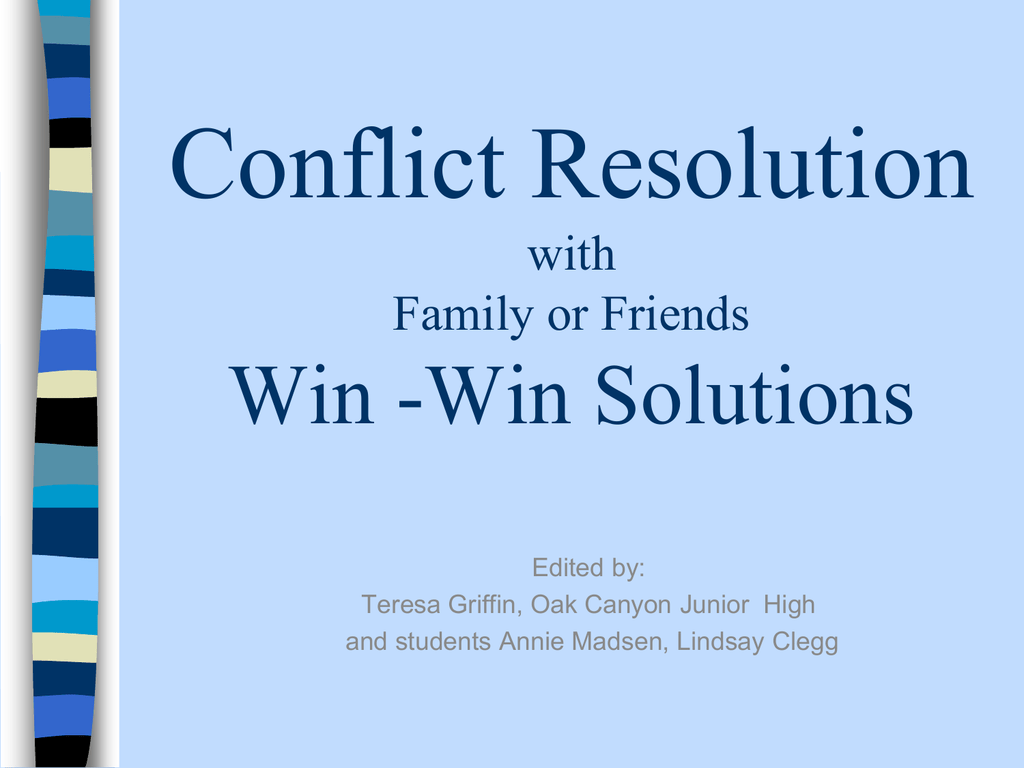 Conflict Resolution
with
Family or Friends
Win -Win Solutions
Edited by:
Teresa Griffin, Oak Canyon Junior High
and students Annie Madsen, Lindsay Clegg
Definitions


Conflict:
Two people disagree on something.


Conflict Resolution:
Resolves conflicts in a positive way, by
understanding others point of view.



Win-Win Conflict Resolution:
A compromise so everyone will win.
Avoids competition and arguing.
What Doesn't Work to
Resolve Conflicts?
• Yelling,
• Refusing to work
out the conflict,
• Name calling,
• Hitting,
• Most Passive and
Aggressive
Behaviors.
3 Behavior Styles
used in
Relationships
to resolve conflict
1.Aggressive
2.Passive
3.Assertive
Aggressive Behavior
 My
rights are more important
than other people's rights!
 My Attitude:
"I'm never wrong"
"Everyone should be like me"
Passive Behavior
I
consider others rights, not my
own.
I
don't express my true feelings,
and always agree with others.
Assertive Behavior
 Win-Win attitude -- Everybody
wins something
 I listen to others, but still stand
up for myself.
Win-Win
Solutions

Lose-Lose: The Downward Spiral

You Lose ---- Other Person Loses

Lose-Win: The Door-Mat

You Lose --- Other Person Wins

Win-Lose: The Bulldozer

You Win - Other Person Loses

Win-Win: The All You Can Eat Buffet

You Win - Other Person Wins
Lose-Lose
"The downward spiral"
This is when nobody wins and the conflict is
not solved.
Win-Lose
You Win - Other Person Loses
"The Bulldozer"
One person wins,
the other loses.
Lose-Win
You Lose --- Other Person Wins
"The doormat"
One person wins, the other loses.
Win-Win
"The All You Can Eat Buffet!!"-Each person gets what they want!
Both people win and the conflict is resolved!
Goldilocks and Three Bears
Conflict
What Does work to resolve
Conflict between people?
• Assertive
Behaviors
• Win-Win
Attitude
 Co-operation
*Who Owns the
Problem?
The person who is Negatively
affected by the problem or conflict.
*What is the Owner's
responsibility?
To find a way to resolve the problem,
even if he is Not the cause of it.
In order to solve
problems, you will
need to be able to see
things from several
points of view!
Can you do it?
Eskimo or Indian?
Young or Old
Woman?
What do you see?
Anything else?
Brainstorm all possible solutions
to solve problems using win-win
solutions

Think of any and all possible ways to solve the
problem so that everyone will win something and be
happy!

Evaluate later NOT NOW

Do not criticize any suggestion until it is time to
evaluate and make a decision.
Hug O'War by Shel Silverstein
I will not play a tug o' war
I'd rather play a hug o' war,
Where everyone hugs
Instead of tugs
Where everyone giggles
And rolls on the rug,
Where everyone kisses
And everyone grins
And everyone cuddles
And everyone wins.