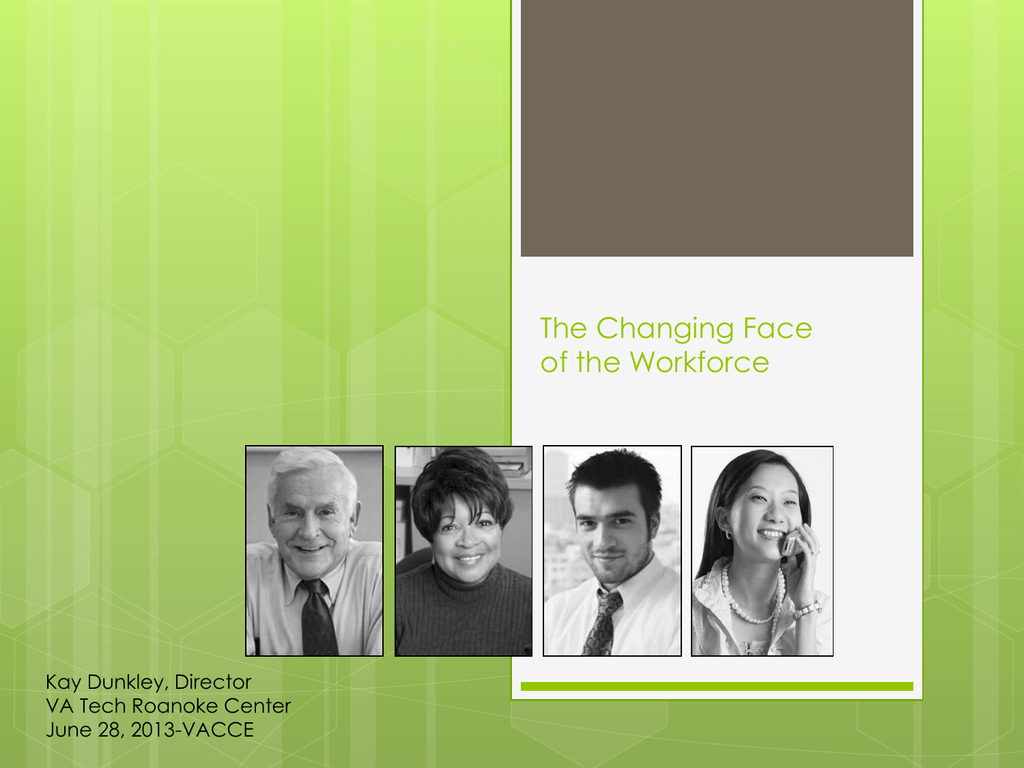 The Changing Face
of the Workforce
Kay Dunkley, Director
VA Tech Roanoke Center
June 28, 2013-VACCE
Types of Diversity
 Demographic
(Age, Race, Ethnicity,
Gender, Geographic etc.)
 Education
 Backgrounds and experience
 Socio-Economic
 Myers-Briggs Type Indicator
 Learning Styles
 Generations
The Generations
Census Total
Birth Years
% of 2010
Workforce
Traditionalists
57 Million
1920-1945
7%
Baby
Boomers
76 Million
1946-1961
38%
Generation X 46 Million
1962-1979
30%
Millennials
1980-2000
25%
75 Million
Remember, dates are positioning points, not
definers. Each point is on a continuum, flowing
from one generation to the next.
Traditionalist
Significant Event:
December 7, 1941 – Pearl
Harbor
Technology:
Radio
Key Descriptor:
Loyal Stabilizers
 Civic
pride, loyalty, respect
 Gray flannel suit crowd
 Institutional loyalty
 White, male, seniority driven
 Mixing of generations rare
 Great team players and get
along with others
Traditionalist
Character Shaping Events
 Great
Depression
 Dust Bowl
 President FDR
 New Deal
 Golden age of radio
and Hollywood
 Pearl Harbor and World
War II
 D-Day
 Death
of FDR
 Hiroshima, Nagasaki
 Birth of Nuclear Age
 American grit/power
win World War II
 G.I. Bill
Traditionalist
Traditionalist
Communication
Tips
 Show respect for their length of service
and experience
 Watch your language – no cursing
allowed
 Hard working and loyal
 Do your homework; prepare to be tested
 Less tech savvy than younger generations
 Interact face to face
 Say "thank you" and "please"
 Don't rush or pressure them
 Serve and honor them
Table Top Discussion
1.
What frustrates or irritates me about
Traditionalists?
2.
What do I admire, appreciate and/or
could really stand to learn from
Traditionalists?
Baby Boomer
Significant Event:
President John F. Kennedy
Assassination
Technology:
Television
Key Descriptor:
Idealistic
 Yuppies,
Boomers
 End of rural, agrarian lifestyle
 Babies every 17 minutes for 20
years
 Child rearing – hobby and
pleasure
 Confident, expectant
generation
 Redefining period between midlife and old age
Baby Boomer
Plan
 Korean War
 Red Scare
 Sputnik
 Cold War
 Kennedys & Camelot
 Civil Rights Movement
 Vietnam
Character
Shaping Events
 Marshall
 Kent
State
 Protests and marches
 JFK, RFK & King
assassinations
 Feminist movement
 Woodstock
 Moon landing
Baby Boomer
Baby Boomer
Communication
 Honor their experience and ask for
Tips
their advice
 Loyal, work centric and cynical
 Value the "people side" of business
 Speak in an open, personal style
 Offer to partner and get the job
done; don't wait to be asked
 Support them; make them look good
 Don't call them "older." Use
descriptors like "mature",
"experienced" or "prime"
 Center your conversation around
forming business relationships
Table Top Discussion
1.
What frustrates or irritates me about Baby
Boomers?
2.
What do I admire, appreciate and/or
could really stand to learn from Baby
Boomers?
Generation X
Significant Event:
Space Shuttle Challenger
Explosion
Technology:
Personal Computer
Key Descriptor:
Skeptical
 Latchkey
kids
 Anti-institution
 Segmented –
fragmented family
 "Family values" redefined
 Strong entrepreneurial
spirit
 24/7 MTV
Generation X
 Oil
Embargo
 Watergate
 Nixon resignation
 Three-Mile Island
 John Lennon shot
 Challenger explosion
 Iranian hostage crisis
 Reagan election and
assassination attempt
Character
Shaping Events
 Fall
of Berlin wall
 Worst recession and
job market since
Great Depression
Generation X
Generation X
 Talk
Communication
Tips
with them, not to them
 Listen to them. You might learn
something!
 Use hands-off supervision
 When delegating, describe outcomes,
but leave results to them
 Don't waste their time
 Provide immediate answers and
feedback
 Value their need to keep learning in
order for them to be marketable
 Communicate their desire for a worklife balance
Table Top Discussion
1.
What frustrates or irritates me about Gen
Xers?
2.
What do I admire, appreciate and/or
could really stand to learn from Gen
Xers?
Millennial
Significant Event:
Columbine High School
Tragedy
Technology:
Internet
Key Descriptor:
Hopeful
 Internet
generation
 Most protected children
 1 in 3 not Caucasian
 2 in 4 live in single parent home
 4 in 5 have working mothers
 1/3 teens work 20+ hrs/wk.
 WORK is a four-letter word
Millennial
 Internet
 Booming
 Globalization
 Columbine
killings
 Oklahoma
City
Bombing
 Clinton
impeached by
House, acquitted by
Senate
 September
Character
Shaping Events
11, 2001
market
economy & job
 US
invades Afghanistan &
Iraq
 2008
World Recession
 Barack
Obama, Pres.
Millennial
Millennial
Communication
Tips
 Answer their constant "why" questions or
ignore them to your own peril
 Give them your web address and be
prepared for a website critique
 Emphasize positives of doing right rather
than negatives of doing wrong
 Be positive, simple, rational, factual and
friendly
 Respond quickly - "instant gratification"
 Mentor them and be realistic
 Be prepared to offer flexible scheduling
 Understand they listen to iPod, surf the
Net, and text at the same time
Table Top Discussion
1.
What frustrates or irritates me about
Millennials?
2.
What do I admire, appreciate and/or
could really stand to learn from
Millennials?
Things to ponder…
 Which
generations do I work with the
most? The least?
 How can my awareness of each
generation help me plan more effective
meetings?
 What can I stop doing/keep doing/start
doing to better interact with each of the
generations?
Narrow the gap…
 Be
aware
 Be enlightening
 Be open
 Be a good example
 Be creative
 Listen to ALL employees and co-workers
to create a positive and productive work
environment
References
 Murray,
R.M. & Rutledge, H. (2009).
Generations: Bridging the gap with type.
PowerPoint Presentation. Norman, OK:
Performance Consulting Publishers.
 Rutledge, H. (2011). Boomers, Blackberries,
and Tweets. Training Workshop. Fairfax,
VA: Otto Kroeger Associates.
References
 Susan
A. Murphy, PhD, Claire Raines
Associates (2007). Leading a
Multigenerational Workforce. AARP
publication.
 Melissa P. Reese and Tiffany A. Sharpley.
Four Generations-One Workplace-Can
We All Work Together? Inside Indiana
Business News.
Thank you for being here
today…
Questions?